Injured Rafael Nadal withdraws from Wimbledon as Nick Kyrgios gets walkover into final
Rafael Nadal has sensationally pulled out of Wimbledon, sending his fierce rival Nick Kyrgios into Sunday's men's singles final without having to play a single shot.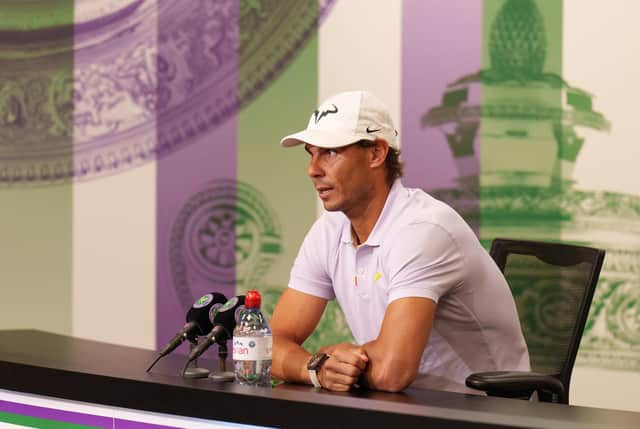 Rafael Nadal speaks to the press after confirming his withdrawal from Wimbledon.
The Spanish legend, bidding for a calendar-year Grand Slam of all four Majors, struggled through his quarter-final victory against the American Taylor Fritz with an abdominal injury and tests on Thursday revealed a muscle tear.
At a packed media conference on Thursday night, Nadal admitted: "Unfortunately, as you can imagine if I am here, I have to pull out from the tournament, no? As everybody saw [in the match against Fritz], I have been suffering with the pain in abdominal. I knew something was not okay there.
"That's confirmed. I have a tear. I think it don't make sense to go [into the semi-final]. Even if I tried a lot of times during my career to keep going under very tough circumstances, this time I think it's obvious that if I keep going, the injury is going to be worse and worse.
The semi-final against Australia's Kyrgios, which was due to follow Novak Djokovic vs Cameron Norrie on Centre Court, was one of the most hotly-anticipated SW19 clashes for many a year after a number of explosive encounters between the pair previously. It's unprecedented for a player to pull out of a Slam at such a late stage but Nadal, the holder of 22 Slam titles, said he could not have made it to Sunday carrying the injury.
He said: "I made my decision because I believe that I can't win two matches under these circumstances. I can't serve. It's not only that I can't serve at the right speed, I can't do the normal movement.
"I have to say that … for respect to myself in some way, I don't want to go out there, not be competitive enough to play at the level I need to achieve my goal, and with a big chance to make the things much worse, no?
"As I always say, for me the most important thing is happiness more than any title, even if everybody knows how much effort I put in to be here. But I can't risk that match. I am very sad."
Nadal had looked set to retire during his quarter-final against American Fritz on Wednesday evening, but somehow recovered to claim a 3-6 7-5 3-6 7-5 7-6 (4) victory after a gruelling four hours and 20 minutes.
The 36-year-old had strapping on his stomach and at times appeared in so much pain that his father and sister, watching from the players' box, were gesticulating for him to quit the match.
While Nadal – who has battled persistent foot injuries for most of this season – will now look to recover in time for the North American hard-court swing and the US Open, Kyrgios will now prepare for his first-ever Grand Slam final against either Djokovic or Norrie on Sunday.
The 27-year-old from Canberra is the first man to advance to the final via walkover and is also the first unseeded player to reach this stage of Wimbledon since compatriot
Mark Philippoussis in 2003.