'I can fix it' - Katie Archibald aiming to make Olympic gold medal history at Paris 2024
Katie Archibald is doubling down on a historic tilt at triple Olympic gold at Paris 2024.
It was an emotionally draining home World Championships in Glasgow for the track cycling star, yielding gold in the team pursuit and eighth place in the omnium. The 29-year-old still plans to add the Madison to that programme in Paris where she will aim to become the first British woman to win three titles at a single Olympics.
"I'm still incredibly ambitious with (the Olympics)," said Archibald. "There were moments during the World Championships where I just wanted to get in the bin, so maybe it's daft to feel so clear-headed. Now I've got 12 months stretching out in front of me, I think 'why can't I fix it?' I'm sure I can fix it.
"The goal I've had for the past three years has been about tackling those three events at the Olympic Games. It's never presented itself as a simple goal, or an easy goal. I think the success we've seen as a team has given me confidence that I have every opportunity to achieve something great, because we're so well supported."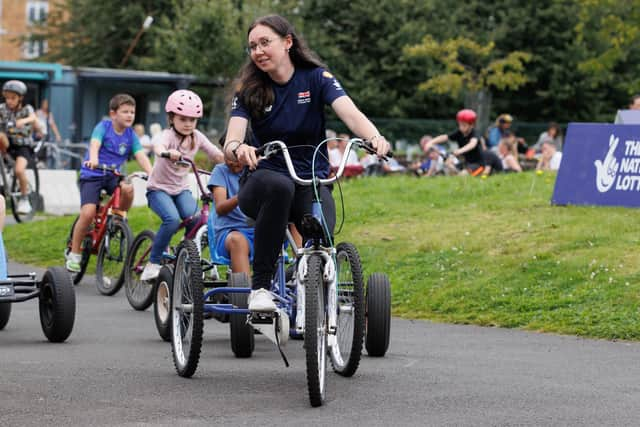 For Team GB, only Chris Hoy, Jason Kenny and 1908 swimmer Henry Taylor have won three gold medals at one Olympics. Jason's wife Laura, who gave birth to her second child in July, attempted the same gruelling treble that Archibald is planning in Tokyo.
Chasing history, Kenny won Madison gold and team pursuit silver alongside Archibald but crashed in the opening race of the omnium to finish sixth. British Cycling bosses now believe it would be a 'stretch' for Kenny to come back from childbirth to feature at the Olympics.
"I'm very excited at the idea of getting Laura back into the team," said Archibald, who was speaking at an event to celebrate how National Lottery players have transformed cycling in the UK, with more than £143 million invested since Lottery funding began.
"She's a huge part of the culture of the squad and she's been at the head of it since 2010. The experience she has is huge. For Tokyo, she was faced with being the first to go after those three medals and she had no example before her. She didn't have what I now have in her, which is someone who has lived that experience and can see where the stresses and pitfalls are, what she did well and what she would change."
Kenny supported the British squad in Glasgow from afar and gave Archibald timely boosts during a turbulent week. "When your mum says to you, 'you can do this', you smile and nod," said Archibald. "But when Laura Kenny says it, it means something."
The British women's team pursuit quintet dominated racing in Glasgow and they take a cavernous advantage on the rest of the world into Olympic year. Archibald could make another slice of sporting history with a third successive gold medal in team pursuit and it is that event that pulls on the heartstrings.
"Team pursuit has been the backbone of my career," she said. "My career is defined by it and it's the event that catapulted me into the elite end of the sport. It's what grounds me in the day-to-day of my training, and for that work to come out in the results, it means a lot and the group of girls are very special to me."
National Lottery players raise more than £30million a week for good causes including vital funding into sport – from grassroots to elite. Find out how your numbers make amazing happen at: www.lotterygoodcauses.org.uk #ThanksToYou #MakeAmazingHappen 
Comments
 0 comments
Want to join the conversation? Please or to comment on this article.