Feliciano Lopez looks back at career, explains why Andy Murray is 'superhuman' and laughs at Judy's Deliciano nickname
It was one of the great shots in tennis. Left-handed, starting high, soft grip, never hurried, nonchalant until completing its sweep, making the action look incredibly easy.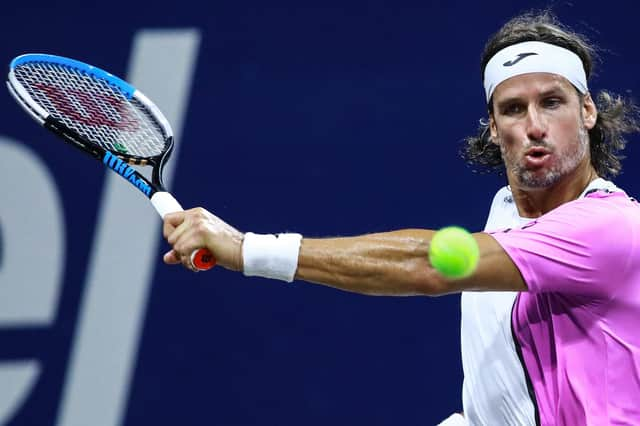 Ach, Feliciano Lopez is going to hate this. Mentioning his looks before mentioning his artful ground-strokes. And specifically, before any acknowledgment that his 10,244 aces place him fourth on the all-time list, a description of how he flicks those lustrous locks – the Spanish mane – off his face.
Well, Judy Murray started it. He was always much admired, of course, by women and men, but it was Andy's mum going public with her lust which blew the whole thing up to such a hilarious level. So his international playboy handsomeness is inescapable, and we will return to it, but let's talk now about Lopez's long career which has just ended in a competitive sense, not without considerable regret, although there are consolations, for him and us. Later this month he comes to Edinburgh as a top draw in the Brodies Tennis Invitational.
Today, as we chat via video-call, he's in Valencia watching his countrymen in the Davis Cup, a competition he helped Spain win four times, including in his final outing at the age of 40 beating a top-five guy in Russia's Andrey Rublev. The only other fortysomething ever to achieve this feat is Ken Rosewall. Lopez's last tournament was in June in Mallorca, where he made his pro-circuit debut back in 1997. And when he takes to the court at the EICC he'll have just celebrated his 42nd birthday.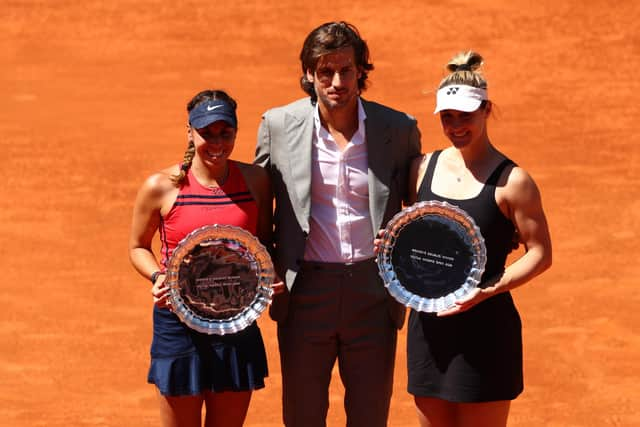 "Life is good and I'm loving my retirement although I'm missing tennis, most of all the competition," he says. "I was totally aware that one day tennis would come to an end and prepared for it as best I could. I knew that this was going to be my last year on the tour. I played three or four nice tournaments which were still a big challenge because some of my opponents were 16, 17, even 20 years younger. I was proud that I could finish my way.
"But nothing can replace competition and nothing ever will. Sorry, but I know this already. I will not be able to get those emotions from any place else. This is something I've loved with a passion even since I picked up a racket for the first time when I was five years old."
Born in Toledo, Lopez achieved a career-high ranking of No 12 in the world and, unusually when so many Spaniards swear by clay, reserved some of his best tennis for grass. He twice lifted that unfeasibly large trophy at Queen's, in 2017 and 2019. Four years ago, same tournament, he also won the doubles when he teamed up with Murray. That was the Scot trying out his metal hip for the first time. From Queen's he went on to Wimbledon and the superstar "Murrena" partnership in the mixed with Serena Williams. So Lopez played a part in Murray's comeback and he's hugely proud of that.
"Everything that happened in 2019 was magical," he says. "I was very excited Andy wanted to play with me because it was such an important moment for him. He was coming back from everything – the pain, the surgery, all the setbacks and the thought he might never play again.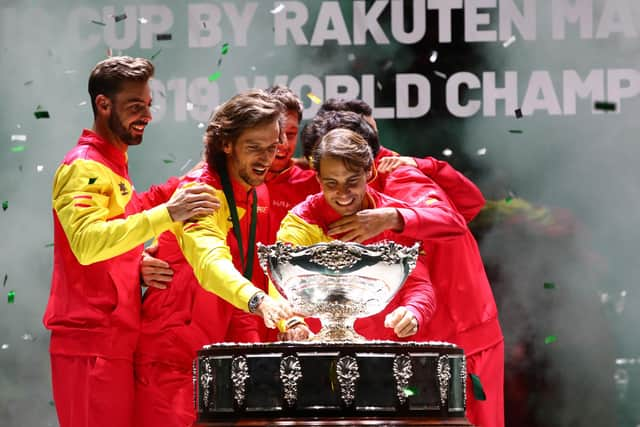 "There's good chemistry between us and I hoped we could have a few nice matches together. When you make a team with someone for the first time – and Andy doesn't play much doubles – you don't really know if it will work. But every round we got better and by the Sunday we'd won – amazing.
"That was a little bit crazy because the doubles final was five minutes after my singles. I wanted to go back onto the court right away but Andy was worried. I said: 'It's okay, my friend, my adrenalin levels are really high!' After Queen's we played a few more tournaments together in the States. Then Andy returned to singles and I felt really happy that I could help his comeback."
Lopez remains a figure in the sport. He's tournament director of this year's Davis Cup, fulfils the same role for the Madrid Open and regularly turns up on TV. "When I'm commentating or being interviewed I'll talk about Andy," he says. "I'll always do this if I have the chance because honestly I don't think he gets enough credit for being still out there now, a great competitor, after all that's happened to him. He had the surgery and got the metal hip. Yes, people mention the hip – good – but there's more to this: Andy is doing something no one did before. There is not one athlete anywhere, in any sport, who has come through this experience is still performing at the highest level.
"What Andy is doing, it's incredible. I know how much effort has gone into his comeback and it's still happening now. It's not just the four years since the surgery but it's every day: today, tomorrow, the next day. To be ranked where he is is unbelievable. To be competing, to be playing matches where maybe only three or four points are the difference between win and lose and still to keep going, more matches, is unbelievable. So in my opinion there isn't enough said about Andy – his work ethnic, his professionalism, his ambition still, on top of the great guy he's always been for our sport, speaking up for what is right. Honestly, I think my friend is superhuman."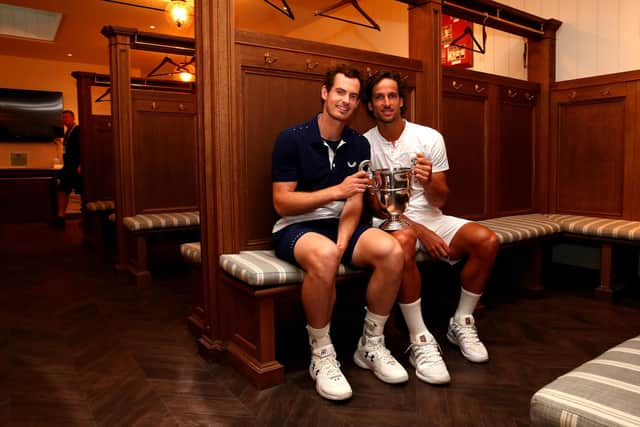 Which leads us back to Judy. In an early encounter Murray told Lopez: "My mum thinks you're gorgeous." Judy said she "went beetroot and ran away". Using Twitter she became bolder, perhaps to get her son back for embarrassing her, and nicknamed her pin-up "Deliciano". Murray, asked for his reaction, feigned horror: "I think it's about time she stopped that nonsense. It's disgusting and it's making me throw up."
The "nonsense" continued when the players teamed up at Queen's, Judy declaring that her excitement was "off the chart" and adding: "I may need a tranquiliser dart." Lopez laughs when I read back some of the exchanges. "Judy is so sweet," he says. "She's such a character and I have so much admiration for her and what she's done for tennis in Scotland and the UK and the women's game. Both her sons, Andy and Jamie, were No 1 in the world in singles and doubles. Best mum ever!"
He says the banter between him and Judy was "great fun" but I'm wondering if there's a serious side to a man being this pretty when looks are not his raison d'etre and how he earns his living. After all, a sift through the cuttings produces an interview from 2015 in Spanish newspaper El Candido where he was plaintively stressing: "I am not a model, I am a tennis player."
Maybe on the desperation scale that's not the same as the hideously deformed Joseph Merrick's cry in The Elephant Man: "I am not an animal! I am a human being!" Still, in the stands and around the practice courts, the paper claimed to have overheard this type of remark from overheating fans: "How handsome he is … Look at his legs … I sin with this one."
Flattering, irritating or what? There's a wry smile and Lopez says: "This hasn't been a massive problem in my life but it's true that sometimes I would have loved people to be talking about my tennis skills rather than the way I'm looking. It just wasn't anything I could control." Lopez, by the way, isn't a model but his first wife, Alba Carrillo, was one and now he's married to another, Sandra Gago, mother of his son Dario. They're expecting their second child next February.
Spain are competing in the Davis Cup without their new young superstar, Carlos Alcaraz, who decided to skip the tournament after his semi-final defeat at the US Open. How dominant does Lopez think the Wimbledon champ can be in the sport? "Oh very. Whenever Nole [Novak Djokovic] is gone, Carlos will be No 1 in the world. For how long, and for how many Slams, I don't know but he has all the skills, physical and technical, and good people around him."
Djovokic, of course, hasn't quite disappeared. "Not quite yet – incredible, yes? He arrived in Valencia yesterday and I went to the airport to meet him. He's very happy. He's just won another Slam at the age of 36. That's three this year and it could have been all four. If he'd taken the second set tiebreak at Wimbledon I don't think Carlos would have come back from that."
Djokovic now boasts 24 Slams with Rafal Nadal on 22 and Roger Federer two below him. Lopez didn't need distractions like a panting fanclub; keeping up with the Big Three was difficult enough and, really, nigh on impossible. "I call it four as I would include Andy, too," he says. "It was infuriating. You knew that even if you played your best game against one of them you most likely still wouldn't win. I did manage to beat Rafa a few times but never Roger or Andy. There was a match against Nole when I won the first set but then he had to retire. So, yes, tough to be present in the moment of history of these guys but I'm proud that I was. They lifted tennis to an amazing new level and in doing that they pulled the rest of us along and we became better players as a result."
The challenge for Lopez now is to become the best administrator he can be. It's a role, in a different sport, which has attracted worldwide attention because of Luis Rubiales, the football president who was the subject of near universal condemnation following Spain's triumph in the Women's World Cup when he forcibly kissed Jenni Hermoso. Rubiales eventually resigned, appearing in court yesterday on charges of sexual assault, and Lopez says: "He should have gone immediately. It's not acceptable for someone representing our football to act in this way – his behaviour was so bad."
These are turbulent times. Cries of sexism ring out often and loudly, such as at this year's Madrid Open when the traditional speeches for the women's doubles were cancelled. Jessica Pegula, one of the beaten finalists, said: "I don't know what century everyone was living in when they made that decision." There were suspicions it was motivated by fear of embarrassment if the victorious Victoria Azarenka had been allowed near a microphone. The Belarusian is an impassioned voice in the women's game who'd already been the victim of "cakegate". She shares a birthday with Alcaraz but while the latter's was celebrated on court with a three-tier patisserie, Azarenka's far less fabulous cake was delivered to her in the locker-room.
"This is a long story," says Lopez. "A lot of things happened, more than just about the cakes. Maybe, my friend, I can tell you about them later." What a charming fob-off, delivered with that celebrated adjustment of the barnet. He would surely have to agree, though, that life and tennis were so much easier before, when women could drool at male players and no one complained.
*Feliciano Lopez will be playing singles and mixed doubles across the three days of the Brodies Tennis Invitational which is being staged at the Edinburgh International Conference Centre from 28-30 September. Others taking part include Jo Konta, Laura Robson, Greg Rusedski and Mark Philippoussis. brodiestennisinvitational.com
Comments
 0 comments
Want to join the conversation? Please or to comment on this article.