Eve Muirhead opens up on retirement, her curling legacy and coming through hard times
Eve Muirhead, the golden girl of British curling, admitted she took the hardest decision of her life as she brought the curtain down on her glittering career yesterday.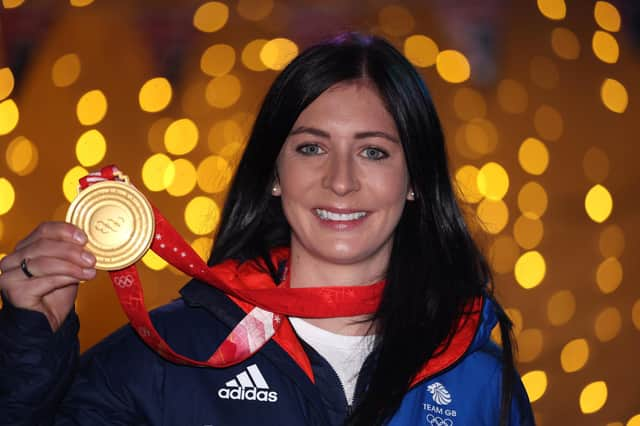 Team GB skip Eve Muirhead poses with her gold medal from the Beijing Winter Olympics. (Photo by Warren Little/Getty Images)
A total of 25 titles – including Olympic, World, European and multiple national championships – is an outstanding record of achievement that puts the Perth athlete on a pedestal as one of the greatest British sportswomen of all-time.
Aged 32, and with an MBE and OBE in her possession, few can blame her for taking the decision to retire at the top, signing off as the reigning Olympic, European and World Mixed Doubles Champion having won every title in the game since emerging from the junior ranks.
Born into a curling family dynasty – she was eight-years-old when her father Gordon served as alternate on the Scotland team that swept to the world men's curling title in Canada in 1999 – she has gone on to fulfil, and surpass, her destiny.
Team GB curlers Milli Smith, Hailey Duff, Jennifer Dodds, Vicky Wright and Eve Muirhead pose with their gold medals after winning the Women's Curling final against Team Japan at the Beijing Olympics. (Photo by Lintao Zhang/Getty Images)
She first stepped into the limelight in her teens by winning an unprecedented four world junior titles which landed her the BBC Scotland Young Sports Personality of the Year award in 2009.
It wasn't long before she was making her mark in the seniors, becoming the youngest skip to win a women's word title in 2013, then sweeping her way into the nation's hearts as the youngest skip to win an Olympic medal when she claimed bronze in Sochi a year later.
Numerous titles followed, but winning gold at Beijing 2022 as skip of the women's senior team was the pinnacle – emulating Rhona Martin's success from Salt Lake in 2020 – and means she can now hang up her curling shoes with no regrets.
"I do feel that this is the right time for me to retire from curling," she said. "I definitely didn't make the decision quickly, it took a lot of time to speak to people who are close to me and also to make sure that me myself was making the right choice.
Eve Muirhead celebates after the final shot to win the Gold medal match between Sweden and Scotland at the World Women's Curling Championship in Riga, Latvia in 2013. (Photo by Dean Mouhtaropoulos/Getty Images)
"Of course retiring as European, World and Olympic Champion is something pretty special and something I never ever dreamt of."
Not that her career has been entirely plain-sailing. There were setbacks along the way too, none more so than last year when her future hung in the balance after her team failed, for the first time ever, to earn automatic Olympic qualification.
She rallied and showed her leadership qualities to come through a challenging squad system to skip a new line-up to what was her own third European title, followed by victory at the Olympic final qualifying competition, then that gold in Beijing, which she followed by partnering Bobby Lammie to victory at the World Mixed Doubles Championship.
"There have been some tough times for myself," she added. "Of course there were times after that when I wanted to hang up my curling shoes and I didn't want to carry on. It was hard, but I managed to pull myself through with help and speaking to people who are close to me.
Olympic curler Eve Muirhead poses with her medals after being awarded an OBE in June to add to the MBE received two years earlier. (Photo by ANDREW MATTHEWS/POOL/AFP via Getty Images)
"You have to cherish the victories you get and make sure you celebrate them because they don't come easy and they don't come every single day and of course I would like to leave a legacy of what I have done and I guess on the back of what Rhona Martin achieved 20 years ago winning her gold as well.
"I do think the sport has changed over that period and I am glad to have been part of that and the next chapter of my life is just beginning. All I have really experienced is just school and curling and I am very scared but also very excited about what the future holds."
Following the retirements earlier this summer of two of her team - vice skip Vicky Wright and alternate Milli Smith - Muirhead paid tribute to the remaining two, Hailey Duff and Jen Dodds, who are setting out on the long road to the next Winter Olympics in Milan/Cortina in 2026.
"I think for my team mates who are carrying on into the next cycle of course it has been an absolute pleasure playing with them," said Muirhead.
Eve Muirhead leads Team GB during the Beijing 2022 Winter Olympic Games. (Photo by Catherine Ivill/Getty Images)
"To win an Olympic gold medal along with other medals alongside Hailey and Jen are definitely memories that I will never