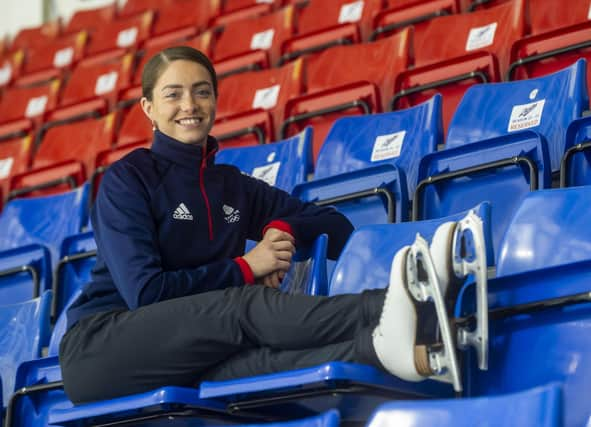 But who am I kidding? It's just gone 10am now and McKay is relating how her day as a coach began. I did not see this happen, or hear "Rolling, rolling on the river" boom over the rink's soundsystem. It is those devoted to the ice – the young wannabes and the six-times best in Britain, newly-retired – who put in this kind of commitment. My job is merely to rock up a bit later and to marvel at it.
The local hero has quit as Proud Natasha. It was always the dream to become an Olympian and at last year's Winter Games she achieved it. That might have been the moment to stop but she was buzzing from Beijing and so went for one more UK title. "This'll sound daft but I didn't like five and so wanted a sixth. Skating's been my whole life and I know I'll miss competing but I'm 28 now and hardly any women go past 30. Our bodies – knees, hips, ankles – just can't take it."
McKay knew she wanted to coach and is already loving the dramas of her young charges, the thrills and at their age the spills. "It's a generational thing, isn't it, that kids are less robust now. They don't play outdoors so much so they're not falling out of trees and off bikes like I did. But there's a six-year-old I teach who when she has a tumble doesn't cry, just gets straight back up. That's brilliant." So many years ago, that would have been McKay.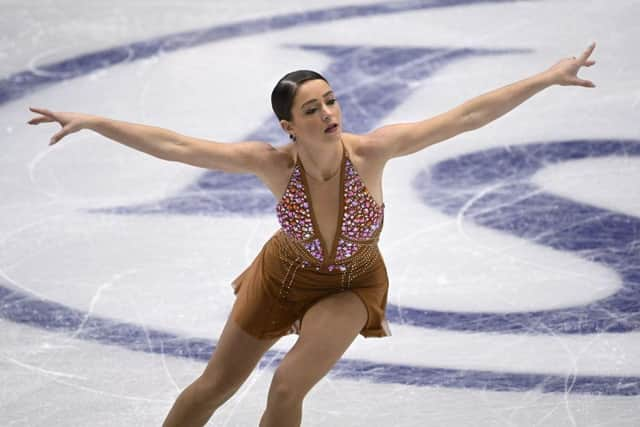 Post-retirement, could she have done something else? She mentions a contemporary who now performs in skate shows on cruise ships. What about Dancing on Ice? McKay is a fan of the TV reality show pairing boybanders and soap opera strumpets with pro-skaters. "It's been good for my sport's profile but I'd be too scared that someone who couldn't really skate would drop me. There have been a few injuries."
So if there was to be a Blades of Glory 2 she wouldn't fancy teaming up Will Ferrell? "A great film! What was that crazy move again?" The Iron Lotus, where one skater was spun by the feet and hurled into the air, although the partner's flying kick could sometimes result in decapitation. McKay laughs but is not offended by movie send-ups. She loves skating too much.
"It all began out there," she says, pointing to the far end of the rink. "That's where my best friend, Sarah Barclay, held her birthday party. We were both six, just holding onto the barrier, edging round, but the rest of the rink was coned off for the public and in those days jumps and spins were allowed, not any more. I watched the good skaters and told myself: 'I'm definitely going to do that.'"
There's an old quote which turns up in profiles of McKay about how she had to beg her mother for a whole year to buy her skates. It infers some parental resistance but, regarding mum Tracey, a nurse, and dad Steven, a postman, nothing could be further from the truth. "Did she wish I'd wanted to swim instead? Ha ha, maybe. Skating's an expensive sport, for sure, but it's also dangerous and I think she was worried about that. But my folks backed me all the way. They did everything for me and it's because of them that I was able to become the best I could be."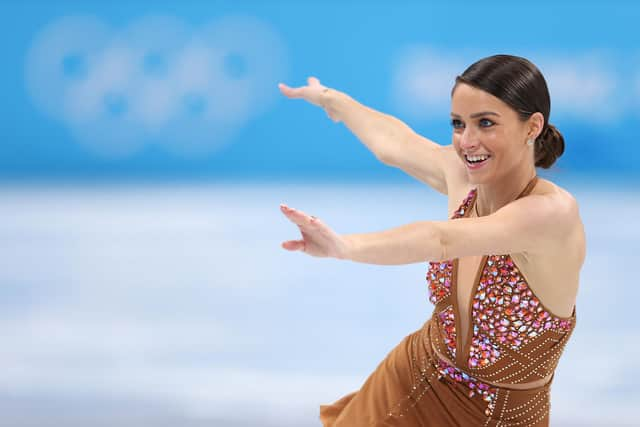 McKay smiles as she remembers Tracey's gentle urgings when falling too often caused frustration. "She'd say: 'Get back on, you'll be fine.'" And tribute must also be paid to her coaches for most of her journey, Simon and Debi Briggs, the husband-and-wife team who're veterans of a effervescent Dundee skating scene.
The devotion and sacrifices involved in getting to the top in a minority sport which is also hugely technical demands respect and admiration. In McKay's case, skating came to virtually dominate the household, even shifting it 400 miles.
As that seven-year-old, just starting out, she put in three hours of training before school, then a couple more in the afternoons. "We lived half an hour from the rink and because Mum didn't drive, Dad would have to drop us off at 5am so he could get to his work on time. The rink didn't open until half-five so Mum and I would just hang around outside. When the weather was bad the 24-hour Tesco across the Kingsway came in very handy."
When she was 12 McKay left Dundee. In Coventry she lived with a skating family and was coached by Russians. "Sometimes the family wouldn't be there so I had to make dinner for myself and do my own washing. I had to grow up." Too quickly? McKay doesn't regard herself as having lost part of her childhood. Sure, she missed out on some fun with friends, sleepovers and suchlike, and maybe there were no pop-star posters on her bedroom walls, but she was doing something she adored.
Later, her parents packed up and moved to Coventry to be with McKay. They took older siblings Danielle and Steven with them so the sacrifices were not hers alone. "That was amazing of them to that," she says, "and of Mum who home-schooled me. For the first couple of years down there I progressed quite a lot and won my first junior medal but from 15 I found the next couple of years tough. I was going out with friends and thought to myself: 'Maybe I'll start having a drink … '
"Suddenly I wasn't training as hard. I was going to parties and enjoying a bit of freedom. That was when Mum said: 'Okay, now we're all going home.' She phoned Simon and Debi to ask if they'd have me back in Dundee. It was the right time, not just for my skating, but Mum's parents had died, one soon after the other, and my other grandparents were missing us. I don't regret Coventry. The family who put me up were lovely and I liked the Russians, but they didn't train me as hard, especially off the rink. I wasn't overweight but probably a stone heavier than I should have been. I soon lost that. Dundee is a fantastic place to be a skater - home's best."
Nearing the end of her teens, McKay was re-watching the gold medal triumphs of Robin Cousins and Torvill & Dean and still holding onto her own Olympic dream, but beginning to wonder if it would remain just that. After two years back at the Ice Arena, she still couldn't perform a double axel.
Now, it is at this moment in our conversation – but not for the first time in my life, nothing like – when I am questioning the wisdom of having spent an inordinate number of Saturdays watching footballers who cannot kick the ball with two feet. Football and skating are different sports, for sure. The flaw of a few players being one-footed can be masked by the overall team effort. But skating simply does not permit such deficiencies. The short programme required of every figure skater has to feature two and a half airborne rotations.
"I was probably going to bed and dreaming of a double axel rather than the Olympics at that stage," McKay laughs. "I was 19, which was late to have not achieved it. Some girls had it at 11. I'd been trying since I was that age and was thinking it might never come. I began to wonder if skating was really worth it. I was working in TK Maxx because coaching was costing £200 a week and I couldn't keep expecting Mum and Dad to pay. I thought back to how I'd dragged my sister and brother down to Coventry. I really wanted to give up but my coaches, and Mum, suggested I keep going for just a couple more months. And then the double axel came. And quickly after that, a triple salchow and a triple loop. These weren't guarantees I was going to be amazing but I was thrilled. Now I could compete in the Euros and the worlds. My first senior international was the [2017] Open d'Andorra and I won it. The following month I won my first British title."
McKay celebrated that Sheffield success at TGI Fridays – "Sesame chicken strips with the Jack Daniels glaze and sweet potato fries, and I then ordered the same meal after every British." Her only superstition was that the left skate always went on first. The footwear for elite level, by the way, can cost £900 and a dress even more. Jodi Easson, another old friend from the rink, designed for McKay, having given up skating for fashion. Our girl loved them all, performing to Tchaikovsky and Lady Gaga, but retains special affection for her very first costume in zingy yellow.
The Olympics were bittersweet for McKay. Finally, after all those ungodly alarm-calls, after all the double angst of that problem jump, she'd made the Games. But they were severely Covid-restricted, masks at all times, some Chinese spectators but none from home, and she finished 28th, failing to make the free skate.
"I really wanted my family there," she says, "and it was especially sad for Mum and Dad as without them none of this would have happened to me." It would have been nice too if boyfriend Ross Johnston could have flown out to Beijing as he planned to propose straight after her competition. The quantity surveyor and ice hockey player with Dundee Tigers popped the question prior to the Games and the couple will marry next summer.
Every event, just as her music started up, McKay would recite a silent mantra twice over: "You've done this a million times in practice, do it again." She will mouth it once more at the Ice Arena with next month's exhibition to thank her home city for their support. That might properly bring down the curtain on her career but not on skating. "It's the loveliest thing to do, gliding away, forgetting about everything, losing yourself, being free. I won't ever stop."