Duncan Scott backs athletes' right to protest at Olympic Games
Duncan Scott refused to share a podium with China's Sun Yang at the 2019 world championships because of a doping controversy and the Scottish swimmer has backed athletes' rights to express their beliefs at the forthcoming Olympic Games.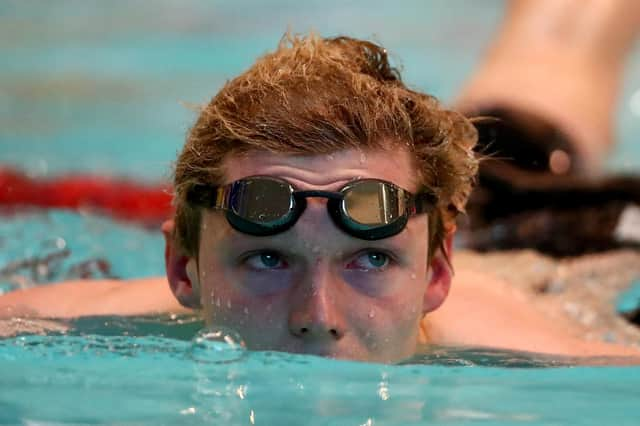 Duncan Scott is heading to Tokyo looking to add to the two medals he won at the 2016 Olympics. Picture: Clive Rose/Getty Images
The International Olympic Committee wants to ban protests in Tokyo, citing its Rule 50 which forbids any kind of "demonstration or political, religious or racial propaganda" in Olympic venues.
Scott was one of four Scots named on Tuesday in the Great Britain swimming team for the Games which will take place in Japan from July 23 to August 8 after being postponed last summer due to Covid.
Backstrokers Kathleen Dawson and Cassie Wild and breaststroker Ross Murdoch are the other three tartan representatives in the 28-strong squad which will be augmented in the coming weeks.
Duncan Scott and Sun Yang exchange words on the podium during the medal ceremony for the 200m freestyle final at the 2019 World Championships in Gwangju, South Korea. Picture: Quinn Rooney/Getty Images
Mark England, Team GB's chef de mission, has offered his backing to any British athlete who wants to protest in Tokyo even though they risk punishment if, for example, they take a knee in support of racial equality.
"We'll listen to what they have to say and want to do," said England. "It's really important we find an avenue and a route for those athletes across the team who wish to protest against whatever issue may be close to their heart."
Adam Peaty, Britain's leading swimmer, also offered his support.
"I think that people do have the right to protest and have the right to do it where they want. I don't think we should fine them for expressing their opinions," Peaty said.
Scott agreed with his team-mate.
"I would stand by what Peaty has said," said the Alloa swimmer. "There are occasions that's happened [protests] so there must be a reason why people are running to do it. They aren't just doing it for anything.
"There's got to be a reason why somebody would want to do it. The Olympic Games is a global stage so it'll definitely get seen but I've no idea what people are wanting to do on the podiums. So crack on, I guess."
Scott's own podium protest against Yang two years ago in South Korea saw him involved in an angry confrontation after he refused to shake hands with the Chinese swimmer. He also stood apart from him when photographs of the medallists were being taken. Scott was later warned by FINA, swimming's governing body.
Yang won world championship gold but was subsequently suspended for eight years for doping offences. The ban was overturned last December by Switzerland's highest court but the swimmer faces another hearing next month which could rule him out of the Olympics.
Scott said Yang will be the least of his concerns as he looks to add to the two relay medals he won at the 2016 Games in Rio de Janeiro.
"That's the last thing I'm going to be thinking about in my preparations for the Olympic Games, to be honest," said the 23-year-old. "That's going to be down there with 'did I do the washing before I left the house?'"
A message from the Editor:
Thank you for reading this article. We're more reliant on your support than ever as the shift in consumer habits brought about by Coronavirus impacts our advertisers.
If you haven't already, please consider supporting our trusted, fact-checked journalism by taking out a digital subscription
Want to join the conversation? Please or to comment on this article.