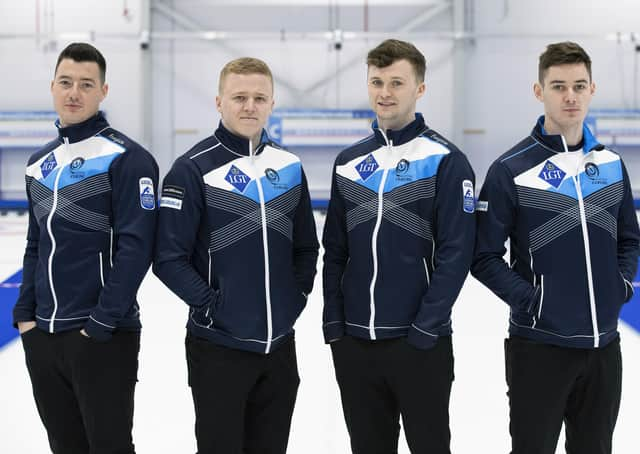 Scotland's team for the men's world curling championships, pictured from left: Hammy McMillan, Bobby Lammie, Bruce Mouat and Grant Hardie. Picture: Graeme Hart
World Curling chiefs insist the event, which is due to begin at the Emirates Arena on 28 March, is set to go ahead as planned but is reviewing advice from the World Health Organisation and affected countries "on a daily basis".
That, they admit, could see plans revised at short notice. And, with the women's worlds scheduled to begin in Canada next week, British Curling's performance director Nigel Holl revealed Scotland's teams are being prepared for every eventuality.
He said: "All we can do is control what we can control: cleaning stones, cleaning hands, minimising risks. The world championships are out of our control. We are optimistic they will go ahead. But we also have to be realistic in a world where Six Nations [matches] are being cancelled.
"I really hope Glasgow goes ahead on time because a lot of people have put in hard work on it and we're expecting a lot of visitors from Canada to enjoy it. But whatever decisions get taken, we will adapt and respond.
"If we have to play behind closed doors, it will be a massive wrench but we will do it. If we have to move to a different date, I'm confident we're set up to cope with it. And because we have the National Curling Academy in Stirling, we can prepare and go with it."
Shifting the Glasgow showpiece, which features nations from around the world including China, would cause a major headache due to the varied availability of the Emirates Arena.
"It's not going to be a World Curling decision, I suspect," Holl added. "It will be taken by government."
It is the first time in 20 years that the men's world championships are to be staged in Scotland and the host nation are due to be represented 
by Bruce Mouat and his 
teammates Grant Hardie, Bobby Lammie and Hammy 
McMillan.
The women's world championships are scheduled to take in place in Prince George in British Columbia from 14-22 March. The Scotland team, captained by Eve Muirhead and also including Lauren Gray, Jen Dodds and Vicky Wright, are due to depart for Canada on 8 March.