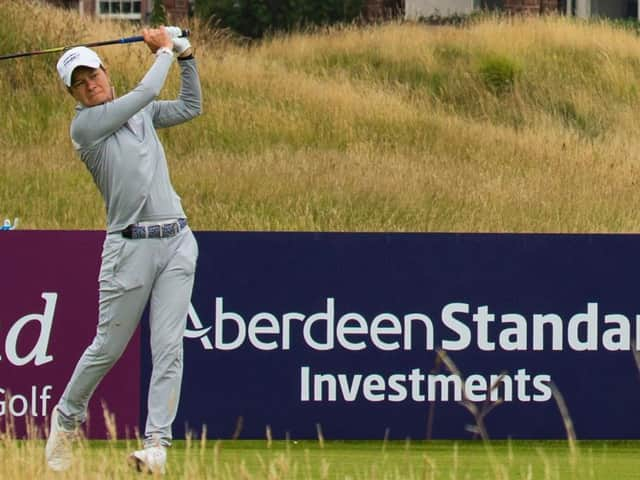 Catriona Matthew during a practice round at Renaissance Club. Picture Tristan Jones
Catriona Matthew is no longer feeling nervous about returning to work after becoming confident about her safety as soon as she arrived at The Renaissance Club for this week's Aberdeen Standard Investments Ladies Scottish Open.
The $1.5 million event is taking place in a "bio-bubble", with no fans, and players, caddies and support staff staying in designated accommodation and being isolated there away from the course.
The majority of players are in a hotel in Edinburgh, the only exceptions being Matthew and Beth Allen as they have been allowed to use their own homes as bases in North Berwick and Leith respectively but with the same isolation rule in place.
"I was a little nervous to start with when I first heard about it," admitted Matthew of this week's event in East Lothian and next week's AIG Women's Open at Royal Troon getting the green light to restart the women's game at the top level on this side of the Atlantic. "I think all the measures that have been put in place have put my mind at ease."
Those measures are the same ones that have been implemented since the European Tour's restart last month as part of a health strategy drawn up by Edinburgh-based Dr Andrew Murray, who is
also involved in this week's set up.
"The players are being very good, keeping their distance, wearing their face masks and using the hand sanitiser," added Matthew, who is among seven Scots in this week's field.
"There are a lot of players coming from other countries where the virus rates are higher, but now you are here and see all the hard work that has been put in by various bodies is paying off and I feel very happy and excited to be starting playing."
Matthew, a two-time winner at neighbouring Archerfield Links, would normally have lots of people cheering her on in East Lothian and admits it will be "strange" with no fans at all. "Obviously it's going to be different being for the local community this year in that none of them can physically come and watch it, but hopefully people will be watching on television," said Europe's Solheim Cup captain.
"I didn't realise myself how much live sport I didn't watch on TV until there wasn't any. I was struggling to find things to watch.
"I've been watching some of the men's golf that's been on the past few weeks. The first week was a little odd, but it's amazing how you get used to just watching it without the fans.
"I think playing is going to be slightly different. I think it will probably perhaps take a couple of days or a couple of rounds just to get used to the fact that there's no one out there watching."