Beth Potter stands on brink of Paris Olympics: Triathlon transition has been really hard - I probably had doubts until last year
Beth Potter cried every day after making the switch from athletics to triathlon but she now stands on the brink of qualifying for the Paris Olympics.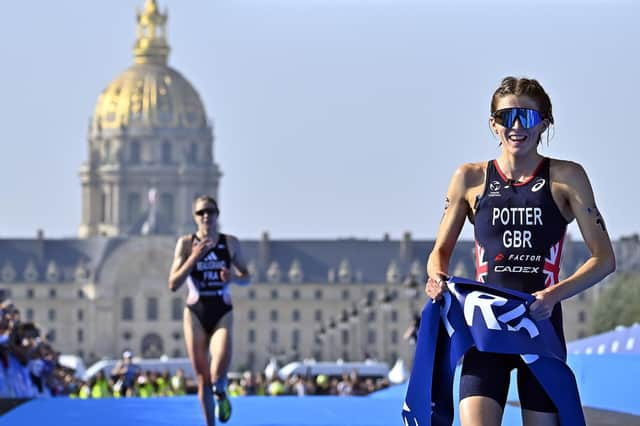 The 31-year-old Scot won the Games test event in the French capital last month and a top-three finish at the World Triathlon Championship Finals in Spain on Sunday would see her meet the selection criteria for the British team. But whether she qualifies this weekend or not, there seems little doubt Potter will be part of the British line-up next summer, joining a notable list of athletes who have competed at the Olympics in two different sports.
It was after using her summer holidays from her day job as a physics teacher to race in the 10,000 metres in Rio in 2016 that Potter decided to throw her eggs in the triathlon basket. "I think I probably had doubts until last year," Potter, from Glasgow said. "It's been really hard. I think those around me, the guys I train with, my boyfriend and my mum and dad, will know how hard it's been. Even that first year I was in Leeds I probably spent every day pretty upset and wondering whether I'd made the right choice. I think I probably cried every day."
Potter used family motivation to keep her going, saying: "I always did know it was never going to happen overnight, these things never do, it always takes four or five years. It was in line with my sister finishing her medical degree in Sheffield. I gave myself until then, if I'm not making a living out of it by then or things are just not going how I thought they would then I'll probably just quit and go back to the day job. Luckily I beat her to that. She's just finished her training."
Potter grew up doing swimming alongside her athletics but she was a cycling novice when she made the transition to triathlon aged 25. "It's not as easy to pick up skills like that as an adult because you have the fear, you know what's going to happen if you come off," she said. "It's not like a kid where you just bounce off the ground. You know you're going to hurt yourself. There was just a lot of doubt. I found that quite hard, constantly trying to believe in myself and constantly be like, it is going to work, I'm just not quite there yet. Getting to grips with a completely different sport.
"It was a very steep learning curve. Getting thrown into the world series and drowning, basically, way out of my depth. There was one way that I could race. If I had an easy swim and an easy bike then that would be fine. The way racing has been the last couple of years it's not been ideal for me but now I've got my bike and my swim up to those levels, I'm trying to turn myself into an all-round athlete that can win from any position. It's been quite good this year how I've managed to win and get on the podium in different events and in different race scenarios."
Potter has put together a brilliant 2023 campaign, winning world series races in Abu Dhabi and Montreal and then getting the better of big French rival Cassandre Beaugrand in a head-to-head finish at the test event. A repeat in Pontevedra would see the winner crowned world champion, although Potter's main target remains booking her spot in Paris.
"My goal at the start of the season was to qualify for the Olympics," she said. "I wasn't expecting to be in the running for the world title. I knew I could be up there but I didn't expect it to come down to the wire. It's a bit of a chicken and egg where I think if I just focus on doing the little things right, I'll probably get the Olympic qualification and finish wherever on the podium."
Olympic silver medallist Alex Yee is in the running for the men's title having also won the test event, and the British team look well positioned to continue their brilliant run of success in the sport next summer. Potter is currently the leading woman in the absence of the injured Georgia Taylor-Brown, individual silver medallist in Tokyo, and her gold medal-winning mixed relay team-mate Jess Learmonth, who recently gave birth to her first child.
Potter praised the coaches in Leeds who have kept the faith through the last six years that her move to triathlon would pay off. "They've stuck by me through thick and thin so I owe it to them because they believed when I was nothing," she said. "They can see a reward now hopefully. It was a bit bonkers to do it but I definitely think it's been the right decision."