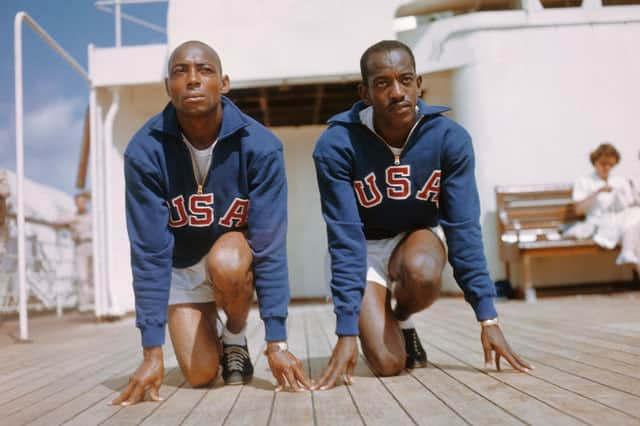 From Lancaster, Pennsylvania, he had never previously visited Scotland, far less the West Lothian town, nor had he been nurturing any unfulfilled ambition to explore Bathgate. In fact it is highly probable he had never even heard of it before taking up temporary residence.
Which begs the question - why on earth was he there?
The short answer is that having lost his amateur status after the Olympics, he had been engaged by the Scottish Games Association to compete here at professional Games
that summer in a profile raising exercise. This of course was a time of complete schism between amateur and professional athletics.
As part of the arrangement he was to live in the home of well known Bathgate professional trainer Bobby Renton at 2 Balbardie Crescent, which was to be his base for going round 'the circuit.'
That said, those plans almost never made it off the starting line.
On arrival at Prestwick Airport on June 23 by BOAC flight from New York, he was initially 'detained' for six hours in a nearby hotel room under the eye of a policeman as zealous officials questioned his lack of a work permit.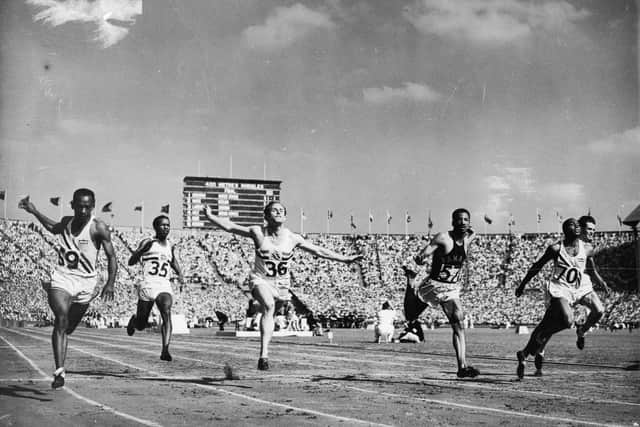 Although the likeable American protested he was here "to run, not work," officials countered by pointing out that with money involved it amounted to work. A compromise was reached and the athlete was permitted to stay till the end of August. Ironically when it came time to leave, his flight was delayed for 24 hours leading him to remark with a grin, "Jesus, I could hardly get into this country, now I can hardly get out!"
His presence in Bathgate caused the proverbial stir not only as a result of his celebrated sporting pedigree but also because he was black, which, given the era, focussed extra attention on him. Fortunately there was no suggestion of his suffering racism while his friendly outgoing demeanour endeared him to all, especially local children who swarmed round for autographs after games of rounders with him in the local Meadow Park after training.
Although popular back home in America, that did not extend to equality of employment opportunity or full community integration. While Olympic success led to being gifted a house in a black area whose acceptance resulted in loss of amateur status, he was only able to secure low paid production work despite being a qualified PE teacher. For a professional athlete Australia and Scotland were then the only two countries that offered earnings potential as a result of which he competed first in Australia and then here.
As an amateur his CV was formidable. Despite childhood polio, he went on to win multiple collegiate and national sprint titles in the States, 25 in total. He was 30 when he won Olympic medals in London, having arguably lost his best years during war service when no Games took place.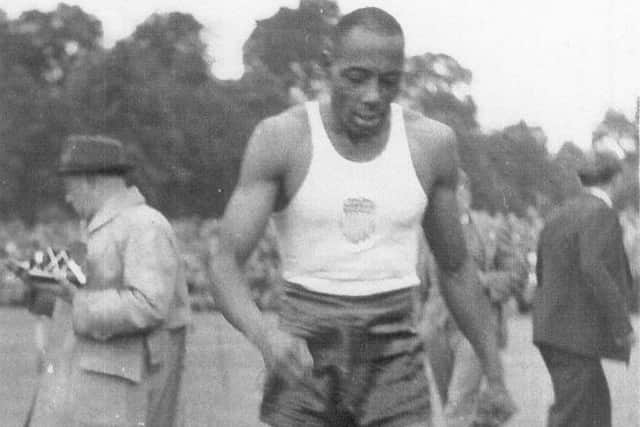 In 1948 he won silver in the 100 and 200 metres after photo finishes, and gold in the sprint relay. In qualifying for the Games he equalled Jesse Owens' 100m world record and was undoubtedly a candidate for the title of world's fastest man.
On arrival in Australia to compete in early 1950, when asked about his prospects he playfully replied: "Boy, I'm a man who makes no predictions."
Success did follow as he won the World Professional Sprint Championship held over four events and by the time he arrived in Scotland, although by then 32 and competing less regularly, he was still a top drawer sprinter as he would demonstrate over the coming months.
During that period his presence injected considerable interest and a degree of exoticism in the Games while serving up unforgettable highlights as he sped spectacularly to the finishing tape at venues not synonymous with world class performances.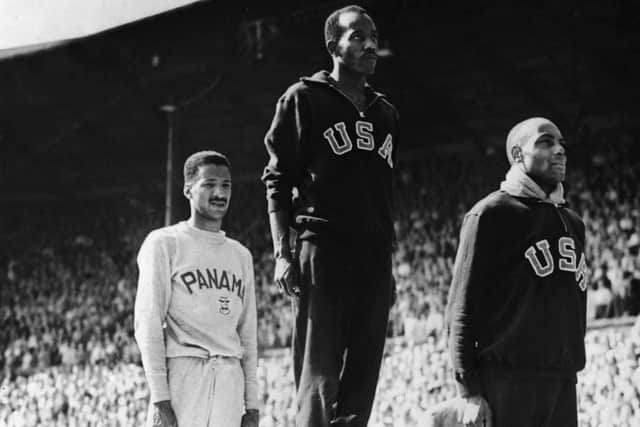 Among the places he competed were Peebles, Kirkconnel, Jedburgh, Tranent, Lochore, Thornton, Greenlaw, Powderhall as well as Morpeth and Keswick in the north of England.
Unsurprisingly he was not at his best running at Peebles a day after his arrival although he did win an invitation sprint but a week later at Kirkconnel on July 1 he was in top form, winning the 100 yards from scratch in a blistering 9.7 seconds on the tape, three yards inside 'evens'.
Present that day was 11 year old local boy Bill Taylor, later a well regarded goalkeeper with St.Johnstone, Stirling Albion and Luton Town, who recalled: "My pals and I were very excited, we were told the world's fastest man was coming to run. The Games were held on Kello Rovers football ground and we were very impressed with this powerful big black man flying up the track.
"None of us had seen a black man before. He was going so fast they had to open the gate at the other end to give him room to slow down and run on to the road."
A week later he performed even better at Jedburgh Games, traditionally the most prestigious of the summer sprints.
His appearance attracted a record post war crowd of over 6,000 and in a field of 130 entries for the 120-yard handicap sprint, he conceded starts up to 20 yards, causing him to ask the starter tongue in cheek if the athlete with the biggest handicap would hear the gun all right. Showing good form in his heat and semi final, he won the final in an exciting finish in the superb time of 11.37sec, over six yards 'inside evens,' a British All Comers pro record. "No wonder the crowd gasped", in the words of one report.
The eight-year-old John Steede, later a double Jedburgh sprint winner and British professional 440-yard champion, remembers seeing Ewell that day, particularly "the size of his thighs".
"Watching him definitely inspired me to become an athlete," he said. "He was loved by the crowd and mingled with them later, happily signing autographs."
Thornton was another success where his light blue tracksuit emblazoned with the letters USA caused a buzz among the 11,000 crowd as his 'long raking stride' carried him to an excellent win in the 100 yards in 9.9sec on a sodden track.
His final appearance was at Powderhall in Edinburgh in a specially arranged summer sprint which attracted 160 entries and 8,000 spectators. Off scratch he failed by inches to catch winner AC Charles off 12½ yards in a time of '6 inside evens', in what The Scotsman described "as a wonderful finish by Ewell, worth going miles to see".
Charles, then a clerk at Portobello Power Station, had his 'day of days' and was the nom de plume of Bert Macleod who later became the starter at Braemar Highland Games for almost 40 years.
The SGA pronounced Ewell's time here a great success with increases in crowds at all Games except Tranent due to heavy rain. It could be said he certainly gave value for money with his quality of performance on mostly rough and ready grass tracks, illustrated comparatively by the winner's time of that summer's AAA 100 yards title of 9.9sec, one 'yard inside.'
Ewell, who died in 1996 aged 78, is still remembered fondly by some Bathgate residents and occasional training partner Jim Wallace of nearby Blackburn who also recalled his enthusiasm for 'going dancing' in Edinburgh.
Popular with all, he was the 'Uncrowned King of Bathgate' who encouraged youngsters in sport and gave of his time to visit patients in Bangour hospital. The chances of history repeating itself and a 21st century version of Barney descending on Bathgate 70 years later to light up Games in small towns throughout the country are non existent.
In that sense, 'the past is a foreign country.'
A message from the Editor:
Thank you for reading this article. We're more reliant on your support than ever as the shift in consumer habits brought about by coronavirus impacts our advertisers.
If you haven't already, please consider supporting our trusted, fact-checked journalism by taking out a digital subscription.