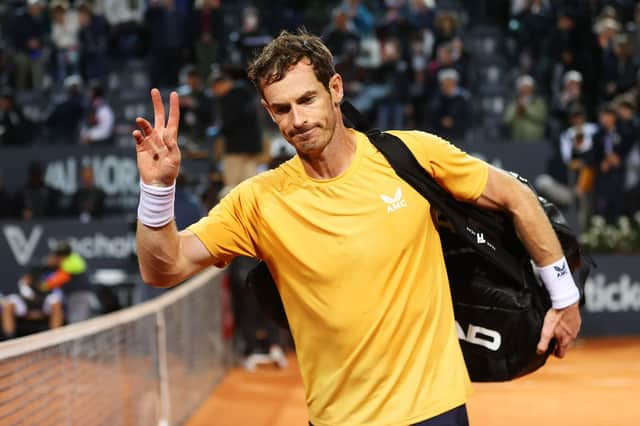 The Scot was knocked out of the Italian Open in the first round by Fabio Fognini on Wednesday evening after a three-set battle lasting nearly three hours, which means that he has failed to win a match at any of the three clay-court Masters 1000 events over the last month. However, Murray did win his first title since 2019 at the second-tier tournament in Aix-en-Provence on Sunday.
Murray, who turns 36 this week, has only played at Roland Garros once since 2017 and must now decide whether to compete on the Parisian clay potentially for the last time or begin his preparations early for the grass-court season. "I'd still like to play but we did agree that we'd talk and make a decision as a team after Rome," said the world No 42. "That is what I wanted, to see how my game felt, how I was playing and physically how I was doing in some of the longer matches before making a definitive call on it. We'll have those discussions in the next few days."
Murray and Fognini have been foes dating back to their junior days and it was the Italian who came out on top 6-4 4-6 6-4 after a tight battle. "It was a pretty patchy match," said Murray. "There was some good stuff in there but also some pretty average stuff. He played very well in the third set. My level was OK in the third, but he played really well in the third."
The result was a setback to Murray's hopes of being seeded at Wimbledon, while he got into a row with umpire Mohamed Lahyani over a line call late in the first set. Responding to an Instagram post about the incident, Murray hit out at the Rome fans, saying: "Stadium full of Italians booing and whistling, thinking I'm trying to cheat Fabio out of point all because Mo couldn't read a mark properly. Cheers mate."
Meanwhile, Madrid Open organisers have apologised for not allowing the women's doubles finalists to speak on court following Sunday's match.
The Scotsman understands that the WTA is investigating the various issues raised regarding the treatment of its players at the Caja Magica last week, and the tournament's chief executive Gerard Tsobanian has now issued a public apology. The convention is for the runners-up and winners to address the crowd following finals, and champions Victoria Azarenka and Beatriz Haddad Maia and beaten finalists Coco Gauff and Jessica Pegula were shocked to be denied the opportunity.
Tsobanian wrote on Twitter: "We sincerely apologise to all the players and fans who expect more of the Mutua Madrid Open tournament. Not giving our women's doubles finalists the chance to address their fans at the end of the match was unacceptable and we have apologised directly to Victoria, Beatriz, Coco and Jessica. We are working internally and with the WTA to review our protocols and are committed to improving our process moving forward. We made a mistake and this will not ever happen again."
There was also criticism of the revealing outfits worn by model ball girls on the main court as well as the way the tournament celebrated the birthday of male champion Carlos Alcaraz compared to women's singles winner Aryna Sabalenka. They share a birthday on May 5 but, while Alcaraz was presented with a huge cake on court after his semi-final, Sabalenka, who was not playing that day, was given a much more modest confection backstage.