Andy Murray makes smooth progress in Stuttgart but concerns grow over Emma Raducanu and Wimbledon
Andy Murray began his campaign at the Boss Open in Stuttgart with victory over Australia's Christopher O'Connell.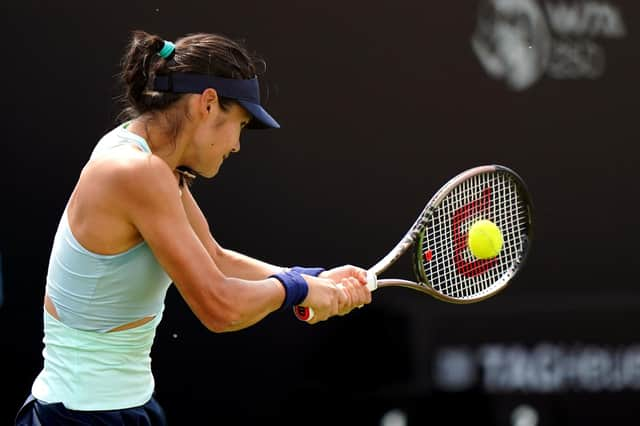 Emma Raducanu in action against Viktorija Golubic on day four of the Rothesay Open 2022 at Nottingham Tennis Centre.
The two-time Wimbledon champion lost in the semi-finals of the second-tier Challenger event in Surbiton last week and has headed to Germany to continue his grass-court season.
He lost the first three games to qualifier O'Connell but recovered strongly to claim a 6-4 6-3 victory and reach the second round.
Murray will face seventh seed Alexander Bublik from Kazakhstan after he overcame Denis Kudla in straight sets. It will be third time this season that Murray and Bublik have faced each other.
Meanwhile, Emma Raducanu has "no idea" whether she will be fit for Wimbledon after her British homecoming was ruined by injury in Nottingham.
The 19-year-old was playing her first match in this country since she won the US Open in September, but it ended after only seven games when a side injury forced her to retire against Viktorija Golubic.
Raducanu has been plagued with injury problems since she broke on to the WTA Tour and this was her third retirement since winning in New York last summer.
She will have a scan on what she called a "freak injury" and says it is too early to know whether she will be able to play at SW19 - the scene of her historic breakthrough last summer.
"The first game, an absolute freak, I think I pulled something, I am not really sure what exactly happened," she said.
"I have just come off court, an absolute freak injury. I don't know what I could have done more about it. That is it.
"I need to get a scan first. I am not going to 'Google doctor' myself. I will get it checked out, then we will see from there.
"I have no idea (about Wimbledon). It could have just seized up and gone into spasm and then it is really bad for a few days.
"I have no idea. I cannot diagnose myself. I will get it checked out."
Raducanu's progress on the tour in 2022 has been stunted by a string of injury issues, having struggled with hip and back complaints and also blisters.