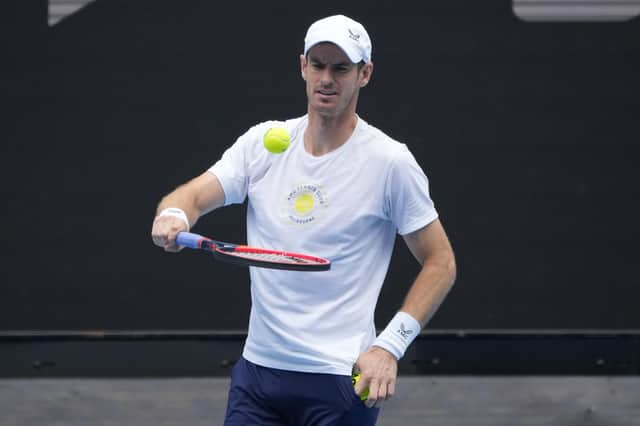 Currently placed No 49 in the world, Murray had targeted the European indoor hard court swing as a chance to gain crucial ATP ranking points. However, his performances in Basel and Paris, where some serious gains were on offer, let him down. In particular, a defeat by the veteran Gilles Simon in Bercy at an 1000 Series tournament will have rankled. He knew the consequences could be a very awkward first-round assignment in Melbourne.
So it has proved. Around 3am GMT on Tuesday, Murray will face 13th seed and big-serving Italian Matteo Berrettini for the fourth time in less than a year. The history books don't look good for Murray. The 35-year-old lost all of those encounters to the man nine years his junior. Two of them were on grass, at Queen's and the final of the Boss Open in Stuttgart, the other at the US Open. Murray took sets in two of those matches but found Berrettini just too hot to handle. He's in good shape down under but Berrettini made the semis last year in this event and has the power to hit through the Scot.
"Obviously it is a tough draw," Murray said in his pre-tournament press conference. "But I also feel I am in a much better place than I was during any of the Slams last year coming into it. I feel well prepared. I feel ready to play a top player early in the event. Whereas last year at times, my game didn't feel that great and getting a difficult draw didn't feel great. I feel I am in a better place this time to deal with that.
"I know how I am feeling today compared to when I went into the match at the US Open and I am playing better. I am in a better place physically. I feel well prepared for the event. Obviously the matches I have played against him [before], you would hope you would learn stuff from and take stuff away from it that will help you go into the next one."
Murray went on an extensive training block after last season ended with coach Ivan Lendl. "I have made some changes to my game," Murray revealed. "A good period of practice gave me time to work on a few things and improve. I also got a lot of work done away from the court, in the gym.
"In the matches that I have played [this year], my movement was significantly better than what it would have been at this stage last year. When I move well, I tend to play well and it is really important for me. That is probably the thing I am happiest about since I got here. The conditions are playing pretty fast, so when the conditions are quick it is even more important to be light on your feet and move well. I think that has been the biggest improvement."
Should Murray overcome Berrettini, the second-round match would be tricky, either another Italian in Fabio Fognini or home favourite Thanasi Kokkinakis. Spaniard Roberto Bautista Agut – who defeated him twice last year – is a likely third-round foe. Murray must hope that the improvements kick in fast.