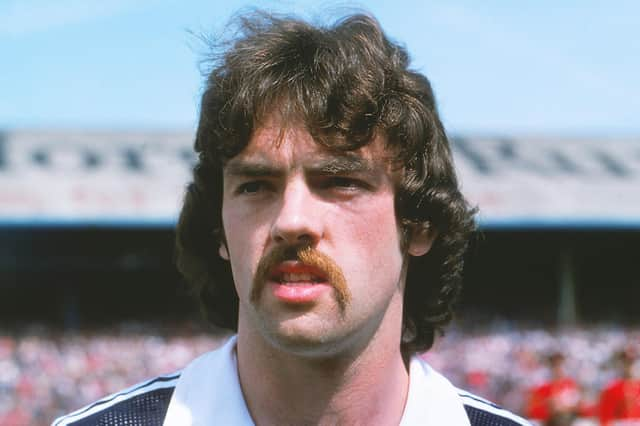 John Wark always looked like he belonged in a western with that mean critter moustache. With his straggly long hair he could morph into a desperado of the wild terracing frontier, a footballer who resembled many fans of his era - provided he swapped his saddlebag for an Agnews carryout.
Warky could drink, all right - the 20 pints glugged after an especially successful day seem to have passed into legend. But while this was the culture and just about every player participated, not all of them could do what he did on the pitch, and certainly not in his golden year, 1981.
In the February the midfielder won the tenth of his 29 Scotland caps in our first-ever international against next Thursday's crunch opponents Israel. This was a qualifier for the World Cup in Spain and his first involvement in the campaign. As Bob Paisley used to purr approvingly, Wark always had perfect timing. "You could set your watch by him," the Liverpool legend remarked.
In '81, though, Wark was a key member of Bobby Robson's bucaneering Ipswich Town team who three months after victory in Tel Aviv would revel in one of the clubs's greatest nights by hoisting the UEFA Cup.
For scoring a competition-record 14 goals in the run to glory Wark would be acclaimed as European Young Player of Year, a bawbee to sit on the mantelpiece next to the one all footballers value the most, the PFA prize confirming that all your rivals think you're great.
After these endeavours - and in total 36 strikes for the season, astonishing from the middle of the park - the player surely deserved a decent summer break. But where was he? In Hungary playing more football, in heavy antique boots, actors mucking up his best moves, and a straight-from-Rocky Sly Stallone as goalie punching every ball.
More about Escape to Victory later, but let's get back to that Israel game with Scotland in vivid red shirts and blue shorts, the aesthete's choice for our best-ever away kit.
"What a team Scotland put on the park back then," says Wark, 63, when I reel off the names of Graeme Souness, Archie Gemmill, John Robertson, Danny McGrain, Kenny Burns and the scorer of the game's only goal, Kenny Dalglish. "With all respect to the boys who came from the Scottish League, most of the side in my day would be Anglos and in most cases we were the best players at our English clubs.
"Jock Stein was my manager all through my international career and everyone was in complete awe of him. There were a lot of big hitters around at that time but I actually think it was respect bordering on being scared of the big man. Once he dropped me. 'I want to try something different,' he said, 'because you're really only good in both boxes.' I said: 'Boss, that's no problem - and of course you're absolutely right.' It was only later than I thought there was something funny about that word 'only' … "
Oh that Scotland had guys like John Wark now. "This is an unfortunate thing to say but I don't know some of the boys in the current team. It would be fantastic if Scotland could qualify for finals again because when I played in my World Cup they said 30,000 Scots travelled to Spain but it seemed like more and I wouldn't be surprised if 5,000 are still out there working in the bars.
"Don't get me wrong, the current team have some great players. I like John McGinn who's maybe doing the same job as the one I did, and in a similar way, too, because he's quite old-school. And look at Andy Robertson: the other night for Liverpool he made a mistake which cost them a goal but then he raced up the other end and scored one."
Still sporting the desperado mouser although the hair has gone, Wark is in Suffolk in the house he shares with partner Karen and yearns for the day Covid restrictions will be relaxed enough for him to resume five-a-sides. In a professional career he amassed 828 games and scored 223 goals, confirming that McGinn has some way to go to properly emulate him, but then which midfielder hasn't? This gunslinger moseyed out of the pro game at 40 but there could have been a "Wanted" poster bearing his name for a further ten years, given how many Sunday scruffs league bruisers wanted to kick him - and even now he has an unfulfilled ambition. "I always wanted to play for Rangers and, believe me, haven't given up hope," he laughs.
Well, Steven Gerrard rates him. When the Ibrox boss was still an Anfield Red they played together in a fund-raiser for a charity run by Dalglish's wife Marina. "Stevie was pumping me for stories about my time at Liverpool. I think his reaction every time was 'Oh my god'. For instance, my medical. The club were reigning league champs but in the Boot Room, which is tiny by the way, all I had to do on the orders of this wee guy who smelled of drink was touch my toes. So after that Stevie sent me over a bottle of champagne."
To continue that western analogy, Wark used to turn up in the opposition box like a mysterious stranger pushing open the swing-doors of a one-horse town's saloon. And just as the piano-player would halt mid-tune, the centre-half would stop defending as if surprised by our man's
adventurousness, and very often a goal hard in the bottom corner would result.
A couple of his Scotland strikes were quintessential Wark, including the last of them in a 2-2 draw against Switzerland, sliding over the sodden Hampden turf to meet a clever Dalglish chip on the drop, and in '81 again when he rescued a point against World Cup group rivals Northern Ireland with a blindside charge, Willie Miller artfully supplying on that occasion.
And get this: more often than not Wark's job was to be the holding midfielder. "At Ipswich Arnold Muhren and Frans Thijssen played wide with Eric Gates just off the strikers and I would sit in front of the back four. Away to St Etienne in the Uefa Cup I was to mark [Michel] Platini. I got in a couple of hard early tackles and didn't see much of him after that. Neat the end there was a chance to score a goal and we won 4-1. The trick was in the timing of the run. When the centre-forward laid it to the full-back that was usually the moment for me to get going. Before my marker knew what was happening I was away."
Wark's stats are gob-smacking and make a mockery of the CVs of today's players when even two-yard passes behind halfway with no opponent near are faithfully logged. "That stuff makes me laugh," he says. Wark amassed the facts which truly mattered. Joining Liverpool in 1984 and billed as Souness's replacement he wasn't sure he'd play many games. So how did he do? Oh, just outscored Ian Rush, that's all - 27 goals for the season including three hat-tricks. No wonder Robson dubbed him "the finest goalscoring midfielder of his generation".
Yet he's modest about his achievements. In Escape to Victory he teamed up with Pele, or "Eddie" as he came to know Edson Arantes. On the movie's release he bowed down to the great man claiming no other player in the world would have required just one take for the climactic overhead-kick winner. Yet rev up YouTube and you'll see Wark displaying the same acrobatics for Ipswich, leaving Manchester United's Gary Bailey rooted to his line in disbelief. And that season when he topped the Anfield goal charts? "Rushie finished only one behind," he says now, "and I have to admit that he missed ten games through injury otherwise he would have definitely roared right past me."
Wark's rise to prominence as one of the leading players in the world in his position is remarkable when you consider he started out as a defender, sent out for an injury-hit Ipswich debut at 17 to mark Leeds United's lethal striker Allan Clarke. And it's perhaps even more remarkable given his unpromising start in life.
"We were pretty poor," he says of his upbringing in Glasgow's Partick, one of four kids born to parents Alex and Helen. "There was an outside loo for six flats in the tenement and I slept in a drawer in the sideboard. I like to remind the grandkids of that, keeps them grateful." Wark was third in line and with siblings Alex Jr, Wilma and Andy a feature, though not always a happy one, was the late-night carousing from their parents' drinking sessions with friends. "It was a Glasgow thing, wasn't it?" says Wark.
But Alex Jr proved there could be a way out. "As soon as he was signed by St Mirren I decided I was going to become a footballer too." Wark was already playing in the street every day until dusk. "We only stopped when we got hungry." He very nearly garotted himself on a washing line, ending up with a broken arm. And there was one club he was desperate to join.
"The whole family were big Rangers fans. As a nipper I got a 'lift over' at Ibrox with Uncle Hughie and would be passed down to the terracing wall, right over the heads of the big crowd. I can still name the team I watched [and he does, from Billy Ritchie right through to Davie Wilson].
"My lot were such big Rangers supporters that when Ipswich were invited up to Ibrox to open a new stand and won 2-1, me scoring both goals, no bugger would speak to me for a month. And that was a friendly! Later I was back in Glasgow with Liverpool for Tommy Burns' testimonial and because of the Rangers connection got booed the entire game. Afterwards [Celtic manager] Billy McNeill said to me: 'Hey John, how about coming home?' I said: 'I'm always getting back to Glasgow when I can.' 'No,' he said, 'signing for us.' Celtic at least had shown interest in me as a boy when Rangers hadn't. But I couldn't have gone there. That would have been me finished with the family for evermore."
Wark pitched up in Suffolk aged 15 and hasn't left. Not that there weren't occasions when he might have done. "It's a long, long way and I got very homesick. That happens to a lot of young Scottish footballers, I know, but home for me was an 18-hour bus journey away. Bobby Robson was a big help because he knew things weren't good up the road. I was lucky in getting out but my little brother was still at home and he had it pretty tough.
My folks were at Wembley for the FA Cup final [1978, Ipswich triumphing] but didn't make it down for the Uefa Cup final. Mum died of alcoholism - she was only 57 - and Dad had a heart attack. Bobby became a father-figure for me."
Wark's personal regrets are obvious. Professional ones? "Ipswich were going for a treble ['80-'81] and should have won the league. But Aston Villa who did win it, and who we beat three times that season, played 46 games compared to our 66 and we were just too knackered by the end.
"And Scotland definitely should have got out of their group in Spain. During lockdown I watched back every minute of our games and still don't know how we didn't. It was a tough draw: Brazil were No 1 in the world and Russia were No 6 but we conceded daft goals against New Zealand and another against the Russians who we should have beaten.
"Against Brazil I nodded down for David Narey to hit that shot and he was so surprised he didn't know how to celebrate the goal. That just annoyed the Brazilians, though, and they really turned it on in the second half. Afterwards Kenny was about to swap shirts with Zico only for [Alan] Hansen to run past and almost shove him out of the way. But Zico came over to me. I was pretty chuffed - well, I finished our top scorer, even if it was with just two - and said: 'Mate, you can have anything of mine that you want.' 'Just the shirt,' he said. 'I collect only No 10s.'
"Big Jock was disappointed we had to come home, obviously, but told us it had been a great effort. Scotland took that World Cup seriously - the players were only allowed one night out and only after our tournament was over - and maybe that was because of what happened in Argentina. But that was some party in Puerto Banus. A good few of the Tartan Army joined us and by the end we were singing on the beachfront with Rod Stewart."
Wark at that bittersweet moment was already an experienced showbiz ligger, having hung out with Michael Caine the previous summer on the set of director John Huston's POW movie. If he thought 18 hours on a bus to Ipswich was a heck of a distance - what an epic journey Escape to Victory had been from Partick poverty.
"This guy from the film industry who knew Bobby Robson came to Portman Road and said: 'We're making this picture with lots of soccer in it - anyone fancy a part?' I didn't have a holiday booked so I put my hand up. Five of us from Ipswich flew to Hungary and we thought we'd just be only for the match scenes. But we were going to have to act, speaking lines. Later, when we were starting to fancy ourselves as proper actors, I went to the producer, Freddie Fields, to ask for pay rises or even royalties. He told me to eff right off!
"There was a lot of hanging around between takes so me and Ossie Ardiles would play chess. Caine was great. He stayed in our hotel and after each day's shoot would join us in the bar and tell us these fantastic stories. He liked hearing ours as well.
"But Stallone played the big shot. He chose a different hotel, was always surrounded by bodyguards and bouncers and the first whiff of a day off would be on a plane to Paris or somewhere. He presumed he was going to be scoring the winning goal but as he was a keeper had to make do with a big save. He needed plenty takes to get it right as well.
"Because it was set in wartime the famous John Wark hair had to get cut - but while all the actors had stylists the footballers were sent to a local butcher." And the snipping didn't end there. "I had two lines in the movie, one of which was 'I'm having the top bunk.' At the premiere with some pals I nudged them and said: 'Listen to this, guys, it's my big moment.' Only when I opened my mouth on the screen it wasn't my Glasgow accent. The buggers had dubbed me so I sounded like … Christ what was it, Morningside?!"
A message from the Editor:
Thank you for reading this story on our website. While I have your attention, I also have an important request to make of you.
With the coronavirus lockdown having a major impact on many of our advertisers - and consequently the revenue we receive - we are more reliant than ever on you taking out a digital subscription.
Subscribe to scotsman.com and enjoy unlimited access to Scottish news and information online and on our app. With a digital subscription, you can read more than 5 articles, see fewer ads, enjoy faster load times, and get access to exclusive newsletters and content. Visit https://www.scotsman.com/subscriptions now to sign up.
Our journalism costs money and we rely on advertising, print and digital revenues to help to support them. By supporting us, we are able to support you in providing trusted, fact-checked content for this website.