World No 1 Gordon Sargent consigns Scots to first defeat in 49th Walker Cup
World No 1 Gordon Sargent underlined his class as Scottish duo Connor Graham and Calum Scott suffered their first taste of defeat in the 49th Walker Cup in St Andrews.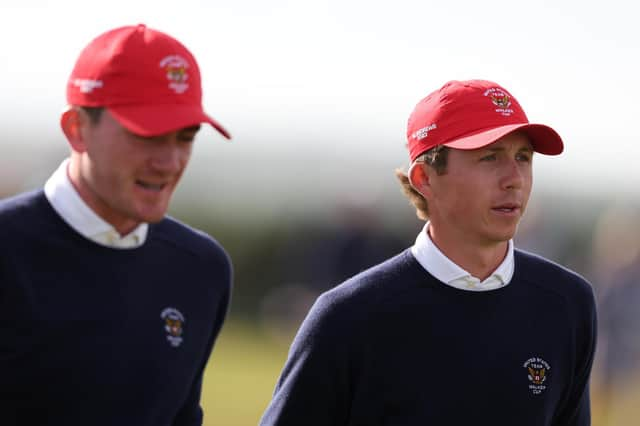 On a sunny but breezy morning on the Old Course, Sargent joined forces with Nick Dunlap to beat the tartan twosome on the last in a thrilling contest in the penultimate session.
After forging ahead early on, the Americans held a two-hole lead with six holes to play before it was back to all square after Dunlap left a shot in a back bunker at the par-4 15th.
That left a huge crowd feeling excited about the possibility of 16-year-old Graham and 19-year-old Scot adding to their 3&2 win together in Saturday's opening session, with Scott then winning in the singles as Graham sat out in the afternoon.
Sargent, though, had other ideas, confidently rolling in an eight-foot birdie putt at the 16th to edge the visitors in front again before also converting a couple of testers for par and birdie at the 17th and 18th respectively.
"Obviously not happy with the result, but we fought so hard out there to get it back to all square and hats off to them as they finished birdie-par-birdie to get it done. We tried our best, but just couldn't get it done," said Nairn man Scott.
On Sargent, who was the only player undefeated after the opening three sessions, he added: "Yeah, he's an incredible player and that's the reason he is world No 1. He does things down the stretch like there where other people might struggle. He holes clutch putts and hits great drives."
Leading 7.5-4.5 overnight, GB&I trailed in all four matches at one point in the morning before a fightback from Irish duo Liim Nolan and Mark Power delivered a valuable 4&3 win in the anchor game.
That meant the home team took an 8.5-7.5 lead into the concluding singles session, which saw Scott heading out in the first match against Caleb Surratt and Graham taking on 32-year-old Stewart Hagestad in game No 3.
"I'm going out there to win a point - I don't care how it is done," said Scott. I want to get a point really badly for this team and hopefully that can contribute to a win at the end of the day."
Graham added: "We know we can compete against them. If we play well, we can still have a good chance. I'm looking forward to getting out there and playing some good golf and win a point."
Foursomes (US names first)
Caleb Surratt/Ben James bt Matthew MacLean/John Gough 2&1
Gordon Sargent/Nick Dunlap bt Calum Scott/Conor Graham 1 hole
Preston Summerhays/Nick Gabrelick bt Alex Maguire/James Ashfield 2&1
Dylan Menante/Austin Graser lost to Liam Nolan/Mark Power 4&3
Comments
 0 comments
Want to join the conversation? Please or to comment on this article.