Why Scottish Golf has to grasp a big opportunity under Martin Gilbert leadership
This Sunday sees the 2021 Scottish Golf annual general meeting, which, for the second year in a row, will be conducted virtually via Zoom, a word I only really associated with my favourite ice lolly as a kid before it became such a key part of Covid-19 life.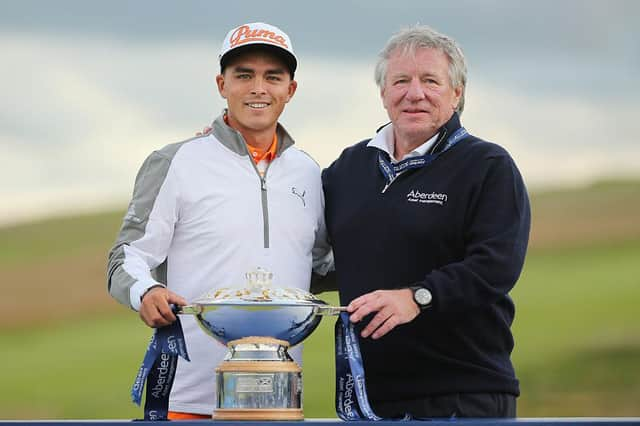 Martin Gilbert, pictured with Rickie Fowler after the American's win in the 2015 Aberdeen Standard Investments Scottish Open at Gullane, is set to take over as Scottish Golf's new chair this weekend. Picture: Mike Ehrmann/Getty Images.
The event should herald an exciting new era for the governing body, with Martin Gilbert, one of the most recognisable figures in the Scottish game through tremendous support provided by Aberdeen Asset Management then the merged Aberdeen Standard Investments, having been proposed as the new chair.
Gilbert is set to take over from Eleanor Cannon, who certainly ruffled some feathers during a six-year term but, and now is certainly the time for this to be acknowledged, deserves credit for devoting a lot of time and energy to the unified body.
Through input from lots of people, Gilbert will be taking on this new role with his eyes wide open, but, as someone who has real affinity for this particular organisation and, for the record, is also a paid-up member, I'm going to offer my tuppence worth about Scottish Golf as a new chapter beckons.
First and foremost, this opportunity has to be grasped to re-engage with clubs, individual members, players and even the media because, quite frankly, the governing body is akin to a secret service at the moment.
As an example, the findings of an "insights" survey commissioned by Scottish Golf following last year's agm were buried at the end of a newsletter sent out to clubs last week, with no sign of a news story about the findings on its website.
Okay, I get that clubs rating the "current support and service provided by Scottish Golf" as just 5.8 out of 10 isn't exactly something you'd want to shout from the rooftops, but, at the same time, that survey delivered some interesting findings.
Some, in fact, that could well lead to significant changes in how the body spends its revenue from the £14.50 affiliation fee paid annually by every single club member, and that certainly merits a bit more debate going forward.
Let's face it, under the leadership of Cannon, Gilbert or whoever, Scottish Golf will never be able to make everyone happy about how that money, which comes off annual subscriptions, is utilised, but the bulk of it should certainly go towards supporting clubs.
Over the past decade or so, progress had definitely been made in that respect and, giving credit where credit is due, Scottish Golf offered member clubs support worth more than £575,000 by way of a 25 per cent refund or rebate on last year's affiliation fees due to the closure of courses by the pandemic.
Last year also marked the roll out of a new Venue Management System (VMS) and an all-singing, all-dancing app as development costs in 2020, according to the accounts being put forward for this weekend's agm, rose to £1.3 million from just over £480,000 the previous year.
The success and associated value of that huge digital investment has still to be determined, though, and it is high time someone, probably chief operating officer Karin Sharp or chief commercial officer Iain Forsyth, put their head above the parapet to deliver a long-overdue update.
According to the website, Scottish Golf currently has a staff of 24, with seven involved in "club support" and five working on the VMS, with others, in addition to Sharp and Forsyth, involved in either digital, events, operations, performance and strategic business.
As the head of performance, Clare Queen will no doubt have found it interesting to see clubs express the view through the aforementioned insights survey that Scottish Golf should invest less money than it currently does on "elite" golf.
That really is a terrible term and needs to be dispensed with, but here's hoping that Gilbert's guiding hand can come in useful because, while supporting clubs is certainly important, so is Scottish Golf's role in nurturing young talent.
With Scottish players getting in the mix most weeks on the European Tour, coupled with the Martin Laird and Russell Knox making their presence felt on the PGA Tour and the likes of Gemma Dryburgh, Kelsey MacDonald and Michele Thomson making headway in the ladies' game, now isn't the time to pulling the rug from under the feet of those at the grass-roots level.
This is the first year of major winners Catriona Matthew and Paul Lawrie both being involved in Scottish Golf's performance programme, and that has to be allowed to play a key part in the development of future generations.
Gilbert, of course, won't be able to simply come in and wave a magic wand, but here's hoping that, with him at the helm, Scottish Golf can begin a new era by embarking on a much-needed charm offensive with a large number of its paying members.
A message from the Editor:
Get a year of unlimited access to all of The Scotsman's sport coverage without the need for a full subscription. Expert analysis, exclusive interviews, live blogs, and 70 per cent fewer ads on Scotsman.com - all for less than £1 a week. Subscribe to us today https://www.scotsman.com/subscriptions/sports
Want to join the conversation? Please or to comment on this article.