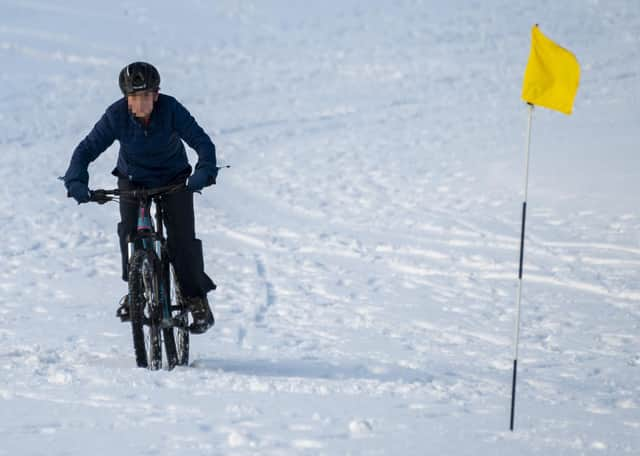 Over the past couple of weeks in particular, it has been mainly disappointing news for keen golfers the length and breadth of the country as they await that much-anticipated early-morning update.
"Course closed" has been the message relayed at most venues due to a blanket of either snow or frost refusing to lift, with sheets of ice looking pretty in photographs but another reason why it's been a frustrating start to 2021 for lots of people.
Some, of course, won't be bothered in the slightest because it's way too early for the 'fair-weather' golfers to even be contemplating the thought of bringing the sticks out of winter hibernation.
But we all know that they are in the minority in Scotland, where the nation's golfers are brought up having to brave the elements and, for the most, get the head down and still enjoy that opportunity to be outdoors playing a sport.
It's bloody frustrating to receive that message from the club via either an email or through social media to discover an opportunity being denied our golfing counterparts in England, Ireland and Wales is also unavailable at some courses here for the time being, though hopefully not for too much longer.
During last year's initial lockdown, when golf courses were officially closed due to the pandemic, they became popular spots for people to enjoy their daily exercise as they took advantage of being in beautiful open spaces without the fear of being clobbered on the head by a golf ball.
As is the case, unfortunately, in the modern world, respect was lacking in some instances as kids were allowed to run amok in bunkers and football kickabouts took place in the middle of greens.
But, at a number of clubs, new members were secured through people perhaps getting the opportunity to see courses for the first time, so there were definitely plus points from that unusual situation.
Not so unusual, of course, is what happens at some venues when they are covered in snow and, by the looks of things, the sledgers have jumped at the chance to be out in force at a number of golf clubs over the past few weeks.
The Braids and Craigmillar Park are popular haunts in Edinburgh, as is Clober in Milngavie, with hills on certain holes providing the perfect terrain for youngsters in particular but people of all ages to get a thrill from hurtling down it on a sheet of plastic.
"It's one of those things that we just accept," Gary McFarlane, the Clober PGA professional, admitted recently. "We have got a rather steep hill on the seventh, which people enjoy sledging on. We have always sucked that up and got on with it."
Shame on the people who abused that community spirit by leaving broken sledges along with a pile of rubbish out on the course a fortnight ago, a sight that must have been disheartening, to say the least, to the greenkeepers.
That was certainly the case at the weekend at the picturesque Dunaverty course, home of the great Belle Robertson and equally well-known figure in the game, Jock MacVicar, down on the Mull of Kintyre.
In a post on the club's Facebook page, disappointment was expressed about cars being parked on a fairway and sledging taking place at a number of locations on the course.
"Whilst we are more than happy to welcome visitors to Dunaverty, this is not in keeping with the spirit of this invitation," said the post.
Well done to Dunaverty for taking that bold step and backing their head greenkeeper, who was concerned about the course sustaining damage due to the fact the covering of snow was light and, therefore, trails were being left on the ground.
Just over a fortnight ago, I was sent a video clip of someone ice skating on one of the greens at a club in Dunfermline and, apparently, the same thing happened at another club in Perth over the weekend.
Sorry, but that is simply not acceptable. Members pay good money for courses to be maintained and it is infuriating to think someone not associated with the club in any shape or form - in fact, they probably hate golf - can come along at this time of the year and turn it into a winter playground without even batting an eye lid.
A message from the Editor:Thank you for reading this article. We're more reliant on your support than ever as the shift in consumer habits brought about by coronavirus impacts our advertisers. If you haven't already, please consider supporting our trusted, fact-checked journalism by taking out a digital subscription.