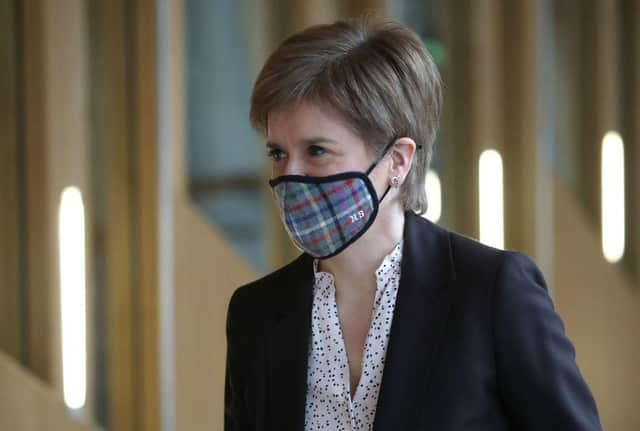 But let's give credit where it's due for the fact that the nation's golfers will still be able to get out on the fairways after a thaw while our counterparts in England, Ireland and Wales all find themselves being denied that opportunity.
"That's way above my pay grade," replied Paul Lawrie in a jocular tone to being asked on social media why golf in Scotland is continuing but not in England after different decisions were taken on Monday north and south of the border.
It's also way above my pay grade, but there can be no denying, surely, that Scotland's army of golfers owe a debt of gratitude at this moment in time to the Scottish Government, sportscotland and Scottish Golf.
As was the case during lockdown last year, it must have been tempting for First Minister Nicola Sturgeon to instruct golf clubs to close as part of restrictions introduced to combat the new strain of Covid-19.
"Hallelujah" has been the resounding reaction to that not being the case, even though play is now restricted to a maximum of two-balls, as was the case in the first tentative steps out of lockdown last summer.
Staying "close to home" and "travel only for essential purposes" are the only other messages that have been delivered as part of new guidance from Scottish Golf, with the second one worthy of scrutiny.
Is it "essential" to make a journey for a game of golf? Taken purely at face value, of course not, and the bigger picture, namely getting to grips with this pandemic once and for all, is clearly the most important thing.
You would really have to have been out on a golf course yourself in the Covid world, though, to see that the sport provides one of the safest environments you could probably find at the moment and also an important outlet from a mental perspective to people of all ages but the older generation in particular.
And that's where both sportscotland and Scottish Golf also deserve a pat on the back. Yes, the governing body appeared to be like a rabbit caught in the headlights when the world started to be turned upside down.
Slowly but surely, though, it has started to get a grip on things and fair play to Karin Sharp, the chief operating officer, for getting the message across to sportscotland in the first instance then, in turn, the Scottish Government that golf can, indeed, take place safely.
In Ireland, in particular, it seems as though it's been a case of courses being closed one minute, open for a bit then closed again, which is also now the situation in England following Boris Johnson's decision to impose a new national lockdown south of the border.
"We've been lucky," one club manager said of Scotland's courses being open since 29 May, with the golfers themselves - the vast majority, anyway - having shown respect for the measures in place at any given time and long may that continue.
A message from the Editor:Thank you for reading this article. We're more reliant on your support than ever as the shift in consumer habits brought about by coronavirus impacts our advertisers.
If you haven't already, please consider supporting our trusted, fact-checked journalism by taking out a digital subscription.