Why golf still beats any other sport for teeing up friendships
A few may have become somewhat strained over the past six months or so and, in some cases, could now be irreparable, but is there really a sport that comes close to golf in respect of genuine friendships it creates and wide-ranging ones, too?
I think it's been down to the turbulence in the game at the moment, but I've definitely found myself analysing things more at events than ever before and that was certainly the case during a day spectating at last week's DP World Tour Championship in Dubai.
For example, I was fascinated to see Rory McIlroy paired with Adrian Otaegui, the first LIV Golf player to win on the DP World Tour and part of an impending court case against the circuit, on the Earth Course at Jumeirah Golf Estates.
Would there be any sign of tension between the pair, especially with McIlroy having been so vocal about Greg Norman and his Saudi Arabia-backed rebel circuit? 'No' was the emphatic answer as whatever was said as they walked off the first tee led to warm smiles being exchanged and also a little side hug.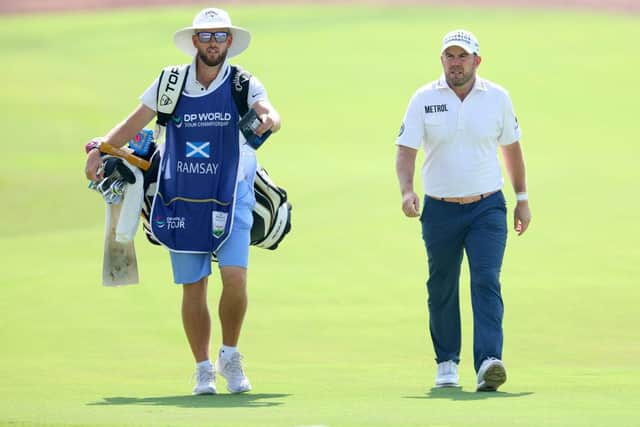 When Otaegui then knocked in his second shot for an opening eagle, McIlroy shared his delight, as was the case in reverse when the Northern Irishman almost made an albatross 2 following a spectacular approach at the 18th a few hours later.
For me, there is nothing better than watching a golf shot executed to perfection in the flesh and equally rewarding is the joy that creates, not only for the player but also others, both inside and outside the ropes.
As I witnessed again on this particular occasion and this instance definitely provided one of my most enjoyable moments ever on a golf course due to the fact it was shared with family members of the player in question.
Richie Ramsay has made no secret of how daughter Olivia has changed his life since arriving in the world six-and-a-half years ago and, having heard lots about her, it was a pleasure to meet the young lady for the first time as she followed dad on the back nine with her lovely and charming mum, Angela.
Having laid up with his second shot after finding a nestled lie in the left rough, I asked Olivia if she felt her dad was going to hit the green with his next blow. As she nodded her head, Ramsay didn't let her down and actually surpassed that expectation by holing out from 189 yards.
He enjoyed that immensely, as did Angela and also Olivia, who took off like Usain Bolt when her mum said that she should get herself up to the back of the green to give him a congratulatory hug before heading off to sign his card.
Earlier that day, it was great to catch up with David Law's equally likeable and friendly wife, Natasha, as the Aberdonian made his first appearance in the DP World Tour's season finale and it's no coincidence that a lot of his best golf over the last couple of seasons has been produced when she's been at events along with their two young children.
If Law or Ramsay played football or rugby professionally, I'd probably have never met their wives or other family members and the same goes for the likes of Paul Lawrie and Stephen Gallacher 30 or so years ago and now with Bob MacIntyre, Ewen Ferguson, Grant Forrest, Connor Syme and numerous others.
I will never forget the day Gallacher landed his maiden DP World Tour win as he beat Graeme McDowell in a play-off in the 2004 Alfred Dunhill Links Championship because, even though I was working on this occasion, it was an absolute joy to be out on the Old Course to see what that meant, not just for himself but also his dad Jim and grandad Barney as well.
Another special day was being at Royal Dornoch in 2012 when Forrest won the Scottish Amateur Championship because, having got to know his dad, Graeme, before he lost a battle with cancer, I knew exactly how proud he'd have been and rightly so, as, of course, would have been seeing him go on to become a victor on the DP World Tour.
A great example of how the game forges friendships is the fact that the parents of Dean Robertson and Raymond Russell have become very close since that pair met in the final of the Scottish Amateur Championship at Royal Dornoch just under 30 years ago. Indeed, it was fantastic seeing them at the AIG Women's Open earlier this year at Muirfield, where they followed Louise Duncan, who had Robertson, her mentor, caddying, every step of the way.
As was the case with her in that event, I also felt last week confirmed that Scottish golfers are no longer jinxed by either my presence or colleagues, having shared that belief with the late Jock MacVicar and also Steve Scott and Nick Rodger on our travels over the years. Forrest, for instance, was flying in the final round of the Scottish Stroke-Play Championship at Gullane one year until we appeared on the scene and the wheels came off.
That had happened lots of times with other players, but not any more and, with all five Scots coming out of last week's event inside the top 50 in the DP World Tour Rankings at the end of the campaign and four of them - Ferguson, MacIntyre, Ramsay and Syme - also securing spots in next year's Open at Hoylake, I'll continue to feel comfortable being out on courses supporting our boys and enjoying those valued family friendships.
Comments
 0 comments
Want to join the conversation? Please or to comment on this article.