Why claims from LIV lovers about DP World Tour's demise are not standing up
LIV Golf lovers constantly churn out the narrative about ten DP World Tour players earning PGA Tour cards at the end of the 2023 season and are also quick to tell us about DP World Tour players, Ryan Fox and Min Woo Lee being the latest, receiving special temporary membership of the US circuit.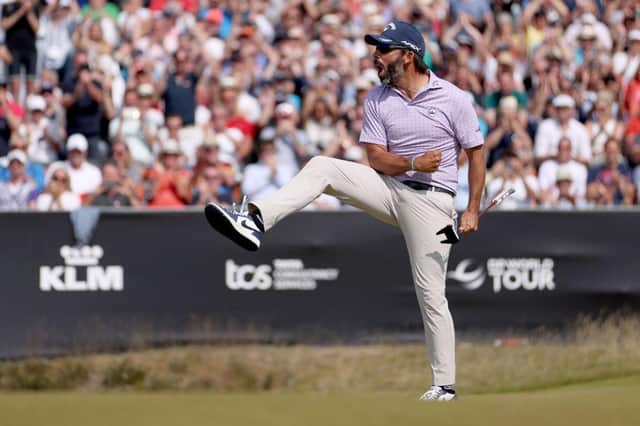 Which is rich, of course, when the likes of Lee Westwood, Ian Poulter, Sergio Garcia, Henrik Stenson, Paul Casey and others all headed across the Atlantic earlier in their careers to play on the PGA Tour because, like most top golfers these days, they wanted to compete against the best golfers in the world on a regular basis.
In my time covering the game, I can only recall one player openly confessing that he didn't actually like competing in the States and that was Nicolas Colsaerts, who was in the European team in the 2012 Ryder Cup at Medinah and is now one of Luke Donald's vice captains for this year's contest in Rome.
The reason LIV lovers use that narrative, of course, is always aimed at trying to be negative about the DP World Tour and, in particular, its Strategic Alliance with the PGA Tour.
'They're selling the jerseys' is effectively the claim directed mainly to DP World Tour CEO Keith Pelley, but, in truth, it's just a more direct route to the PGA Tour and please don't kid ourselves by claiming those European players now competing on Greg Norman's Saudi-backed circuit would have objected if they'd been handed the same opportunity ten or 20 years ago.
Another thing we keep hearing since LIV Golf arrived on the scene just under 12 months ago is how DP World Tour events have been diminished and fans are no longer interested in the circuit's product.
Well, if that's the case, then someone obviously forgot to tell the good people of both Belgium and the Netherlands because, over the past few weeks, the Soudal Open and the KLM Open not only came across on television as terrific tournaments but also had the players raving about them.
"The tournament as a whole has been really positive," declared Richie Ramsay of the Soudal Open, which was played at Rinkven International in Antwerp. "Look at the stands and look at the people who are out. I think the tour needs to take a good look at this and realise this has the potential to grow."
And that, it has to be said, was without Belgium's top-ranked golfer, Thomas Pieters, playing on this occasion following his switch to LIV Golf earlier in the year.
Last week's KLM Open at Bernardus Golf in Cromvoirt was also deemed a huge success. "It's a great event at a great venue and with great crowds. Probably one of the better events on tour. In fact, definitely," said Grant Forrest in delivering his verdict on that one.
Concurring, Ewen Ferguson added: "It's an unreal event. There's a great buzz about the place and I even had people shouting my name in a Dutch accent. It was good fun and I really enjoyed it."
That, of course, isn't what those constantly trying to stick the knife in the DP World Tour these days want to hear. They want to hear players say that Pelley and his board should have taken the Saudi money when it seemed to be on the table and expressing sadness about the likes of Westwood, Poulter, Garcia and Stenson no longer being members of the tour.
Yes, they will be missed at certain events, including that Ryder Cup at Marco Simone Golf Club, but, in players like Pablo Larrazabal, the future of the DP World Tour is bright. Ironically, the Spaniard teed up in the inaugural LIV event at St Albans almost exactly a year ago before quickly having a change of heart.
He's now won twice in quick succession and nine times in total on the circuit, clinching his KLM Open title triumph on Sunday with some sublime shot-shaping and ball-striking over the closing few holes and celebrating in style before once again showing how passionate he is about the game in his post-round interview.
Having now jumped to eighth in the Race to Dubai, there's a chance that Larrazabal will be claiming one of these PGA Tour cards for next season, but that doesn't mean to say he's going to be lost for good from the DP World Tour and it will be exactly the same if Forrest, Ferguson, Bob MacIntyre, Victor Perez, Adrian Meronk, the Hojgaard twins - Nicolai and Rasmus - and others earn that opportunity either next year or down the line.
Whether you are talking about Europeans, South Africans, Australians and players from numerous other countries around the world, the DP World Tour has always been a pipeline for top talent and, even though the big names might be missing, events like the Porsche European Open, Scandinavian Mixed, BMW International Open and Betfred British Masters over the next few weeks will prove that claims about the DP World Tour's so-called demise are being greatly exaggerated.
Comments
 0 comments
Want to join the conversation? Please or to comment on this article.