Why big isn't always better when it comes to crowds at golf events
It was easily one of my favourite weeks for a long time covering golf and, though there were other contributing factors, it was mainly down to this year's Freed Group Women's Scottish Open at Dundonald Links having a great feel to it.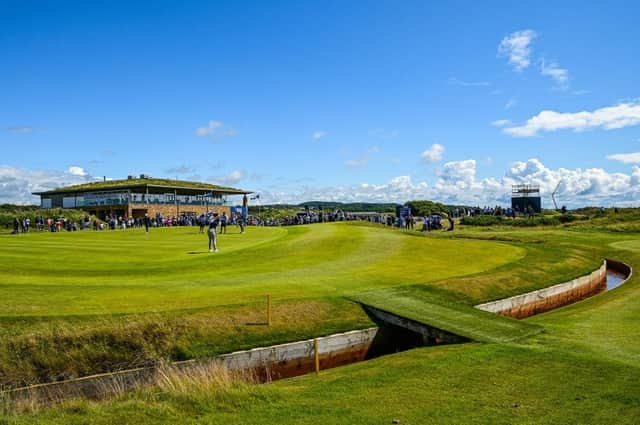 Though not known publicly, the LET/LPGA co-sanctioned event was perilously close to not taking place this year and only did so due to Freed Group, a Hong Kong-based tech company, being parachuted in as a one-off title sponsor and being thrilled to be involved.
In some respects, it had a watered-down feel to it compared to last year's staging at the same event - there was little evidence of tournament infrastructure, for example - but that actually contributed to that special feel.
For this correspondent, it was my first event since the 151st Open at Royal Liverpool and, boy, did it feel nice to have breathing space out on a golf course because that certainly wasn't the case on Merseyside three weeks ago.
On the back of a record 290,000 attendance for the 150th edition at St Andrews last year, The R&A decided to go big again at Hoylake, where a crowd of just over 260,000 was the highest for a staging of the Claret Jug event outside the sport's cradle.
On the one hand, it's understandable that Martin Slumbers, The R&A's CEO, and his commercial team are keen to squeeze as much as they possibly can in terms of revenue for the event and the St Andrews-based organisation certainly does a brilliant job in terms of marketing when it comes to the game's oldest major.
I vividly remember being reminded by a member of The R&A over a refreshment during the 2019 Open at Royal Portrush that it was just before the event's eagerly-anticipated return to Northern Ireland that tickets for the tournament the following year didn't go on sale until November. But not now.
A ballot for next year's edition at Royal Troon opened on 21 June and closed on 20 July, with the results being announced by the end of next month. A figure has still to be announced, but one thing for sure is that The R&A will be looking for considerably more than the 173,134 for the event's last visit to the Ayrshire venue in 2016 and 200,000 plus being the probable target.
One thing in Royal Troon's favour is that it naturally offers a bit more breathing space out on the course and also has adjoining areas it can utilise for the huge infrastructure that is part of The Open these days, but, on the evidence of Royal Liverpool, The R&A maybe needs to tread carefully going forward in terms of trying to have bigger attendances than in the past.
It was well-documented that Brian Harman, the winner at Hoylake, was booed on the first tee in the final round while other comments aimed at him at various times over the weekend were certainly not befitting of a British golf crowd. According to someone I bumped into in my local supermarket on Saturday morning, even marshals were being abused by boozed-up spectators.
In contrast, the Freed Group Women's Scottish Open was a throwback to a golf event being a place where spectators - both young and old - were able to see the action in the first place and also enjoy watching some of the world's top players do battle for a $2 million prize fund. Admittedly helped by the weather being a bit better for the most part on the Ayrshire coast than some other parts of the country, it was just a brilliant event from start to finish, producing a great winner in Frenchwoman Celine Boutier.
Like the men's Genesis Scottish Open, the women's event currently occupies a prime spot the week before the AIG Women's Open and here's hoping the stops are pulled out by everyone involved to keep it there ahead of The R&A major being held at St Andrews next year. Dundonald Links has now hosted the Women's Scottish Open for the last two years and, for a variety of reasons, including its superb on-site accommodation, it would be the perfect venue again.
"Next year it will be nice to play this and then drive over to St Andrews," said Gemma Dryburgh, the top-ranked Scot. "It's just a fantastic way to warm up for the AIG Women's Open the week before. I like to play the week before if I can and it will be great to have on the schedule next year. I think everyone loves it (at Dundonald Links). Lodges are here, nice gym on site. It's a beautiful spot, as well."
On one of my journeys down, I stopped off in Glasgow to attend the ceremonial launch of the new Golf It! facility, which has been created by The R&A and, as already acknowledged in a comment piece on it, can be game-changing in terms of growing the game because it's both edgy and exciting in the eyes of young people in particular.
At the same time, I loved coming across Jim McArthur, a former chairman of The R&A Championship Committee, hitting a few balls on the range and him recalling how he'd cut his golfing teeth on the nine-hole course that is now part of the new facility before becoming a member of Mount Ellen, which is sadly now defunct.
Equally heart-warming was Clive Brown, captain of Great Britain & Ireland's winning Walker Cup team at Royal Porthcawl in 1995 and the current captain of The Royal & Ancient Golf Club of St Andrews, talking about how he'd played that nine-holer with his wife earlier in the day and raving about it.
Yip, it was definitely a good week to do my job because it was a nice reminder that I'm in a privileged position to have golf as my sole focus when it comes to work.
Comments
 0 comments
Want to join the conversation? Please or to comment on this article.