Walker Cup: Dream day for Scots as GB&I get off to strong start at St Andrews
Mark it down as one of the great days in golf. Yes, of course, that's a bold statement, but the opening day in the 49th Walker Cup at St Andrews - it is being played on the Old Course on the 100th anniversary of just the second edition in its rich history - truly was something special.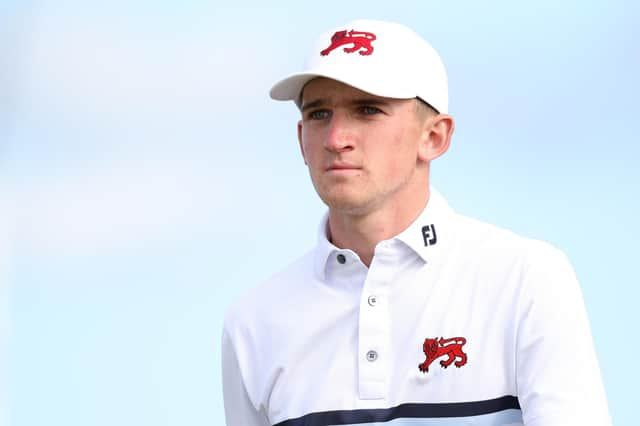 It helped that it felt like summer on the Fife coast. After low fronts had swept across the UK for the past five or six weekends, a high front for this one delivered warm sunshine and a soft breeze for the latest biennial bout between the top amateurs of Great Britain & Ireland and their United States counterparts.
Enjoying being able to walk out on the fairways with the players – it's a tradition with this brilliant event and long may it continue – big crowds with each match in both sessions were treated to some brilliant golf over the course of ten hours in total. Oh, and what a day it proved to be for the Scots involved in it. Through the combined efforts of Calum Scott and Connor Graham, the Caledonian contingent contributed three points out of three, helping the home team, which is being captained by Forfar man Stuart Wilson, to a 7.5-4.5 lead at the halfway stage. It's the biggest advantage for GB&I at this point in the contest since 1989.
"Obviously a great day for us results-wise," admitted Wilson, who is seeking revenge for a narrow defeat in his first crack at the captaincy at Seminole two years ago. Referring to the fact his side trailed 6-2 early on in the singles before winning that session by a point to add to a 3-1 morning success – it turned GB&I's way when Daniel Summerhays missed a short putt in one match before Alex Maguire rolled in a 12-footer in another one – he added: "We showed grit and determination and managed to take a few points against the head."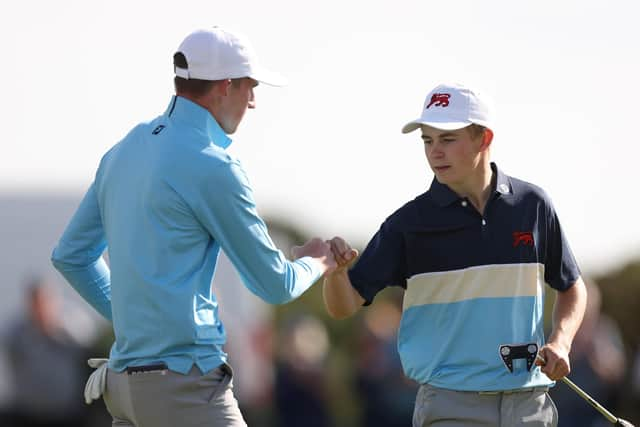 To the delight of the majority of those fans, home duo Graham and Scott joined forces to deliver a 3&2 morning win, covering 16 holes in six-under-par and being bogey-free in the process as they took down Ben James and Caleb Surratt, the world No 7 and 8 respectively.
It was a winning debut for both players and, in the case of Graham, the sweet success came as he made history by becoming the youngest-ever Walker Cup player. At 16 years and ten months, the Blairgowrie player is a month younger than Oliver Fisher was when the Englishman played in the 2005 contest in Chicago.
"Yeah, it was a great experience," admitted Graham, who is coached in St Andrews by Irishman Fintan Bonner. "It was quite nerve wracking at the start of the round, but I tried to get in the flow and play some good golf." In doing so, he showed exactly why Wilson, who won the 2004 Amateur on the Old Course, and his fellow selectors handed him a pick ahead of players higher than him in the World Amateur Golf Ranking.
"It's definitely quite surprising to make a Walker Cup at such a young age," admitted Graham, who has also been selected to play in the Junior Ryder Cup in Rome later this month. "It's such a cool experience being here at the home of golf and playing in front of home fans."
Though Graham, who already knew it would be the case due to the pairings for the opening two sessions having been submitted before the opening ceremony on Friday, sat out the afternoon singles, it was back into action for Scott and the 19-year-old Nairn player was equally impressive with his own ball.
His opponent, Nick Gabrelick, twice fought back from being two down but, cheered on by what seemed to be a small army of yellow-cap wearing members from his home club, including big brother and 2019 Walker Cupper Sandy, Scott secured his second point of the day in style with back-to-back birdies at the 16th and 17th. He enjoyed rolling in a ten-footer for the first one, knowing how important that might be as he edged in front again, but hitting a wedge from 153 yards over a back flag to around 16 feet at the Road Hole and probably raising the biggest roar of the day is something he'll remember for the rest of his life.
"That's as good as it gets," admitted the Texas Tech man, who was later joined in delivering a double success by Englishman John Gough, as some people in the crowd sang his name. "To birdie the last two holes to close out a really tight match just means the world to me, as does having everyone from home supporting me and also from all over Scotland as well. It's just incredible."
With Jim Milligan, who clinched GB&I's first win on US soil in that 1989 encounter at Peachtree, among those out watching, Scott and Graham didn't put a foot wrong in the morning and, in front of an afternoon gallery that included other ex-Walker Cup players in David Carrick, Graeme Shaw, Craig Watson and David Patrick, it was an equally impressive effort from Scott on his own.
"Usually in singles matches it's pretty lonely with you and your caddie versus your opponent and his caddie," he admitted. "You don't tend to talk too much to your opponent as you are focused on your own game. But I felt with the support of everyone out here, it helped a lot as there were a lot more people with me than against me and that just felt amazing. I couldn't be happier.
"I am so delighted to have played that well under pressure. It shows I can do it. It shows where my game is at the moment, both in terms of what I need to improve and what is really good right now, so I am really happy. I don't usually fist pump, but I was so pumped up that I did one on the 17th green to the crowd as it was amazing."
Foursomes (US names first)
Gordon Sargent/Dylan Menante bt Barclay Brown/Mark Power 3&2
Caleb Surratt/Ben James lost to Calum Scott/Conor Graham 3&2
Preston Summarhays/David Ford lost to Matthew MacLean/John Gough 1 hole
Nick Dunlap/Stewart Hagestad lost to Alex Maguire/James Ashfield 1 hole
Caleb Surratt bt Barclay Brown 4&3
Nick Gabrelick lost to Calum Scott 2&1
Gordon Sargent bt Jack Bigham 1 hole
Austin Graser lost to Liam Nolan 1 hole
David Ford lost to Mark Power 1 hole
Preston Summerhays halved with Matthew MacLean
Stewart Hagestad bt Alex Maguire 4&3
Nick Dunlap lost to John Gough 6&5
Comments
 0 comments
Want to join the conversation? Please or to comment on this article.