Walker Cup contenders warned to expect 'Scottish Boys' weather' at Dornoch
Royal Dornoch in April is likely to be a far cry from Seminole in May, but Stuart Wilson is hoping his Great Britain & Ireland Walker Cup contenders can take that transition in their stride.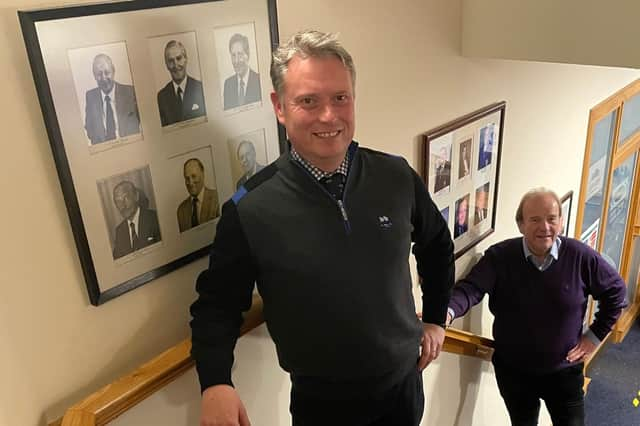 As announced by the R&A last month, the men's Home Internationals, traditionally held in August or September, will be played in April this year, with Dornoch staging the four-cornered event the week after the Masters.
The change has been implemented to help Wilson, the GB&I captain, prepare his 10-man team as best as possible for the biennial clash with the United States in Florida the following month.
A May staging of the match, which is normally held later in the year, was already set to prove a big challenge for the visitors due to the domestic schedule not normally starting until April.
However, the task of trying to pull off a rare win on US soil looks to have been made even tougher due to 2020 being a virtual wipe-out for some of the leading GB&I players.
"The decision to hold the Home Internationals in April to allow some of the players to get together and play against each other makes sense," said Wilson, who played on a winning GB&I side at Ganton in 2003.
"We had a few selectors' meetings towards the end of last year and we batted a few ideas around about how best to get a team prepared.
"It's a reduced squad to start with and we put the idea of the Home Internationals being played in April to the R&A and they were good enough to support it. It's brilliant from our point of view.
"I was up at Dornoch for the Boys' Home Internationals in 2018. That was in the summertime, so it was a bit different. Dornoch is in great shape all year round, so that won't be a problem.
"But it will be more Scottish Boys' weather, namely cold and windy, than normal Home Internationals weather, I would imagine (laughing)."
A 15-strong squad was announced last month, the group earmarked as the main contenders to try and win the trophy back after a defeat at Royal Liverpool last time out in 2019 including Nairn's Sandy Scott.
"One of the big things for us is trying to get the players to Seminole in advance of the Walker Cup, getting to see the course and get them to a stage where they are comfortable there for the week itself," added Wilson.
"That's a key part of the preparation and we are hoping to get some of the players there in February round about the Jones Cup (an invitational event held at Kiawah Island)."
Four members of the GB&I squad - English duo Alex Fitzpatrick and Angus Flanagan and Irish pair Caolan Rafferty and Mark Power - helped an International side to a thumping 40-5-19-5 victory over the US in the Palmer Cup at Bay Hill in Florida last month.
"That was good to see and it was also pleasing that some of the potential GB&I players were in that team and also playing as potential partnerships for the Walker Cup," noted Wilson, the 2004 Amateur champion.
"Many years ago, the Americans were the dominant force in all the team events in golf, including the Ryder Cup, but the tide started to turn We won for the first time on US soil in the Walker Cup at Peachtree in 1989 and then won three times in a row between 1999 and 2003.
"That American dominance is almost ancient history to the guys playing now and that has also been the case on this side of the Atlantic in the St Andrews Trophy. GB&I always seemed to win that but the Europeans have gotten stronger and go into that now with expectations of winning all the time."
Along with Fitzpatrick, the younger brother European Tour and PGA Tour player Matt, Scott played in the 2019 match on Merseyside, where GB&I led heading into the second-day singles before losing by five points.
It was Scott's intention to be playing in the professional ranks by now but, after seeing a potential 2020 schedule decimated, he is still an amateur, having returned for an add-on year at Texas Tech.
"Sandy is a great guy," said Wilson of his compatriot and sole Scot among the potential Walker Cup Class of 2021. "When we started putting squads together, we were looking at lots of players and trying to find out what their movements were.
"Sandy had aspirations to be turning pro by now but, unfortunately, that's not happened due to the current circumstances. The upside of that is that it was a great boost for us to find out that he was going to be available for this Walker Cup. It's always great to have someone with experience from a previous match."
Wilson started a new job this week, having taken up the post of managing secretary at Blairgowrie after an enjoyable 15-year spell in a similar post at Forfar, his home town.
"Monday was my first day and I had to close the course due to black ice for the first time in years and now we are in a mini-lockdown (with play reduced to a maximum of two-balls due to new Covid-19 restections). I hope that I'm not going to be a jinx," he said, laughing.
"It's a great facility. I was here years ago and there are a lot of familiar faces kicking about. I worked here for a couple of seasons after leaving school for Gordon Kinnoch, who was the long-standing pro, so it's nice to be back, and this mini-lockdown will give me a chance to get my feet under the table."
A message from the Editor:Thank you for reading this article. We're more reliant on your support than ever as the shift in consumer habits brought about by oronavirus impacts our advertisers. If you haven't already, please consider supporting our trusted, fact-checked journalism by taking out a digital subscription.
Comments
 0 comments
Want to join the conversation? Please or to comment on this article.