US Ryder Cup team: Zach Johnson explains six picks and why he could not leave Justin Thomas at home
Zach Johnson reckons he'll need his players to be golfing gladiators in Rome to have any chance of becoming the first US side to record a Ryder Cup win on this side of the Atlantic for 30 years.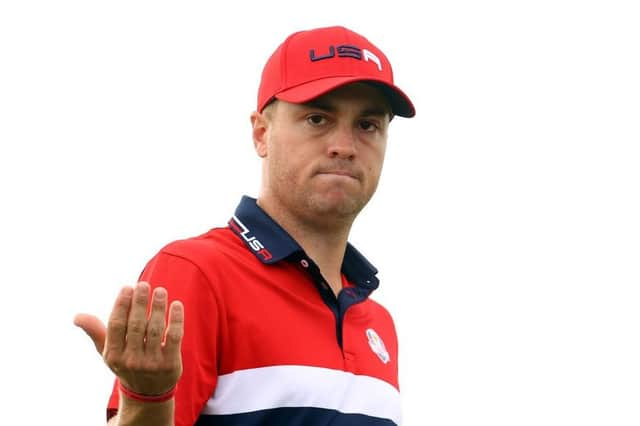 Hence why Justin Thomas has been given the nod over others to join Sam Burns, Rickie Fowler, Brooks Koepka, Collin Morikawa and Jordan Spieth among six captain's picks for next month's contest at Marco Simone Golf Club on the outskirts of the Italian capital. "In my mind, he was born for this and you just don't leave JT at home," said US skipper Johnson of what will be viewed by some as a semi-controversial decision to put his faith in the two-time major winner despite his recent poor form.
If it had been based on results alone over the past few months, Cameron Young, Keegan Bradley and, in particular, Lucas Glover all had stronger claims to be involved in the 44th edition of the biennial contest on 29 September-1 October. However, Thomas has taken over from Patrick Reed as 'Captain America' when it comes to team golf and, with six wins from nine matches in the Ryder Cup and 16 from 24 matches in the Presidents Cup, Johnson is confident he's not taking a gamble with the 30-year-old. "He has without question been the heart and soul of Team USA, Ryder Cups, our emotional leader I would say, and I don't think he would argue with that. He just leads by example," said the 2015 Open champion of Thomas. "Overall a fantastic Ryder Cup record. His passion for the Ryder Cup is very evident."
Thomas, who picked up four points from five matches, including a last-day singles win over Rory McIlroy, in the 2018 contest in Paris, faced a sweat over his participation this time around after missing out on the FedEx Cup Play-Offs before hearing the news he was hoping for in a phone call from his captain on Monday. "Yeah, it's been wild to say the least," he admitted. "I had a lot of emotions that came through me. Relief was one of the first things – I could relax. It's funny, I joked with my wife this morning that I have had a lot of sleepless nights of just thinking about what could happen and wanting to be on the team and wondering if I was, if I wasn't. Then I just kind of came to the realisation that obviously it was out of my hands and I couldn't do anything about it, and then after getting the call yesterday from Zach, I couldn't sleep last night because I was so excited. It was kind of ironic. I'm very, very fortunate."
The sextet will join automatic qualifiers Scottie Scheffler, Wyndham Clark, Brian Harman, Patrick Cantlay, Max Homa and Xander Schauffele on a side that will be aiming to record a first away win in the contest since a team led by Tom Watson achieved the feat The Belfry in 1993. Both Fowler and Spieth will be facing the Europeans for a fifth time, one more than Koepka, who will be flying the LIV Golf flag as well as the Stars and Stripes, and two more than Thomas. In contrast, Open champion Harman, US Open winner Clark, WGC-Match Play victor Burns and world No 7 Homa will all be rookies.
"To say I'm excited about these gents would be an understatement," said Johnson, speaking at the PGA of America HQ in Frisco, Texas. "They check all the boxes. Fierce competitors, great versatility, great flexibility when it comes to pairings, when it comes to the fit for Marco Simone, a great fit for each other, which is massive. With that, I think, comes a lot of just awesome options, successful pairings, an opportunity to do what we want to do, and that's to win. Got some great experience in there, too, considering we are going across the pond. No easy feat. But I'm confident that these guys, along with the other six, will be ready to go at the end of September."
Answering a later question, the two-time major winner hammered home the point that he feels the US need players who can go toe-to-toe with their opponents, just as the gladiators did in Rome back in the day. "They're talented. They're fierce competitors. They want to be there," said Johnson. "It's great playing over here in front of our fans. Some of those memories are the ones I'm going to cherish the most. At the same time, I think certain individuals are kind of wired, kind of built for the difficulty. They're kind of built for walking into the lion's den, walking into a stadium, into a hostile environment, and I'm confident in all 12 of these guys but specifically these six guys to do just that. We have experience and we have some new blood, too. We've got enough experience that I think we can help the rookies along when it comes to that notion. I just love going over there and playing. I love when it's difficult. I love knowing that it's going to be uncomfortable. That's what motivates me. That's why I work. With these six in particular, I have the utmost confidence that's exactly why they work. They want to push themselves. They are, for lack of a better phrase, comfortable in the uncomfortable."
Referring to the Europeans having won six straight matches on home soil, including a heavy defeat at Gleneagles in 2014, he added: "What's happened in the past is the past. This is a great new opportunity, and these are the 12 guys that are going to push to achieve the main goal, which is strictly to keep the Cup here in the United States."
Comments
 0 comments
Want to join the conversation? Please or to comment on this article.