Tyrrell Hatton hopes 'boot camp' can get him motivated again
Tyrrell Hatton, the defending champion, put himself through a "boot camp" at the start of the year in a bid to effectively give himself a kick up the backside heading into this week's Abu Dhabi HSBC Championship.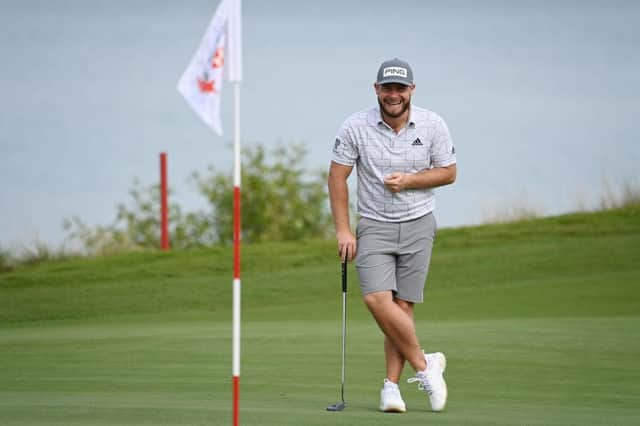 The Englishman was in a rich vein of form when he landed his win in the Rolex Series event 12 months ago, the success at Abu Dhabi Golf Club being his fourth title triumph in just over 20 months.
That purple patch had catapulted him into the world's top 10, but, after seeing his form tail off thereafter for most of 2021, Hatton has slipped to 22nd going into his first outing on the re-named DP World Tour.
"Obviously that was an amazing way to start the year," said the 30-year-old of a fourth Rolex Series success a year ago. "Sadly, from that moment on it didn't sort of get any better.
"I think it's more down to where I was at mentally, to be honest. In 2020, I was working pretty hard in the gym throughout the whole year, in a much better place fitness-wise. More comfortable with my own skin, and I think that just actually allowed me to go play better golf.
"Certainly the back half of last year, I was doing no training. Wasn't that motivated to practice either.
"So I flew out to Orlando on New Year's Eve and tried to do a two-week boot camp of training and practice to find the motivation to go and do it."
The two-time Dunhill Links champion feels he finds himself "going through the motions" when he is practising and is trying to find the secret to how some other players can find that aspect fun.
"My dad would say, yeah, that I found it a chore," added Hatton, speaking at Yas Links, a new venue for this week's event, in reply to being asked if he'd lacked motivation to hit balls as a kid.
"I remember the winters when I was probably like ten years old, and dad's saying 'come on, let's go to the range' and I didn't want to go.
"Some guys obviously really enjoy their practice and they have got a good routine. But I've always really struggled with that kind of thing."
Comments
 0 comments
Want to join the conversation? Please or to comment on this article.