Tom McKibbin's dream rookie season now includes skins win over Rory McIlroy and Shane Lowry
Tom McKibbin started the season as a DP World Tour rookie, landed his breakthrough win in the middle of it and has been taking money off both Rory McIlroy and Shane Lowry as a campaign to cherish draws to a close.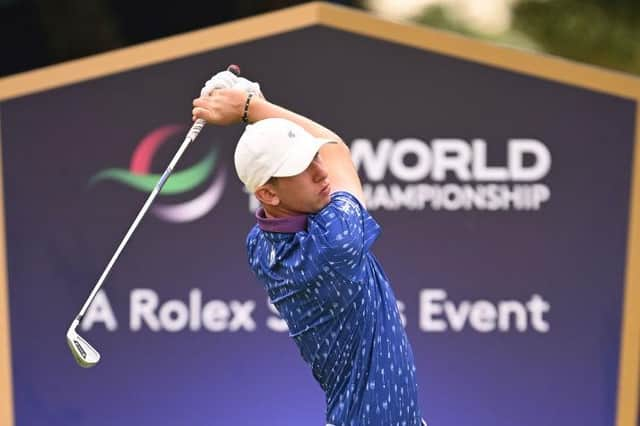 The 20-year-old Northern Irishman is among four 2022 Challenge Tour graduates to make it into the 50-man field for the DP World Tour Championship in Dubai, where he opened with a one-under-par 71 alongside Scot Ewen Ferguson.
"It's very tough," said McKibbin of the test on the Earth Course, where he made four birdies, the pick of which was a 2 at the 17th from around 25 feet. "Especially if you start missing fairways as you can get some pretty nasty lies and the greens are very firm, so trying to get it close from the rough is hard. But I sort of grinded it out and managed to sign for a red number."
Having done that on a frequent basis over the course of the year, he started this week sitting 41st in the Race to Dubai and, with $10.5 million up for grabs in the Rolex Series event, his final position on Sunday night could easily be higher.
"Yeah, I've played very solid," he added. "Obviously the win (in the Porsche European Open in Hamburg in June) has helped but, besides that, I've played a lot of solid and consistent golf. A lot of top tens and top 25s, not as many top tens as I would have liked, but, overall, it's been very solid and something I can bring into next year knowing how well I can play."
McKibbin, of course, is a product of Holywood Golf Club, which was put on the map by McIlroy and, not for the first time this season, the world No 2 was happy to pass on some advice and wisdom as they played the back nine together on Wednesday along with Lowry.
"It's great," said McKibbin of getting the opportunity to spend some quality time in the company of two major winners and winning Ryder Cup team-mates in Rome in October. "I've played with both of them a good bit casually, but it's great to play with them in a practice round for a tournament, especially on this occasion as it allowed me the opportunity to see how they play this particular golf course and see how they get themselves round it. They've both been good to me and it's been pretty cool to be able to play alongside them. Wednesday was great fun and I enjoyed it."
Winning the match was a bonus. "A wee eagle at the last to take the skins," said McKibbin, smiling. "I didn't come in before that, but why take them early (laughing)." Could his rookie season have gone any better? "Probably not," he replied. "It's been great and I'm ready to take it into next year."