Tiger Woods pulls out of 87th Masters before third-round restart due to 'injury'
Less than 24 hours after tying for the most consecutive cuts made in the event, Tiger Woods is out of the 87th Masters.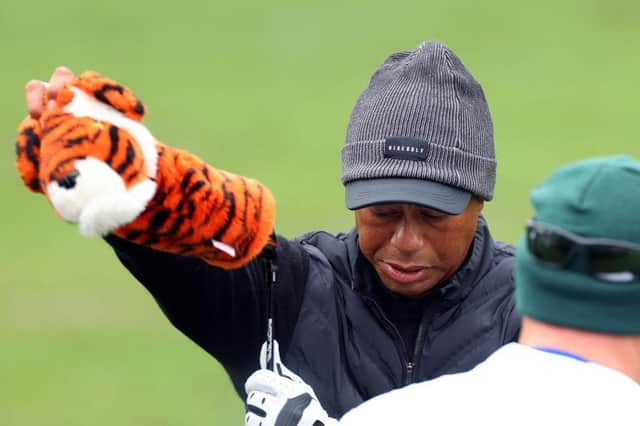 The five-time winner withdrew due to "injury" before the third round restarted at Augusta National on Sunday morning.
In a statement on social media, Woods said: "I am disappointed to have to WD this morning due to reaggravating my plantar fasciitis.
"Thank you to the fans and to The Masters who have shown me so much love and support. Good luck to the players today."
Woods had completed seven holes when play was halted at 3.15pm on Saturday after the greens started to flood following a deluge.
He'd slipped to nine-over, which left him sitting last out of the 54 players to make the cut after taking double-bogeys at both the 15th and 16th.
In a video clip, the 15-time major winner was limping badly after playing a shot at the 17th, raising fears that he'd be unable to complete the event.
Woods suffered serious leg injuries in a car crash in Los Angeles in February 2021 and has freely admitted that he finds Augusta National a massive test from a physical perspective.
Earlier in the week, in fact, he said that he didn't know how many more times he'd be able to play in the season's opening major.
On seeing the video clip of Woods, Sky Sports commentator Ewen Murray said on social media: "This is so so sad.
"I'm aware of the work/effort Tiger requires to prepare for play. I'm fortunate to have lived in his era and witness his excellence.
"Tonight I'm not ashamed to say I shed a tear. An outstanding golfer and sportsman. There is much he can do in the future for many, and he will."
Last year Woods only played in three official events, defying the odds to make the cut in The Masters before closing with two 78s.
But he then withdrew in similar circumstances to this after the third round of the PGA Championship at Southern Hills before missing the cut in the 150th Open at St Andrews.
On Saturday, he made the cut for the 23rd consecutive time in The Masters, tying Fred Couples and Gary Player for that record.
Woods now has just over a month to get ready for the next major, which will see his close friend Justin Thomas defend the title at Oak Hill.