Tiger Woods knows it's time to cherish Masters memories - 'I wish it could be easier'
He still talks about what he describes as a 'W' and, as he showed as recently as 2019, you can never safely say that the days of Tiger Woods winning golf tournaments are over.
Yet, in his press conference for the 87th Masters, it came across loud and clear that the 15-time major champion has finally accepted that he might have to be content with any future title triumphs coming on the senior circuit. "I've got three more years, where I get the little buggy and be out there with Fred [Couples]," he said, laughing, "but until then no buggy." That, of course, was a reference to players on the over-50s' Champions Tour being allowed to use a golf cart when they are competing but not in PGA Tour events and certainly not in majors.
According to Rory McIlroy, who played nine holes with the five-time Masters winner in a practice round at Augusta National on Monday, Woods still has all the shots in his armoury, which, under normal circumstances, would mean he could definitely contend again in his 25th appearance in the season's opening major. But, as McIlroy also pointed out and Woods himself seconded an hour or so later, the physical challenge at the Georgia venue is a major obstacle for the former world No 1 due to the serious leg injuries he sustained in a single-car crash in Los Angeles 14 months ago.
"Yeah, I think my game is better than it was last year at this particular time," insisted Woods, having declared a year ago that he wouldn't be back at Augusta National unless he thought he had a chance of winning. "I think my endurance is better. But it (his badly-damaged right leg) aches a little bit more than it did last year just because at that particular time when I came back, I really had not pushed it that often. And I had a little window in which I did push it and was able to come back."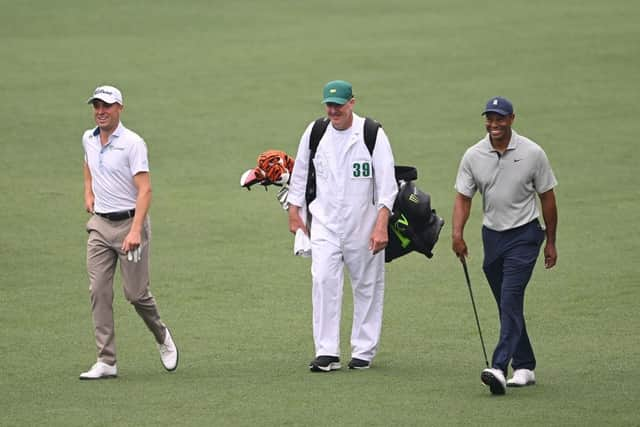 Referring to the fact that his only other competitive outings in 2022 came in the PGA Championship and The Open, he added: "Fast-forwarding, I didn't really play a whole lot afterwards. Took a little bit to recover from the event. I played in February at LA (in the Genesis Invitational) and then took a little time off before getting ready for this. You know, I just have to be cognisant of how much I can push it. Like Rory was saying, I can hit a lot of shots but the difficulty for me is going to be the walking going forward. It is what it is. I wish it could be easier."
Woods described making the cut here last year as a "small victory". Cold conditions contributed to him carding a 78 – he shot the same the next day – in the third round and the weather forecast for this weekend is similar. "Oh, yeah, I've seen it," he joked of that.
As was the case last year, Woods intends to lap everything up this week because, in an honest admission, he's unsure these days about what realistically lies ahead. "Yeah, I don't know how many more I have in me," he said. "So just to be able to appreciate the time that I have here and cherish the memories."
Woods reckons it's "just a matter of time" before McIlroy wins this event to complete a career grand slam and is happy to pass on whatever knowledge he can to younger players, having also played with Korean Tom Kim on Monday then Justin Thomas on Tuesday.
"I just think it's picking some guys' brains and figuring out what they need to do to win this tournament," he said. "Hey, I was lucky enough to have played with Freddie and Raymond [Floyd] my first year, and Seve [Ballesteros] and Ollie [Jose Maria Olazabal]. That was incredible. And then Jack [Nicklaus] and Arnold [Palmer], the Par 3 Contest with those guys. That's what this tournament allows us to do, is pass on knowledge and gain knowledge from the past and apply it. Whether I'm a threat to them or not, who knows. People probably didn't think I was a threat in 2019 either but kind of turned out okay."
Time will tell if a bid by The R&A and the USGA to roll the ball back at the elite level in the men's game will turn out okay for the governing bodies or create another divide in the game on the fallout over LIV Golf's arrival on the scene last year. "I think this should have happened a long time ago," said Woods in joining McIlroy in throwing his weight behind the bid but, at the same time, having an opposing view to close friend Thomas. "That's what Jack was saying back in the 80s, the 384 (size of ball) was going too far. The average number used to be, what, 280 off the tee, 279 when I first came out on TOUR. Now the guys are carrying it 320, okay. So not every golf course can be like Augusta National and move property and moving holes back. There's only so many golf courses you can do that on, and we still want to be able to play the old traditional great golf courses.
"But there is the difficulty of the question. We've had a big boom in this game with Covid through more people playing the game and it's exciting. Okay, well, on tour, it's exciting to see Rory McIlroy hit it 340 yards on every hole. But does it challenge us and separate the guys who can really hit the ball in the middle of the face and control their shots? I think if you roll the ball back a little bit, you'll see that the better ball-strikers will have more of an advantage over the guys who miss it a little bit."
Comments
 0 comments
Want to join the conversation? Please or to comment on this article.