The Masters 2023 contenders: Who will win? Has Rory McIlroy won green jacket? Cameron Smith, Scottie Scheffler and more
It's partly because it's the first major of the year and it has also been a long time since the last one. It's also partly because it's staged at the beautiful Augusta National Golf Club.
The Masters probably generates a level of excitement like no other event in golf and, partly down to LIV Golf players being in the field, the 2023 edition promises to be a lip-licking affair. Here are six players who could be destined for a week to remember and some of them already know how that feels in this particular event:
Scottie Scheffler
Age: 26. Nationality: USA. Previous major wins: One (2022 Masters). The Texas-based player produced a polished display last year as he became just the fifth player to win at Augusta National as the world No 1. He's sitting at the top of the global standings again for his return as defending champion after two big wins already this year on the PGA Tour, most recently in The Players Championship at TPC Sawgrass. History is against him, however, as only three players - Jack Nicklaus, Nick Faldo and Tiger Woods - have recorded back-to-back victories in The Masters.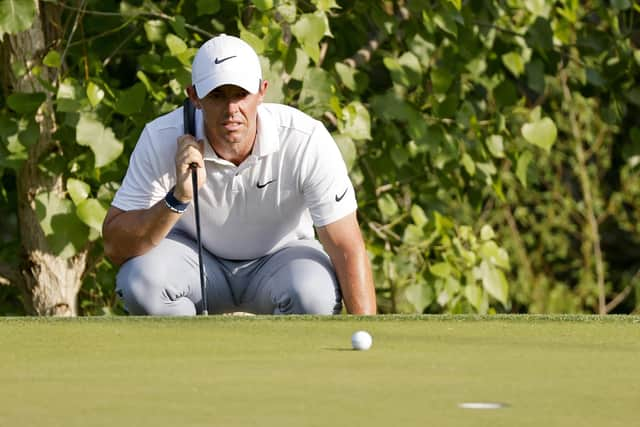 Rory McIlroy
Age: 33. Nationality: Northern Irish. Previous major wins: Four (2011 US Open, 2012 PGA Championship, 2014 Open, 2014 PGA Championship). This is now his ninth attempt to become just the sixth player to complete a career grand slam and join Gene Sarazen, Ben Hogan, Gary Player, Jack Nicklaus and Tiger Woods as one of the true legends of the game. He finished in the top ten in six of those previous bids to add the one missing link on his CV, closing with a spectacular 64, holing out from a greenside bunker at the 72nd hole, last year to secure second spot behind Scottie Scheffler. McIlroy won the Hero Dubai Desert Classic on the DP World Tour earlier in the year was reported to have taken just 19 putts at Augusta National in one of his preparatory rounds for this assignment.
Jon Rahm
Age: 28. Nationality: Spanish. Previous major wins: One (2021 US Open). Seve Ballesteros, Jose Maria Olazabal and Sergio Garcia all won Green Jackets and this man has already been knocking at the door as he bids to add his name to a list of Spanish successes at Augusta National.. He was almost unbeatable for a spell at the end of last year and the early part of this year before going off the boil a bit in recent weeks. But, with four top-ten finishes to his name in just six starts in the season's opening major, Rahm can certainly be one of the main contenders on this occasion.
Cameron Smith
Age: 29. Nationality: Australian. Previous major wins: One (2022 Open). Golf's mullet man won the game's most recent major as he closed with a brilliant 64 on the Old Course at St Andrews to land The 150th Open last July. He rose to world No 2, a career best, on the back of that success but, after signing for LIV Golf a few weeks later and not being able to play for world ranking points on the breakaway circuit, has slipped to fifth in the standings. But he's another player with a good recent record at Augusta National, having recorded four top-ten finishes in the last five years, including a tie for second in 2020.
Jordan Spieth
Age: 29. Nationality: American. Previous major wins: Three (2015 Masters, 2015 US Open, 2017 Open). It wasn't long ago that the Texan looked as though he was going to be a dominant force at Augusta National, as he sandwiched second-place finishes in 2014 and 2016 with a win in 2015 then ended up third in 2018. That was also the position he claimed in 2021 before suffering a rare disappointment in the season's opening major as he missed the cut for the first time 12 months ago. He's been showing signs of clicking again in recent months and, if he can get his putter working on the lightning-fast and undulating greens, there's every chance he could be in the thick of things on the back nine in the final round.
Xander Schauffele
Age: 29. Nationality: American. Previous major wins: None. It's a surprise to some that the Californian is still waiting to make his big breakthrough in the majors, having recorded no less than nine top-ten finishes across the four of them in the last five years. Two of those were strong performances at Augusta National, where he ended up in a tie for second in 2019 before backing that up with a share of third spot two years later. He's heading into this event as both the Olympic gold medallist and Genesis Scottish Open champion and this tournament could mark the start of a very strong year for him in the game's biggest events.