The decision was announced by St Andrews Links Trust just over 24 hours after it had outlined the reasons for the work being undertaken close to the iconic structure on the 18th hole on the Old Course.
It means the area will be reinstated with turf, with the change of heart coming after three-time Open champion Nick Faldo led a chorus of criticism of the stonework appearing on the most famous hole in golf.
A new statement from St Andrews Links Trust read: "The exploratory works around the approach to and from the Swilcan Bridge had been undertaken as part of ongoing attempts to mitigate the issue of significant wear and tear to the turf.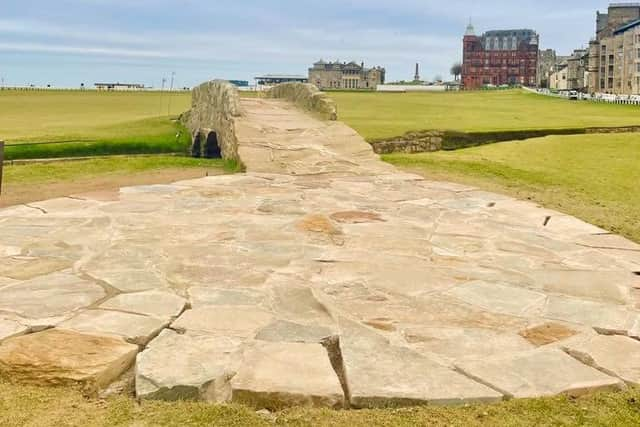 "In recent years we have identified and trialled a number of solutions, with the primary ambition always to find something that is both adequate for the amount of foot traffic for such a popular location whilst being in keeping with its surroundings.
The stonework at the approach and exit of the bridge was identified as one possible long-term solution, however while this installation would have provided some protection, in this instance we believe we are unable to create a look which is in keeping with its iconic setting and have taken the decision to remove it.
"We have also taken on feedback from many partners and stakeholders as well as the golfing public and we would like to thank everyone who has been in touch for their contribution to the issue.
"The widespread attention and commentary is indicative of the regard in which St Andrews is held around the world and we are conscious of our role in preserving this heritage while recognising its hallowed grounds have continued to evolve to meet demands for more than 600 years.
"In the coming days our team will be reinstating the area with turf. We would like to thank golfers for their patience as we continue this work.
"In the meantime we will continue to explore alternative options for a permanent solution and will work with all relevant partners, including Fife Council, and key stakeholders."
Work had been carried out by St Andrews Links Trust, which is responsible for maintaining the course, at either side of the historic bridge to create what resembles a patio-style area.
Widespread criticism of the visual change on social media included Faldo, who landed the second of his three Open wins by five shots at the Fife venue in 1990, giving it a big thumbs down.
In a post on Twitter, the Englishman wrote: "If you've travelled halfway around the world for your bucket list round at St Andrews, would you rather leave with a bit of historic dirt on your shoes or a few cement mix scraps?"
Photographs posted on social media have included garden furniture and a hot tub being deemed as more appropriate for such an area, with Brown among those to poke fun at the work.
"The Swilcan Bridge now serving food. A table for Fore please. Serving BBQ meals. Book early," he commented in one post while he replied to someone having photoshopped an image of The Flintstones on a photograph of the stonework by writing: "Yabba Dabba Doo. Next Fred and Barney off to crazy pave the entrance to the Taj Mahal .."
Not everyone, though, sees it as a problem. Broadcaster and keen golfer Dan Walker said on Twitter: "Dear fellow golfers, We are constantly in a battle to prove that the sport we love is fun and brilliant rather than being a tad dull & stuck in the past. Spending an entire weekend moaning about a new patio isn't helping. Crack on."
Also commenting on social media, Golf Monthly editor Mike Harris said: "My goodness. The hot air over the work on the Swilcan Bridge. Give your heads a wobble. If you're lucky enough to play the OC just step on to the bridge, have your pic taken & stride on up the 18th knowing you're privileged to walk in the footsteps of Old Tom, Jack & Tiger et al."