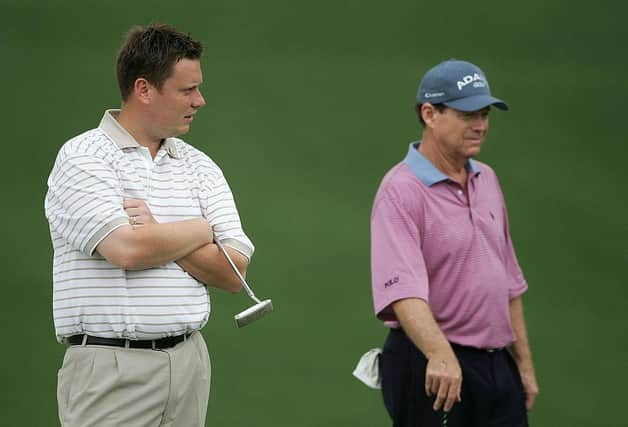 The Forfar man also played in The Masters in 2005 but never turned professional, opting instead to go down a career path that has led to him recently becoming the managing secretary at Blairgowrie.
Wilson has already captained Europe in the Junior Ryder Cup and is now gearing up to lead Great Britain & Ireland in the 48th Walker Cup in Florida next month.
How did you get into golf?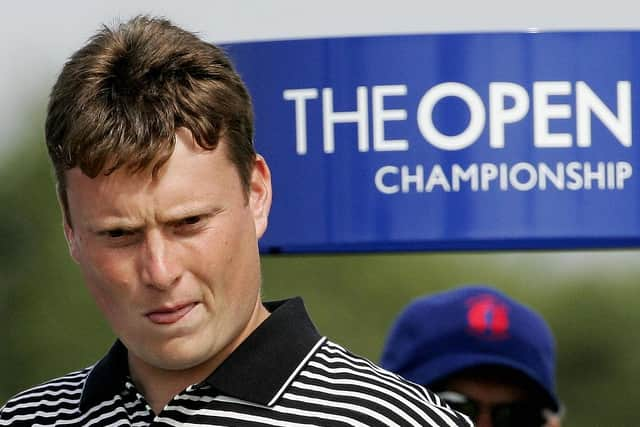 SW: I pretty much came from a golfing family. My grandad played golf, my dad played golf, my uncle, my big brother, cousins, everyone, really. We've had that golfing heritage in the family and we still have the occasional family golf day. I started as a junior at eight-years-old at Forfar Golf Club and, as anyone who knows the club's history, Sandy Saddler's legacy is up on the walls in the clubhouse and I was always aware that there was more to the golfing life outwith the Forfar club.
How much of an inspiration was Sandy Saddler to you then?
SW: He was still playing a bit of golf at the club when I was starting out. His achievements were outstanding and it is always nice to know someone who's been there and done it. It's a good old adage of 'if he can do it, then why can't I?' sort of thing. He was certainly an inspiration for me as I tried to reach the same heights in amateur golf.
What do you remember most about your early experiences on the amateur circuit?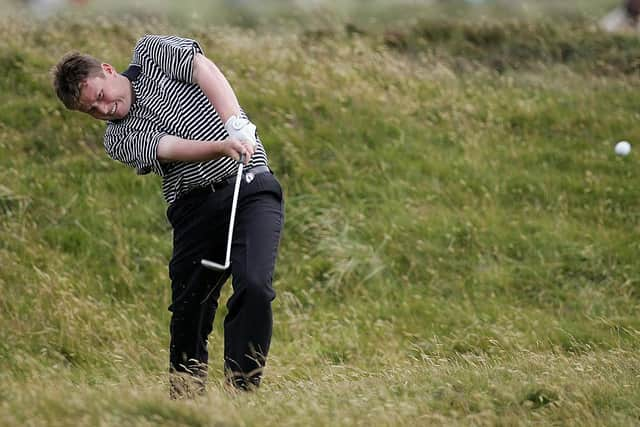 SW: I suppose I owe my big break to Simon Mackenzie, the 1995 Scottish Amateur champion from West Linton, in a lot of respects. I haven't told him this but everything that happened in my golfing life internationally is all down to him. I was lucky enough to be drawn with him in the Scottish Stroke Play at St Andrews I was just dipping my toe in the water at that time and not really playing in too many of the 72-holers. He filled me in on the full circuit and suggested I should play in more events, which I did and duly ended up getting a Scotland cap the next year.
You won the Lytham Trophy in 2003. Did that make you believe in yourself at the top level in amateur golf?
SW: I'd been knocking on the door prior to that, having proved myself to be pretty consistent without getting over the winning line. But that year I won the Champion of Champions at Leven then went on to Lytham and won there as well. To be honest, I don't know what changed. It was probably cutting out some mistakes and once you start winning a few things you feel as though you can turn it into a habit.
You joined the likes of Charlie Green, Ian Hutcheon and also Stephen Gallacher in landing that prize. What did that mean to you?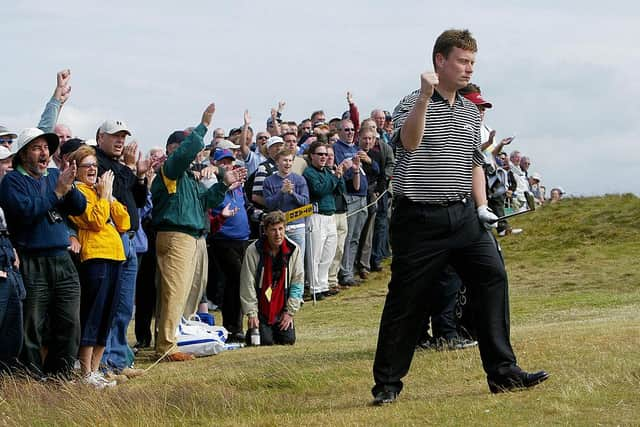 SW: It was fantastic, yeah. I'd been down there a few years prior to my win and knew the golf course pretty well by then. It used to be 36 holes on the Saturday and 36 holes on the Sunday. You played one of those rounds on Fairhaven or St Anne's Old Links and usually my round on one of those courses was what got through the cut as my rounds at Lytham were never that great. The year they went to three days with 72 holes at Lytham I went down with very little expectations, to be honest, because of that but that was the year I won it. It's a great golf course. You have to play proper golf to win around there and my last round to get over the finishing line was probably the best round I played in my career. I shot 68 when it wasn't the easiest of conditions and that is something I will always cherish.
You then won the Amateur Championship at St Andrews the following year. Is that the best week of your life?
SW: Golf-wise, I would probably say it is and certainly from an individual basis. The Amateur Championship is pretty much as big as it gets. Again that week, I probably wasn't looking to do too much as I didn't make the cut the week before in the Scottish Stroke-Play when I was carrying a bit of an injury. But I knew the Old Course well from playing in the St Andrews Links Trophy and also being reasonably local and it's amazing how things click and fall into place. As the week went on things just got better and better and it was a phenomenal experience from start to finish. To win that event at the Old Course is something we all probably dream of and it made it all the more special that it was the 250th anniversary of the R&A.
And, in claiming that title, you defeated a certain Francesco Molinari, in the quarter-finals. Was he the man to beat that week?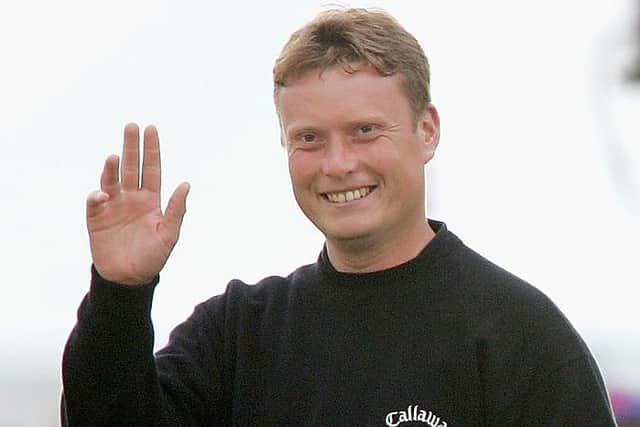 SW: Both the Molinari brothers - Francesco and Edoardo - were in the field, as was Gonzalo Fernando Castano. Edoardo probably had the edge among the Moljnaris when they were younger, but Francesco has just got better and better as the years have gone on. We'd played in Bonallack Trophy matches together and also when Scotland met Italy. We'd crossed paths numerous times, in fact, and knew each other fairly well. That was always going to be the big match when I saw the draw and we had a great game. I think I closed it out with a birdie on the 17th on the Old Course, which was a nice way to finish it off. I was a bit lucky, to be honest, as I pulled my second shot about 15 yards left of where I was aiming but it went stiff (laughing).
You must have been riding on a crest of wave when you then rolled up at the Open a few weeks later at Royal Troon. What are your overriding memories from that week?
SW: I had been fortunate enough to play an Open before at Lytham in 2001. I had gone through regional and local qualifying to get into the event proper, so I knew what to expect at Troon in terms of the process etc. I missed the cut at Lyham but should have made it easily. It was just a lack of experience and made a wee bit of a mess of it. But that set me up in good stead. One of the things I always remember about Troon is when I turned up. I was driving my Fiesta 1.1 and turned up at the main car park and don't know if I was even graciously turned away by the car park attendant, who wouldn't believe I was one of the participants (laughing). I had to go up to car park Z and make a long walk into the registration office to pick up my ticket for the car park. It was nice to play an Open in Scotland. There were a lot of locals in the crowd and lots of other well-wishers due to the fact I was a home player. Playing as the Amateur champion that week definitely gave me a bit of confidence and my whole week was set up by a good front nine in the first round. I managed to creep up near the leaderboard at the turn and I suppose I tried to hang on from there. I was fortunate enough to be the only amateur to make the cut, so the Silver Medal was a done deal by Friday night, which was nice.
What was your mindset after opening with a 68 to lie just two shots off the lead?
SW: I remember going into the press tent and I remember someone asking me what it felt like to outscore Tiger Woods, who had opened with a 70. That made me laugh and I replied, 'let's be honest, it's a 72-hole tournament so let's see where we both end up at the end of the week (laughing)'. I knew that 68 was going to be hard to follow up over the next three days. It was nice to be at the prize-giving on the Sunday and it was on my birthday as well, so the crowd gave me a little rendition of "Happy Birthday" when I walked up to get the Silver Medal, which was nice.
How different an experience was it when you then went to Augusta the following April for The Masters?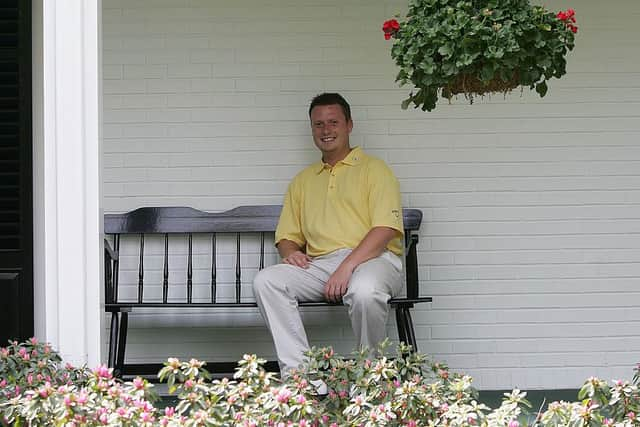 SW: To be honest, I probably fell foul of a few mistakes that week that I wouldn't make if I ever got the chance again, which, of course, is very unlikely. I went out for the Jones Cup at Sea Island in February and tied in a five or six-day visit to Augusta before that. Ian Rae was with me and we pretty much had the place to ourselves, which was pretty awesome. We did all the tourist things, driving up Magnolia Lane for the first time, going through the clubhouse, all the photos on the bridge at the 12th, checked out Bobby Jones' clubs and the silver replica trophy of the clubhouse, tried a peach cobbler and the cheese pimento sandwiches, all that kind of stuff. It's an event everyone has watched but the TV doesn't do it justice, to be fair. It's just fantastic. On one of the days, we got round to the 12th hole in Amen Corner and there was an old member walking round with us and, at the 12th, after I'd hit one shot he said "hit another one". I asked him, "are you sure that's all right?", and he said "no problem" and so it became a bit of a driving range as we emptied the bag of golf balls and pounded them across the water to the green (laughing). Augusta are really good with players and really good with the amateurs. They have a dinner for the amateurs and celebrate the amateurs as much as the pros. You get the feeling that nothing would please them more if an amateur did well or even win it. That would make their day and it's really nice they have that appreciation of amateurs. They want to make sure amateurs have an amazing experience and they definitely pull it off.
Did anyone take you under your wing that week?
SW: Not really. I managed to get a fair number of tickets and there are now 18 people in Forfar who can now say they've been to The Masters who would probably never have been otherwise (laughing). I didn't stay in the Craw's Nest that week. After a day at the course, I went back to be with the people who'd come out to support me. That seemed like a good idea because it's quite claustrophobic when you are on site all week. I played with a few different people in practice rounds and picked up some tips. Fuzzy Zoeller was probably one of the best ones when it came to giving you the inside track on Augusta and how to play it. At the 13th, for example, he pointed out the trees around the creek being limbed up on the outside to try and make it a tighter drive. It's wee things like that you don't hear about on television or speaking to these guys. I certainly look back on the week fondly, even though I missed the cut.
Were you still around when Tiger Woods slipped into the Green Jacket?
SW: No (laughing). That was also the one when Tiger chipped in from behind the green at the 16th, but I was at a friends house in Atlanta watching it on TV by that time. I'd handed back the keys for my white Cadillac after missing the cut. We'd been there for quite a stint and, while it's always nice to be at these big events, it is also nice sometimes to watch the finale on TV as it means you aren't missing anything.
On the back of some great achievements in the amater ranks, was it ever in your mind to turn professional?
SW: Myself and the "Wee Man" (Ian Rae) did talk about the possibilities for me as I had a few rounds and a few moments in rounds that gave you an inclination of hope that you could perhaps do something in the paid ranks. But the reality of it was that getting the top of the amateur game coincided with me pretty much taking my game as far as I could have taken it. My game was suited to the links golf we played a lot in the amateur ranks and I had pretty much kicked the a*** out things, to be honest. I was in my mid-20s and the likes of the Molinari brothers and Martin Kaymer were not only a bit younger but also on an upwards trajectory at that time. They still had room for improvement whereas I had done as best as I probably could. I might have been a journeyman, I suppose, but after years of doing it on the amateur circuit and all the travel that entailed, I just knew it wasn't for me. It had run its course for me, I suppose. I wasn't playing that great in 2005 and, after The Masters and everything I'd played in leading up to that, including the Jones Cup, and I am certainly not saying this grudgingly, there wasn't much money left in the pot to fund a full season back home and I also didn't have the capacity to take any more holidays as I was working full-time for Auchterlonies at Broughty Ferry. That led to a quite poor year for me and I lost my regular Scottish cap and, as a consequence of that, I lost other things, including funding opportunities. It kind of all fizzled out after The Masters, to be honest. I do have regrets obviously like not winning a Scottish Amateur, having got beat in the final. Not winning the Scottish Stroke Play, finishing a shot outside a play-off. But, at the same time, I have no doubt that I did the right thing by staying amateur, especially when I look at what has come and gone from since then. Everything I have achieved or the opportunities that have been given to me have come off the back of golf and I am still getting those to this day with being the Walker Cup captain, for which I will always be eternally grateful.
You played in the Walker Cup in 2003, joining fellow Scots David Inglis and Graham Gordon on a winning team at Ganton later in the year. How was that week?
SW: Brilliant. I managed to contribute reasonably well with a win, two halves and one defeat, which I was chuffed about. I had never been to a Walker Cup before and I didn't realise what a big deal it was. The Amateur Championship was the pinnacle of my individual career, but I think being part of a winning Walker Cup team that year at Ganton was on a par, really, for me.
You were the European Junior Ryder Cup captain in both 2012 and 2014, the latter taking place on Scottsh soil at Blairgowrie. How were those experiences?
SW: That was brilliant as well. When I did it, it was six boys and six girls, four under-18 and two under-16s, so you had a really nice mix. The one thing I did say after my stint was that they needed to rethink the name because the Junior Ryder Cup does it a bit of dis-service because if you don't know the event and the calibre of players playing in it, it conjures up ideas of wee kids running around with baseball caps and half sets. You are talking about the top amateur players in Europe and America and when we had the team at Blairgowrie, we had three the boys were in the top 10 in the World Amateur Golf Ranking. Out in the US, they felt part of the Ryder Cup as they had access to the team rooms at Medinah and the players. It's a money-can't-buy experience. To then be captain for an event like that in Scotland at Blairgowrie, where I am now, was pretty special.
You are now wearing the Walker Cup captain's hat, with the Great Britain & Ireland team for the match at Seminole having just been announced. What would a win on US soil mean to you?
SW: It would be amazing, especially when you consider there are only two people (Geoff Marks at Peachtree in 1989 and Peter McEvoy at Ocean Forest in 2001) who have managed to achieve that before. The history books tell us it is going to be difficult, but it's not impossible. We've not had the preparation we had hoped for. For a lot of the players, it's been a bit of a write-off the last year and there haven't been many events where the guys have been able to play on the same stage. But the R&A have been phenomenal and we are happy with the team and can hopefully bring the Walker Cup back.
How fortunate do you feel that golf has been such a big part of your life?SW: Everything I have in life except for my wife Lesley, who I didn't meet through golf - has come to me through the game and I will be forever grateful to golf and the governing bodies who have supported me along the way, coaches and family, too. It couldn't have happened without Ian Rae, Scottish Golf, the R&A, all these people have contributed to where I am now.
A message from the Editor:
Get a year of unlimited access to all of The Scotsman's sport coverage without the need for a full subscription. Expert analysis, exclusive interviews, live blogs, and 70 per cent fewer ads on Scotsman.com - all for less than £1 a week. Subscribe to us today https://www.scotsman.com/subscriptions/sports