Stuart Boyle joins Bernard Gallacher in swapping West Lothian for Wentworth Club
Bernard Gallacher was the first person to swap West Lothian for Wentworth Club to take up one of the most coveted posts in the golf industry and now Stuart Boyle has followed in his footsteps.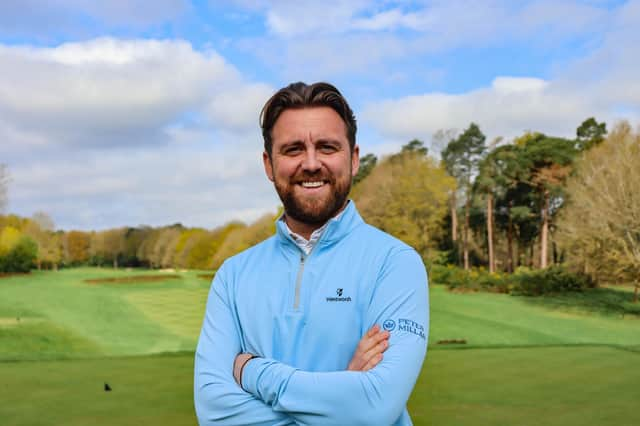 Sixteen years after Bathgate man Gallacher brought down the curtain on his spell of more than two decades as head PGA professional at the Surrey club, Boyle, who hails from just ten miles away in Harburn, has risen through the ranks to become its director of golf.
He's in charge of a 40-strong team at one of the most exclusive clubs in Europe, though this week its gates are open to the public as it hosts the BMW PGA Championship, which, on this occasion, is being headlined by all 12 members of Europe's Ryder Cup team.
"It was a really exciting opportunity when I joined the staff here," Boyle told The Scotsman. "I'd just finished my PGA exams, though I was yet to get my results. I'd been at The Belfry for three years before I got the interview for a pro job here. When I got it, I was over the moon as it was the next step for me at the time in my career. I loved The Belfry, but this is a completely different model and to come down to Wentworth to work was a pinch me moment, to be honest.
"I started as an assistant pro and have just worked my way up the ranks. I went from assistant pro to assistant head of golf operations to then golf operations manager to director of golf. It was my goal and probably a bit of an unrealistic goal to be director of golf before the age of 30, but I just managed it. I've been director of golf for a couple of years now. It's home for me now. I love it here. Every time I drive in the gates I get goosebumps as it's such a special place."
As he was cutting his competitive teeth, Boyle won West Lothian junior titles, also made his mark on the Lothians scene and represented Scotland on one occasion a tri-nation event that also involved an up and coming young Italian player in Matteo Manassero. Though their careers have taken different paths since then, Boyle is very happy indeed with his lot and rightly so. "That is something I say to a lot of the kids down here," he said of golf being able to provide wide-ranging career opportunities. "There's no reason why you can't keep that dream alive, but you've got to have a realistic goal as well. I knew very quickly that I wasn't good enough to make it as a player, but I love the game of golf and I wouldn't change anything when I look at how things have progressed for me.
"I nearly went to America on a scholarship before deciding against it and going to The Belfry. I haven't looked back, really. There's been an element of luck along the way, but you make your own luck. The golf industry is a wonderful place to be and certainly so if you land up somewhere like I have."
Still living in the Surrey stockbroker belt with wife Lesley, three-time Ryder Cup captain Gallacher often pops into the pro shop at Wentworth when he's there for a game or just to hit balls on the range. "It's another pinch me moment for me," said Boyle. "Bernard and I have a lot of great conversations that take me back when we talk about wins like the county under-13s and under-16s at Bathgate, so many fun stories. Harburn as well as it was great for me as a junior. When I was back there a few years ago, I did a session for the juniors, which was nice as it felt as if I was giving something back."
On the course, Rory McIlroy, Jon Rahm and Viktor Hovland are the star attractions at Boyle's workplace this week while off it Jax Jones, the Grammy-nominated producer and DJ will be headline the entertainment after play has finished at the weekend.
"It's a completely different week of the year for us and one we always get very excited about," admitted Boyle. "To rub shoulders with some of the best players in the world is fantastic for everyone. It's the DP World Tour's flagship event and to have nearly 30,000 spectators per day is fantastic. We also put on some events during the week for our members and everyone loves it. This year, of course, we've got the full Ryder Cup team here and there's a great buzz around it. It's pretty cool as it's a special week and one we are so proud of ourselves."
Manassero, who eclipsed Gallacher when he became the event's youngest winner in 2013 - Boyle's first year at the club - is on course to be back playing on the DP World Tour next season after gradually finding his feet again on the Challenge Tour following a dramatic dip in form.
As for Boyle when it comes to playing competitively these days? "I play very little," he admitted, "but I still enjoy it, so try and get a couple of pro-ams in. We also do some nice trips with the members, including an annual one against Sawgrass in January. I tend to play more in the winter than the summer, but I can still get it round (laughing)."
His main satisfaction, though, comes from something different. "My team includes 20 pros, a lot of them being trainee pros," he said. "It's one of the best places to be from a golf perspective as everyone is so passionate about what they do. I always feel proud helping people get through their PGA training after doing that myself ten years ago."
Comments
 0 comments
Want to join the conversation? Please or to comment on this article.