Star-studded US team insist 'W' on Walker Cup caps doesn't stand for 'win'
A star-studded United States side wore hats with an unmissable 'W' on them for the first official practice day for the 49th Walker Cup at St Andrews but, apparently, that was not a sign of disrespect for their opponents on the Old Course this weekend.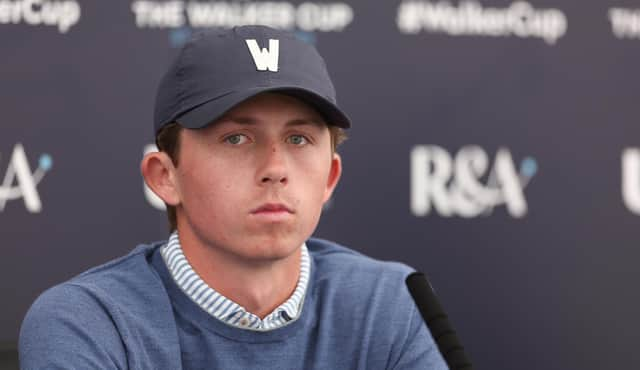 For most of his career, Tiger Woods has talked about a 'W' when he's been referring to a 'win' but, even though the visitors are strong favourities against a Great Britain & Ireland side being led by Forfar man Stuart Wilson, that isn't what it signifies in this case.
Though not all the time in the biennial contest, American players first started wearing the hats in question in the 2013 match at International Golf Links in Long Island, but, as this one is at the home of golf coupled with eight of the ten US players sitting in the top ten in the World Amateur Golf Ranking, it certainly merited some scrutiny.
"The Walker Cup," replied Mike McCoy, the US captain, to being asked what it signified, not wearing one himself, admittedly, but sitting between two of his players, Gordon Sargent and Nick Dunlap, who were. "I think they came about as a tribute to President [George W] Bush, as well as the Walker Cup, as he attends the matches over in the US."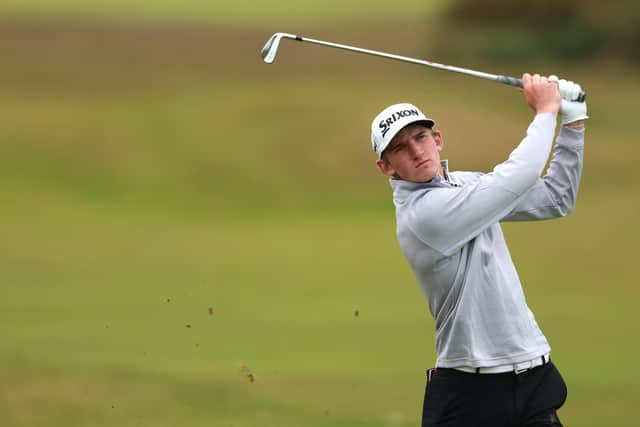 Had Wilson spotted the hats? "No, I actually haven't," said the GB&I captain. But would it be a slight if it did mean 'win' instead of 'Walker Cup'? "No," he insisted. "We've done our preparation and we've done what we think is right in trying to get the guys into the right position come Saturday morning, and I'm sure Mike and his team have done the same. If they feel that's appropriate for them, that's absolutely fine."
Since the introduction of the World Amateur Golf Ranking, this is the strongest US side to go into battle in the event. It is being spearheaded by the world No 1, Sargent, with Dunlap, David Ford, Dylan Menante, Benjamin James, Caleb Surratt, Nick Gabrelick and Austin Greaer also current world top-ten players. The odd men out are Stewart Hagestad, a member of three winning Walker Cup teams, and former US Junior champion Preston Summerhays.
In contrast, world No 14 John Gough is the top–ranked GB&I player while only two others - Calum Scott and Barclay Brown - are inside the top 50 heading into the 100th anniversary of the event's first staging at St Andrews and ninth in total at the Fife venue.
"I wouldn't say it intimidates us," insisted Nairn man Scott, who is flying the Saltire in the home ranks along with Blairgowrie 16-year-old Connor Graham. "It's a completely different game over here. We've all played golf everywhere in the world. I think anyone on their 'A' game, from GB&I side to the US side, it's anyone's game, and also it's match play, so that's different from stroke play.
"I think that you can play as well as you want and sometimes lose. I don't think the rankings really matter for this, especially being at St Andrews. I think the winning team is the team that holes the most putts. That's it."
Scott, 20, is following in the footsteps of his older brother, Sandy, who played in the 2019 match at Royal Liverpool. Scott jnr was beginning to show signs of being a promising talent at that time and has kicked on since he headed to Texas Tech, where his sibling, who is now in the professional ranks, also blossomed playing college golf.
"My whole family was there," recalled Scott of watching his brother at Hoyake in the last match on this side of the Atlantic. "Obviously I had aspirations of doing what he's doing. He was on top of his game. He'd just come off a win at Pebble Beach and then went straight to the Walker Cup.
"Being able to watch him win two out of two singles, that was pretty cool. I remember he gave me a towel that I hung it up in my room, and it's still there to this day. I told myself I wanted to make that team, and I'm sitting here now."
Wilson, who won the 2004 Amateur Championship at St Andrews, reckons Scott has turned into a "man mountain" since he went to the US. "It's probably just certain foods over there making me grow a little more," said Scott, smiling. "Yeah, it's just growing, some maturity, hitting the ball longer. Just a whole bunch of different things since I was young."
According to team-mate Alex Maguire, Scott is the big-hitter on the GB&I team. "I played British Am with him for the first time a few weeks ago and he was hitting 5-irons as far as I was hitting my 2-irons, - I couldn't believe it," said the Irishman, who won the St Andrews Links Trophy earlier in the year.
Reckoning that's down to "long arms and being tall and lanky" as opposed to sheer muscle, Scott certainly won't be fazed if he finds himself going head-to-head with Sargent on either Saturday or Sunday despite his impressive feat of averaging 323.9 yards off the tee in both The Masters and US Open this season.
"I've played with Gordon a couple times in college, so obviously I know how long he is," said Scott. "I think everyone in the college scene in America knows how long he is. Look, he's a great player. He's No 1 in the world, so it would be great to play him in singles. I would love that match. I'd love any match, but it would be cool to play him at the home of golf."
Comments
 0 comments
Want to join the conversation? Please or to comment on this article.