'Something had to give' - Rory McIlroy opens up on PGA Tour Policy Board resignation after Dubai drama
It's never dull when Rory McIlroy is involved and, before opening up on his decision to resign from the PGA Tour Policy Board, the world No 2 provided some great entertainment up the 18th hole on the Earth Course at Jumeirah Golf Estates in the opening round of the DP World Tour Championship.
Having slipped from three-under-par through seven holes to just one-under-par as rustiness from a six-week break since the Ryder Cup in Rome started to show, McIlroy got lucky with his tee shot as it hit a rock in the stream that zig-zags up the fairway and bounced high into the air before coming to rest in what he described as "mulch" but still in play.
He then got lucky again as his second shot bounced in the water before jumping out on to a bridge and then running off the side of it on to grass. The excitement wasn't done yet, though. He wanted to take on shot to a back pin that required a fair bit of cut due to a low wooden fence on the bridge still posing a problem before eventually deciding that was too risky. In the end, he was delighted to walk off the green with a par for a one-under-par 71, one better than playing partner and defending champion Jon Rahm in the final group of the day.
"Yeah, in a way," he replied to being asked if the closing hole had been typical of his round. "Typical of my career, I think. Very lucky (laughing). I missed the tee shot right then missed the second shot left. I got fortunate on those first couple of shots and did well to end up making a 5 out of it. Honestly, happy enough to get in under par because it was quite scrappy on the back nine and it felt as though I was just hanging on for the last few holes."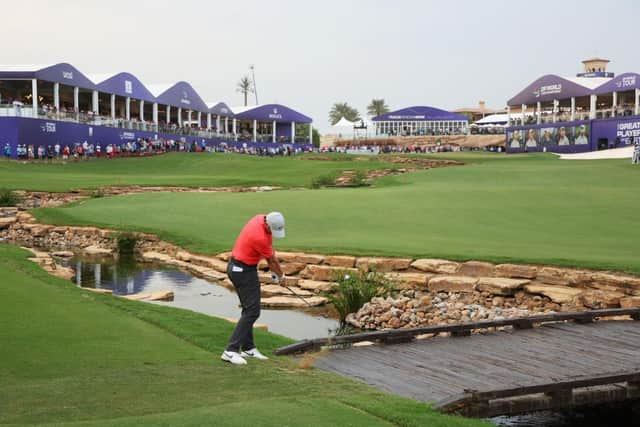 In a testing wind, five-under was the best anyone managed, with Dane Nicolai Hojgaard, one of McIlroy's Ryder Cup team-mates at Marc Simone Golf Club, signing for a 67 along with French duo Julien Guerrier and Matthieu Pavon. All things considered, McIlroy wasn't too disappointed to be sitting just four off the lead in a tie for 15th.
"I guess it's sort to be expected in a way," he said of a ragged back nine after looking as though he could be on course for a low one following a burst of three birdies in five holes on the front nine. "But, when you are three under through seven and cruising along, your like ' back to normal, this is good'. But that's not the way golf works, unfortunately. Sooner or later, I was going to hit a couple of loose shots and I did and paid the price for them."
It's already been a big week for the Northern Irishman. On Sunday, he was crowned as the Race to Dubai champion for a fifth time before it emerged on Tuesday night that he'd decided to step down from the PGA Tour Policy Board after effectively being the US circuit's most important voice in then fight with the breakaway LIV Golf League before a framework agreement was announced in June about a new landscape for the professional game.
"I think so," he replied to being asked if his decision to resign had been brewing for a while. "Look, something had to give. There are only so many hours in a day and only so many days in a week. I've got a lot going on in my life right now between trying to be a world-class golfer, trying to be a good husband and a good father, I've got a growing investment portfolio that is taking up more of my time, I'm involved with TGL and sort of in the weeds with that.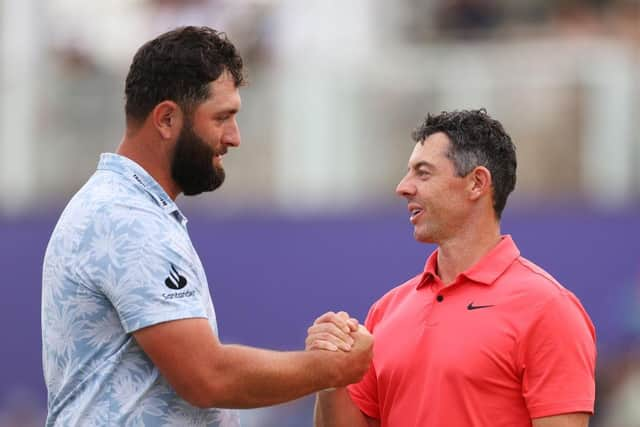 "I've got a lot of stuff going on and, with the Policy Board stuff, it's taking more of my time than ever this year and I just felt something had to give. You know, that was the one. I just feel like there's people who are in there who are able to spend more time on it and put more energy into it than I am right now. It's better off if someone is able to take that spot of mine and is able to give the board the energy and time it deserves."
Had it been a difficult decision at what is still a delicate time for game? "I don't think so because, as I said, I think the process is in good hands," he added. "At the end of the day, the PGA Tour agreed to let a sixth player on the Policy Board, so the players are the ones who are going to control the future anyway. So I sort of felt comfortable enough to step down because there's guys on that board who are able to dedicate the time and energy into it. I'm pretty sure it will all end up in a good place for the players anyway.
"I stepped up and spoke out about something I believed in. The landscape changed on 6 June with the (framework agreement) announcement. It was never in my control but, from then on, I was playing a lesser part. Because of the decisions that were made. There has been a lot of time spent on this over the last few weeks with different investment groups and meeting different people who are interested. It just got to the point where, although I like being busy, I like being busy but on my own things. And it got to the point where I just couldn't fit it all in.
"Over the last few weeks, not playing golf is one thing and I could pour more time and energy into it. But I'm thinking as we go into next year and I'm getting ramped up for Augusta and all those tournaments I just couldn't see me putting the time and energy into it. It's a big decision and, if I'm not prepared going into those meetings, it's better someone else takes my place."
He agreed that his time as both the PGA Tour's Players Advisory Council chairman and then a player director on the Policy Board had been eye-opening. "When you get into a room people have different views and opinions on what should happen. I certainly had my own," he said with a wry smile. "Some people agreed and some didn't. But that's the nature of sitting on a board. Not everyone is going to agree on everything. You have to compromise and come up with the best solution. I'm pretty happy with the direction of travel. It's just a matter of getting the thing done as fast as possible. Then we can all move on and focus on the good stuff, which is the birdies and the bogeys."
Next year marks the tenth anniversary of McIlroy's last major win but, referring to the time and energy he'd given to outside matters, he insisted: "I don't think my play was affected. I've played really well. I like being busy. I like having things to do away from the golf course. But it just got to the point where it was too much. But I don't think it affected me at all. I enjoyed it. It was an education. I was in the room with some very smart people. I was appreciative of the opportunity. Hopefully that will stand me in good stead with whatever I decide to do in the future."
Comments
 0 comments
Want to join the conversation? Please or to comment on this article.