Sergio Garcia no longer among LIV Golf players fighting Genesis Scottish Open ban
Three LIV Golf players, including two former Masters champions, have withdrawn from the fight to have a Genesis Scottish Open ban imposed by the DP World Tour last year lifted and pave the way for the so-called rebels to continue to play on the circuit.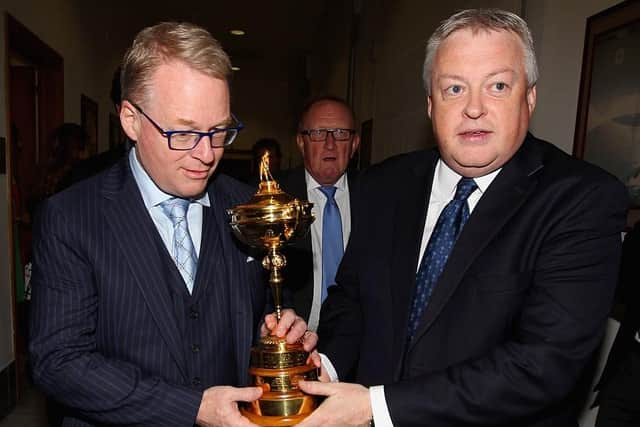 The removal of Green Jacket winners Sergio Garcia and Charl Schwartzel, as well a former Alfred Dunhill Links champion Branden Grace from the list of LIV Golf appellants in an arbitration case being held in the UK in a fortnight's time was revealed during a DP World Tour media briefing in Dubai.
Keith Pelley, the circuit's CEO, and communications director Scott Crockett used a sitdown with golf writers at Emirates Golf Club, venue for this week's Hero Dubai Desert Classic featuring world No 1 Rory McIlroy, to set the scene for the upcoming case in London.
"I know there's been a lot discussion about the legal position we are in, so I just want to give some guidance on next month's hearing before Sports Resolutions UK," said Crockett. "Already, there has been a lot of stuff written about all aspects of the case. Some of it is correct and some of it hasn't been. "It is important to clarify that it's not a court case. It's an arbitration panel hearing, which will be held at Sports Resolutions Arbitration and Media Centre in London.
"It's going to be heard by an independent three-man panel and, in this case, it's a panel made up of two KCs and a former high court judge, His Honour Judge Phillip Sycamore CBE, who will chair the panel."
The hearing is scheduled to run for five days, starting on Monday, February 6 and ending on Friday, February 10.
"In total, 16 players were part of it from the appellant side and, by the appellant," added Crockett. "I use the word 'were' as we were informed over the weekend that three of the original appellants - Sergio Garcia, Charl Schwartzel and Branden Grace - have withdrawn their appeals and they no longer wish to participate in the arbitration process.
"So that leaves 13 players - Ian Poulter, Adrian Otaegui, Justin Harding, Lee Westwood, Sam Horsfield, Richard Bland, Shaun Norris, Laurie Canter, Wade Ormsby, Patrick Reed, Bernd Wiesberger, Graeme McDowell and Martin Kaymer.
"That list includes the three players who originally brought the case to Sports Resolutions last July to force the stay in suspensions, those three being Poulter, Otaegui and Harding (who all played in the Genesis Scottish Open at The Renaissance Club)."
The hearing will be a fully behind-closed-doors affair and, contrary to what has been reported, a verdict will not be delivered straight away. "The panel will deliver their verdict through the Sports Resolutions website several weeks after the hearing has taken place and have been given no definitive time when that will be by Sports Resolutions," continued Crockett.
"Will we appeal if we lose? Will they appeal if they lose? Will their players still be able to play on the tour if they are appealing? Unfortunately, the simple and honest answer to all of that is that is we don't know.
"In simple terms, the hearing centres on our conflicting release regulation and our ability to enforce it. It's as straightforward as that and, in that sense, the hearing is very narrow and has a very specific parameter.
"The issues are not the same as they are in the litigation claim between the PGA Tour and LIV in America, not least, of course, in the difference in law between the UK and the US is vast. It's also not about us suspending members of banning them from this or that. It's simply to regulate on this narrow regulation point.
"These are rules for players created by the players. We simply administer them on their behalf. As a member, each player signs up to these regulations when they pay a membership fee and the conflicting member regulation has been part of our regulations for many years.
"There are precedents for us not granting releases in the past. Therefore, our argument is pretty straightforward. We believe we were and, indeed, we are within our rights to apply these sanctions now."
In a case where the arbitration will be binding, Pelley will be a witness for the DP World Tour along with Keith Waters, the circuit's chief operating officer. "The result is whatever the result is," said Pelley. "I think it's an important moment for our tour and to protect our tour and for our members at all different levels. I sent them all a note last week and the support has been great."
In an interview last week, former winner Westwood highlighted the fact that the field for the Abu Dhabi HSBC Championship included just one player from the world's top 20.
Commenting on that, Pelley said: "Last night we had a post-event function and it was staggering how many people came up to me and said they were disappointed with the comments made by the player earlier in the week and it was unfair to the staff.
"I guess I would respond in a couple of ways. The whole definition of top players is one that has been up for debate. If you only determine the success of a tournament through the lens of top players or top-20 rankings, then you are looking at it through a very narrow lens.
"It's certainly a component, but we kind have always thought of us being a bit like F1 that it's now a social happening; it's now on the calendar. That doesn't demean top players, but it's another metric for success.
"Also, we are going through, as is the PGA Tour, a transitional stage and 2024 will look a lot different to 2023. The barometer of determining a successful tournament is far beyond just the top 20."