Scottish golfing legend Joan Lawrence MBE passes away aged 89
Joan Lawrence MBE, a legend of Scottish women's golf, has died just a few weeks short of her 90th birthday.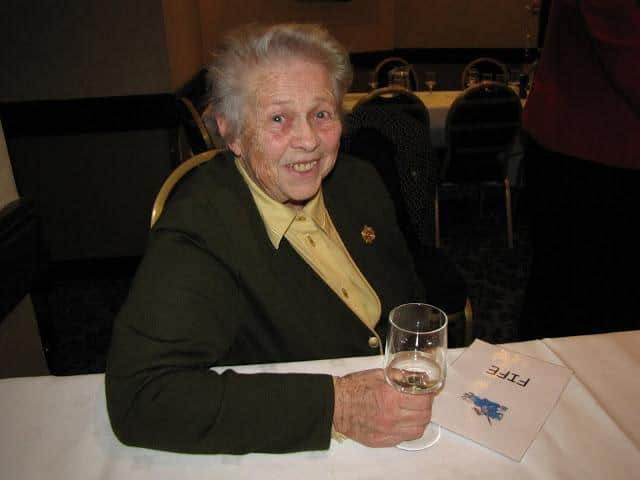 Joan Lawrence, pictured at the SLGA Centenary Lunch in 2009, was due to celebrate her 90th birthday next month. Picture: Carol Fell Golf
The Aberdour member won the Scottish Women's Championship three years in a row from 1962 and lost in the 1965 final to Belle Robertson.
Lawrence played for Great Britain & Ireland in the Curtis Cup in 1964, the same year she helped Scotland finish runners-up in the World Team Championship.
She was a member of the winning GB&I Vagliano Cup team in 1963 and 1965 and represented Scotland in the European Team Championships on three occasions.
Lawrence won the East of Scotland Championship back-to-back in 1971 and 1972
and was the Fife Ladies champion on 18 occasions, starting in 1953.
She was a Scotland international selector in the mid-1970s and claimed the Scottish Veteran Ladies' title three times in a row from 1982.
Off the course, Lawrence served as Chairperson of the Ladies Golf Union, President of the Scottish Ladies Golfing Association and President of the Scottish Veteran Ladies Golfing Society.
She captained a the winning Great Britain and Commonwealth Team in 1971 and was a Curtis Cup vice-captain in 1970.
She received her MBE for services to golf in the 1999 Queen's Birthday Honours.
Former SLGA chairman Elinor Grant said: "Joan was an outstanding and proud Scotswoman who brought honour to her club, county and country."
Andrew McKinlay, CEO of Scottish Golf said, "On behalf of Scottish Golf, we would like to express our deepest condolences to Joan's family and friends at this difficult time. Joan represented Scotland with distinction at so many high profile events within the amateur game."