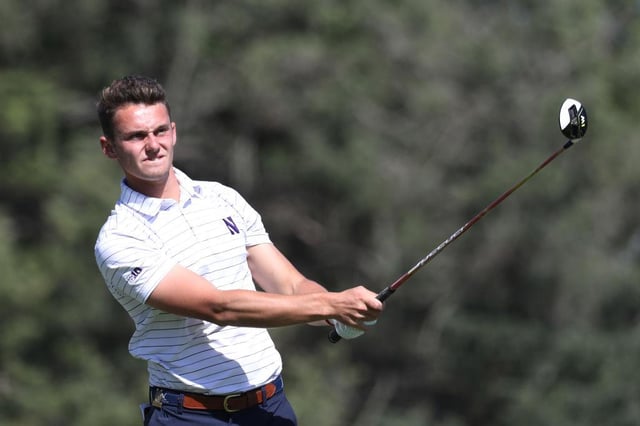 Ryan Lumsden in action during the 2018 US Open at Shinnecock Hills in Southampton, New York. Picture: Rob Carr/Getty Images.
The 24-year-old, who qualified for the 2018 US Open as an amateur, had been due to play in this week's Omega Dubai Desert Classic after securing a spot in the £3.25 million event through the MENA Tour.
But his chance to fly the Saltire along with the likes of two-time winner Stephen Gallacher and Bob MacIntyre at Emirates Golf Club was taken away by the coronavirus.
Lumsden tested positive in London, where he lives, after he'd been in the US for a spell to work with his swing coach and will now have to be content with watching the tournament on TV.
"It's been a pretty terrible last month for me, honestly," he told The Scotsman. "I got a couple of cases of strep throat in America when I was out seeing my swing coach in preparation for the event in Dubai.
"I was basically in bed for two of the weeks I was out there. Finally got over it then flew home, took the Covid test the morning I landed, which was the day before I was due to go out to Dubai, and it came back positive.
"As a result of that, I had to withdraw from the Desert Classic, so I am pretty gutted as it has not been a good start to 2021 for me at all."
Lumsden, who became the fifth Scottish winner in the MENA Tour in Jordan last March, made his European Tour debut in two events in South Africa towards the end of last year.
It's the second time he's suffered a disappointment during the pandemic, having been due to play in the Byrson Nelson event on the PGA Tour last year before seeing it cancelled during the US circuit's lockdown.
"I'm at home at the moment," said the 2017 Scottish Amateur Championship runner-up. "I had a golf net delivered by Amazon and I'm out hitting balls in the back garden, but that's about it.
"I really struggled with my swing in my last couple of events in South Africa, but I made some really good swing changes with my coach out in the US and felt so excited about going and giving it a run in Dubai,
"I thought I would have had a chance to play well, so it's tough."
Lumsden, who turned professional after a successful spell at Northwestern University in Illinois, said he will be watching the Dubai event, which starts tomorrow, on TV.
"I know it's going to suck for me sitting at home, but I've always loved the Omega Dubai Desert Classic. It's such a cool event on such a great golf course," he said.
"Two of my good buddies out on the MENA Tour, David Hague and David Langley, are playing, having got the other two spots. Obviously I'm hoping they do well and also, of course, the Scots in the field.
"I spent a little time with Grant Forrest, Ewen Ferguson, Calum Hill and Connor Syme out in South Africa at the end of last year.
"They are obviously where I want to be and where I feel I could be. Seeing them succeed and do well is great."