Scottish Golf stakeholders ask: Did Andrew McKinlay fall on own sword or was he pushed?
Scottish Golf's stakeholders are in shock over Andrew McKinlay's sudden departure as chief executive, asking: Did he fall on his own sword or was he pushed?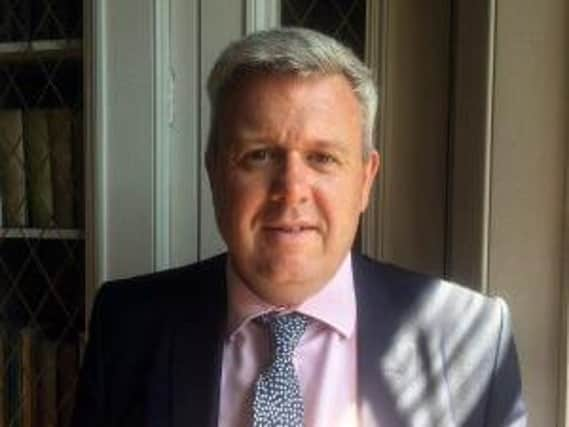 The governing body announced just before 7pm last night that McKinlay had decided to "step aside" from his role in a cost-saving decision as the organisation combats the financial impact of the coronavirus crisis.
The former chief operating officer at the Scottish Football Association was appointed in February 2018 to succeed Blane Dodds and took up the post in May that year.
He handled matters professionally and politely in his time in charge before coming under pressure recently as Scottish Golf was accused of being slow in showing leadership during the current mass closure of courses in the country.
Scottish Golf had already scrapped its entire 2020 schedule and furloughed staff, with chair Eleanor Cannon saying it was not immune from having to make "very difficult decisions" to the COVID-19 chaos.
In a statement, Scottish Golf said it had been McKinlay's decision to leave with immediate effect in "order to help the organisation come through this situation".
However, that has been questioned in the immediate reaction to the governing body now searching for a fourth chief executive since Cannon became chair in 2015.
"Fallen on his sword or pushed?" asked Christopher Spencer, the club manager at Dunblane New, in a post on social media. "Yet another crisis in a crisis-riddled organisation!
"Could it be that as a lot of clubs have still to pay their (affiliation) fees, and perhaps won't given the lack of support, SGL is cash strapped?"
McKinlay's departure comes after The Scotsman revealed last month that two other key members of Scottish Golf's management team, development director Ross Duncan and head of operations Louise Burke, had left the organisation.
It is also believed that club development officers had been told they were being axed before the coronavirus pandemic took its grip on the sport.
"Directors gone, staff furloughed and all events cancelled, they are in quite a mess," added Spencer, a former club manager at North Berwick before having a spell at Glasgow Golf Club.
David Roy, the manager of Crail Golfing Society, and his Gullane counterpart, Gordon Simpson, also reacted to McKinlay's exit on social media.
"It would be appropriate for Eleanor to shoulder some of the responsibility," said Roy of Cannon. "Andrew was carrying out the Board's strategy, which was endorsed by the membership last year.
"Andrew always struck me as a good guy but he was either sold a pup, or just not suited to the post. Either way, it was the brief that was wrong."
Referring to Cannon facing her latest search for a chief executive, he added: "By any measure, to have recruited so badly in one relatively short tenure requires an admission of poor judgement."
Simpson, who had spells at Hilton Park and Ladybank before taking up his current post last year, said he was "not surprised at all" to hear of McKinlay leaving.
"They need a leader with a golf background who can relate to the stakeholder clubs issues," he said.
"I think it is a prestigious job and one that lots of good people would be interested in if they were allowed to do the job that is clearly required. Hope this finally makes them see change is needed."