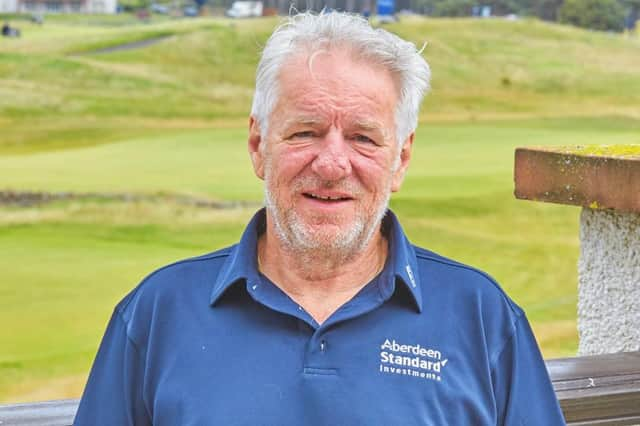 It has also been revealed by Scottish Golf that seven clubs in the Home of Golf recorded an increase of over 100 per cent from 2019-20.
The figures have been released by the governing body in a yearly review presented at the annual general meeting, which was held virtually today for the second year in a row due to the pandemic.
"One of the positives to have emerged from the pandemic is that, for the first time since 2015, we have seen an increase in club membership," said the report.
"Our 568 affiliated clubs saw a 6.1 per cent increase in playing members (adults and juniors) of 10,920, with total playing membership of 190,777.
"There were seven clubs reporting over 100 per cent increase in playing membership from 2019-20.
"This increase in club membership is great news for our affiliated clubs and we urge all our clubs to engage fully to ensure those members can be retained as we head into a prolonged period of economic uncertainty."
The total playing membership in Scotland rose from 179,857 to 190,777, with the figure for adult membership jumping from 164,356 to 174,255.
Adult male membership increased from 143,205 to 152,641 while the adult female total went up to 21,614 from 21,151.
On the junior front, the total membership climbed from 15,501 to 16,522, with the boys' total now standing at 13,903 compared to 12,966 the previous year and the girls' figure going from 2,535 to 2,619.
As had been previously reported by The Scotsman, the governing body's accounts for the year ended 30 September 2020 showed a loss of £18,350 compared to a surplus of £226,382 in 2019.
The downturn has been attributed to a "significant reduction" in membership income as a result of a 25 per cent affiliation fee rebate, which represented a grant of £580,145, offered to all clubs as they were hit by the initial coronavirus lockdown.
"We are in unprecedented, remarkable times. Since March 2020 we have all been reminded how important the wonderful game of golf is in our lives," said Eleanor Cannon in her final report as chair of Scottish Golf, having now handed over the reins to Martin Gilbert
"We have learnt how much we, as individuals, appreciate the golfing communities that we are part of, and how much the camaraderie offers us personally through good times and bad.
"The past 12 months have been challenging and for many harrowing.
"I am extremely proud of the speed at which the Scottish Golf team acted to reassess our financial position and reprioritise activity.
"The outcome of this review was being able to provide support to our affiliated clubs both financially, by rebating 25 per of our affiliation fees, and practically, through regular Covid-19 updates.
"Throughout my time as Chair, we have been working on a variety of long-term growth initiatives which support the organisation's vision of Making Golf Scotland's Game For Everyone and 2020 was a big year of implementation as we saw a number of these plans come to life."
Development costs in 2020 rose to £1.3 million from just over £480,000 the previous year, with a big chunk of that being spent on a new Venue Management System (VMS) and app.
The annual report said that the VMS has been presented to "almost 400 clubs", with "237 clubs configured on the system at various stages of deployment".
The Scottish Golf App has been hailed by the governing body as "another success story" on the strength of having 148,000 registered users out of a total of 190,000 golf club members.
"During 2020, we focussed on building stronger partnerships within the golf industry and across the sporting sector to ensure we cater to the needs of our stakeholders at area, county and club level," said Karin Sharp, Scottish Golf's chief operating officer.
"I have been greatly encouraged by the engagement through zoom calls with our key members and industry colleagues, which provided regular and constructive dialogue on a wide range of topics.
"I am very proud with the way in which Scottish Golf has supported our members throughout the year both financially and practically, with a significantly increased level of communications to ensure all our affiliated clubs were best placed to get through the pandemic."
The annual report has also revealed the full details of how Scottish clubs utilised money made available by the R&A through a Club Relief Fund and Covid-19 Fixed Cost Grant.
The St Andrews-based organisation provided investment worth £685,000 to Scottish golf clubs, with a total of 354 clubs applied for and received the £500 Covid-19 fixed cost grant totalling £173,340.
In addition, 163 clubs were recipients of the Club Relief Fund receiving a total of £512,560 allocated. In total, 370 of Scottish Golf's affiliated clubs received funding from one or both of the R&A Club Relief Fund.
"I leave Scottish Golf under the excellent stewardship of Karin Sharp and Iain Forsyth (chief commercial officer)," said Cannon at the end of a six-year terms.
"It gives me great pleasure to know that Scottish Golf will be in safe hands as Martin Gilbert, one of Scotland's best-known business figures, is set to become Chair at this year's Annual General Meeting.
"Martin has been a prominent supporter of golf in Scotland for over 20 years, firstly through Aberdeen Asset Management and latterly Aberdeen Standard Investments.
"This is a tremendous coup for golf in Scotland and the entire game should be delighted that Martin, whose passion and support for the sport are very widely known, has agreed to take on this role."
A message from the Editor:
Get a year of unlimited access to all of The Scotsman's sport coverage without the need for a full subscription. Expert analysis, exclusive interviews, live blogs, and 70 per cent fewer ads on Scotsman.com - all for less than £1 a week. Subscribe to us today https://www.scotsman.com/subscriptions/sports