Scottish amateurs to face pros at Trump International as Paul Lawrie left excited by new match
Paul Lawrie has teed up an exciting opportunity for some of Scotland's top young amateurs to take on a team of professionals in a Ryder Cup-style match at Trump International Golf Links in Aberdeen.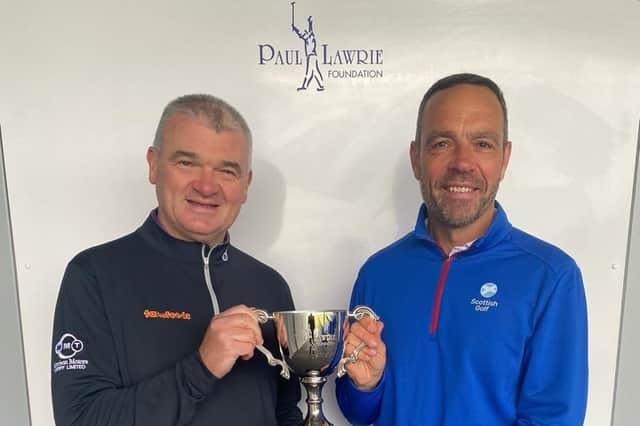 The Paul Lawrie Foundation Challenge Match is taking place next Monday, when the 1999 Open champion will be a non-playing captain of a Paul Lawrie Select, while national coach Spencer Henderson will skipper a Scottish Golf Select. The new event will allow the likes of R&A Junior Open champion Connor Graham and 2022 Scottish Amateur Championship runner-up Gregor Tait to test themselves against a mix of experienced and up-and-coming professionals. Lawrie's line up, for example, includes Bradley Neil, who has played on both the DP World Tour and Challenge Tour, as have Neil Fenwick and Jack McDonald, while Sam Locke was leading amateur in the 2018 Open at Carnoustie before joining the paid ranks.
"It came from when I was helping out Scottish Golf with a little bit of performance stuff and, chatting with Spencer, I thought 'wouldn't it be great to have a match between the top boys in the squad and some pros?'," said Lawrie. "The idea of my team is that, if the amateurs are looking to turn pro, their next step is kind of the guys we are putting them up against. So guys who have been playing on either the EuroPro Tour or Tartan Pro Tour and maybe also have a little bit of Challenge Tour experience."
The match will involve six foursomes in the morning then 12 singles in the afternoon, with other players in the Scottish Golf Select including Gregor Graham, Connor's big brother, and 2022 Scottish Order of Merit winner Connor Wilson. "It's a great initiative and a brilliant opportunity for the lads," added Henderson. "It was a poor season in 2022 for the men's squad for various reasons, but we thought this would give us a much better opportunity to get prepared for the European Team Championship and Home Internationals.
"We've got a little bit more time together with the guys who will probably be playing in these teams through having an early-season prep and it will allow us to test out some foursomes pairings. We are holding a training weekend prior to the match. On Saturday, we are playing against North East District and on Sunday we are playing against the Meldrum House scratch team as the Scottish Men's Open is at Meldrum House this year, so it gives the guys an early look at the course in that competitive environment."
A similar event, the bunkered Matchplay Challenge, was held in 2004 at Macdonald Cardrona then at The Carrick on Loch Lomond three years later before falling by the wayside. "I think next year it will be over two days and we'll make it a bigger event," said Lawrie. "But this one should be good and I am looking forward to it. We are going to have it reasonably competitive but, even in Ryder Cup matches, you chat to your opponents about bits and pieces. However, as I said to Spencer, it's more about letting them see what is happening and make sure they take it in. The amateur team is going to be of an unbelievable quality, so it's not as though they are just there to learn off the pros. What I'd be saying to everyone involved is keep your eyes open and learn something from the experience. I think it is going to be good for everybody."
Paul Lawrie Select: Joe Bryce, Kieran Cantley, Neil Fenwick, John Henry, Danny Kay, Sean Lawrie, Sam Locke, Jack McDonald, Bradley Neil, Will Porter, Graeme Robertson and Aidan Smith.
Scottish Golf Select: Angus Carrick, Andrew Davidson, Archie Finnie, Connor Graham, Gregor Graham, Andrew Hendry, Callum Kenneally, Ross Laird, Jamie Mann, Gregor Tait, Connor Wilson and Matty Wilson.
Comments
 0 comments
Want to join the conversation? Please or to comment on this article.