Scottie Scheffler plans to play things down as defending Masters champion
His plan sounds simple but might be difficult to execute. "I'm not going to think of myself as the defending champion," insisted Scottie Scheffler of holding that mantle for the 87th Masters.
The Texan was replying to a question about why he thought just three players - Jack Nicklaus, Tiger Woods and Nick Faldo - had managed to win back-to-back at Augusta National and what he could do to enhance his chances of joining that exclusive club.
"I think with a small sample size of back-to-back champions, that's just because they're really, really good at golf," he added, laughing, but, on the evidence of the past 14 months, so, too, in fairness is Scheffler.
Twelve months ago, he became just the fifth player to claim a Green Jacket as world No 1, joining Ian Woosnam (1991), Fred Couples (1992), Tiger Woods (2001 and 2002) and Dustin Johnson (2020) in ticking that particular box.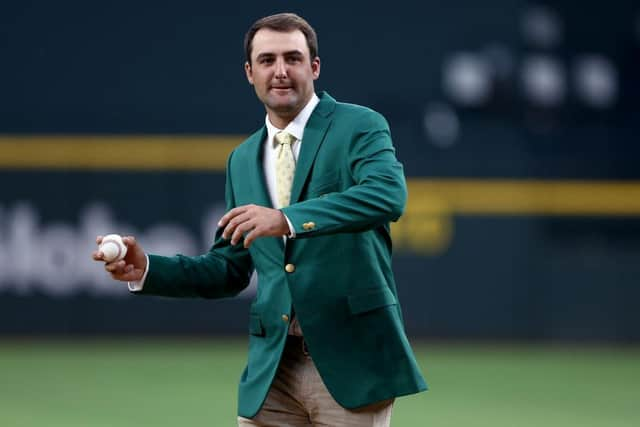 On the back of wins in both The American Express and The Players Championship over the past few weeks, the 26-year-old is heading back down Magnolia Lane as the game's top-ranked player.
"Yes, I'm the defending champion and I would love to defend and bring this jacket back home with me," said Scheffler, proudly wearing his 44 long version as he spoke to reporters on a conference call ahead of the season's opening major.
"But I'm not going to be thinking about that standing there on the first tee. I'm going to be thinking about hitting the fairway and trying to hit the green. Everybody starts at even par. Doesn't matter if I'm the defending champion or not, they don't give me any shots."
After opening with rounds of 69-67-71, Scheffler led by three shots heading into the final circuit 12 months ago yet woke up on the Sunday morning consumed by fear and self-doubt. It was an awful long wait before a 2.40pm tee-time, as he admitted after closing with another 71 to win by three shots from Rory McIlroy.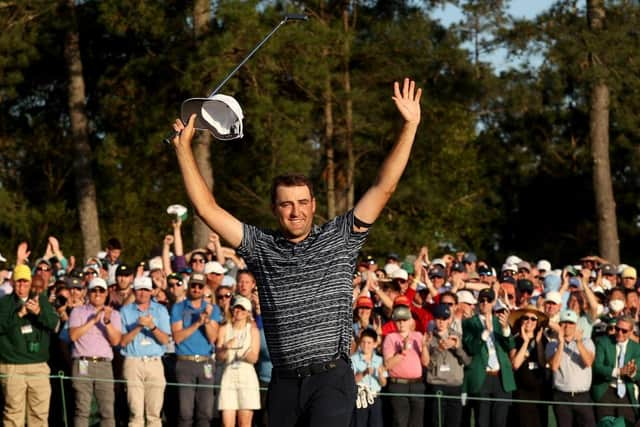 "I just started crying uncontrollably," he confessed in his post-event press conference. "I was sitting there with my wife Meredith telling her, 'I just don't think I'm ready for this'. I felt overwhelmed."
He puts that down to be "honest" and hopes it "resonated" with people because, according to Scheffler, it played a pivotal part in him being able to go out and get the job done in the most pressure he'd ever faced in his career.
"It's always special in marriage when you're able to share what's really going on," he said. "I think one of the cool things about marriage is that somebody loves you for who you truly are, not some fake version of yourself. So anytime I can get that stuff out in the open, and she can speak truth to me, it's very special for both of us and it definitely helped me not only that day, but it's very helpful in life as well."
There's still a chance that golf's man of the moment could walk down either North Street or South Street in St Andrews and go largely unnoticed and, by the sounds of things, he's not exactly in danger of being mobbed, either, when he steps but on in the streets in his adopted home city of Dallas.
"After the tournament last year, I remember we went out to get coffee and breakfast Monday morning and I think people were more just surprised that we were back so quickly and things were a little bit hectic," he recalled, smiling.
"And Meredith and I were like, wow, this is unusual, we didn't really know what was going on. We're like, is this going to be like this all the time. And then we did the same thing Tuesday morning and it was like we weren't even there. So things went back to normal pretty quickly. Yeah, on the golf course I think things have changed significantly, but at home pretty much the same."
In a bid to try and get the emotion out of the way, Scheffler paid his first visit back to Augusta National in advance of the tournament week. "I guess kind of feeling a little bit of a different position at the club," he said of what had hit him straight away about being back at the scene of his maiden major win.
"The Masters and Augusta National treat their champions extremely well. I was very fortunate to be able to go back there and enjoy being back on property, getting to wear the jacket on the golf course, getting to go to dinner and do all the stuff that you get to do out at Augusta National was very special.
"I think going back probably made it feel a little bit more real. Because at times this year, yeah, the jacket's at my house, but at the same time nothing really seems exactly real. Hadn't really sunk in."
It has now and, certainly based on the way he closed out an impressive five-shot success in The Players Championship at TPC Sawrgrass, there's every chance of the Georgia event celebrating another repeat champion.
"I always try to stay very calm and patient on the golf course," said Scheffler of his cool demeanour in the heat of a battle. "That's why you don't see me celebrate a bunch or do anything crazy or get real mad. I try and stay pretty even keel out there and I think that's something that people have definitely noticed. I guess that's a good thing because that's kind of the way I want to be. I don't want to be going crazy one way or another; I just want to go out there and do my business and kind of be done with it."
Comments
 0 comments
Want to join the conversation? Please or to comment on this article.