Scottie Scheffler like Fred Astaire with his footwork but hell of player, says Sam Torrance
Sam Torrance reckons the "Fred Astaire of golf" could be the man to beat again in the 87th Masters after watching Scottie Scheffler dance his way back to world No 1.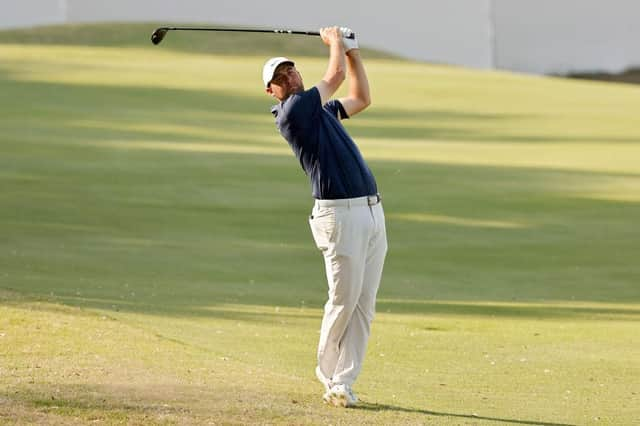 In a wide-ranging interview ahead of the season's opening major next week, Ryder Cup legend Torrance spoke in a confident tone about Rory McIlroy's chance of completing a career grand slam at the ninth attempt by winning at Augusta National for the first time.
In contrast, he doesn't believe the victor will come from a LIV Golf contingent that includes past winners Phil Mickelson, Dustin Johnson, Sergio Garcia, Patrick Reed and Charl Schwartzel, as well as Open champion Cameron Smith and four-time major winner Brooks Koepka.
However, Torrance replied with an emphatic "absolutely" when he was asked if Scheffler, the defending champion, could join Jack Nicklaus, Nick Faldo and Tiger Woods as the only players to win this event back-to-back.
"He's a hell of a player," said the Scot in an interview set up through AceOdds. "He's like Fred Astaire with the feet work (his right foot moves a lot at impact), but he makes it work. He's got a beautiful great turn. Big high hands at the top. Very powerful. Hits it a long way. Great short game. He putts beautifully. Iron play is very solid."
Scheffler has won six times on the PGA Tour in just over a year, his latest success being another big one as he coasted to victory in The Players Championship at TPC Sawgrass in Florida last month.
"Absolutely he can win it again," added Torrance, hammering home his view. "Probably why he's joint-favourite with McIlroy. I was watching Full Swing on Netflix, it's actually quite a good series. You get a great insight into the people and he seems like a lovely man. Great family life and very happy in what he's doing."
As, of course, has been the case with McIlroy for most of his career and, along with lots of others, Torrance would be delighted to see the Northern Irishman join Gene Sarazen, Ben Hogan, Gary Player, Nicklaus and Woods as the only players to achieve golf's career grand slam.
"He just needs to keep playing the way he's playing, to be honest," said Torrance of the four-time major winner. "His golf last week at the WGC-Match Play was sublime. He's won a lot of events and had a lot of runner-ups and a lot of thirds in the last year.
"It's his ninth year now without a major, but I think he's strong enough not to let that bother him. I mean, how he didn't win at St Andrews (in the 150th Open) last year is beyond belief the way he played. I think he had 36 putts in the last round.
"Memories of Augusta, maybe, the one where it just all went wrong (when he led at the turn in the final round in 2011 only to implode after a bad tee shot at the tenth). I don't think it'll still be in there, but it might be just a little bit. But the way he's playing, I see Augusta suiting him down to the ground. He's always been one of my favourite players."
McIlroy was delighted with a recent pre-tournament visit to the Georgia venue, where it was reported that he'd taken just 19 putts in one of the rounds he played. Was that perhaps an omen?
"Good memories are always good. But practice rounds? I don't think they mean nearly as much as when the crowds and the excitement are there and you've actually got a pencil in your hand where it actually counts," said Torrance.
"But it's just nice to have. He'll have played the new 13th, where the tee's been moved back. A couple of extra practice rounds will obviously help. I don't think it'll change his mental thinking about winning The Masters, but it's nice to have more knowledge."
Augusta National led the way by honouring all the exemptions for this year's majors, with the PGA of America, USGA and The R&A all following suit, meaning LIV Golf players currently banned on the PGA Tour can still tee up in the game's showpiece events in 2023.
"Tricky one," replied Torrance to being asked how he thought the likes of Johnson and Smith might fare at Augusta National. "I mean, you got some great players in there. Two or three anyway, maybe four. But I think that before the first one this year they hadn't played for three months. That can't be good, not having competitive golf.
"It's going to be difficult for them, especially now, back with all their old mates playing in huge crowds, which I don't think they've been having at LIV Golf. It's one we'll just have to let unfold and see what happens. I don't fancy their chances, to be honest."
Torrance made four Augusta National appearances, finishing in the top 40 on three occasions and missing the cut the other time. "The Open will always be my favourite tournament - I think it's just being a Scotsman and wanting to win it my whole life," said the 69-year-old.
"But one of my favourites to watch is The Masters. I think what's key is it's the same course every year, so you know every nook and cranny, every inch of it just by watching it. And it's a fabulous place to go to and play. The timing is always great too."
Comments
 0 comments
Want to join the conversation? Please or to comment on this article.