Scott Jamieson says 'big scare has renewed appreciation' of DP World Tour status
He could have been heading to Spain this week before coming close to changing that destination to South Africa. But it's Florida, his adopted home, where Scott Jamieson has ended up and, being brutally honest, the likeable big Glaswegian insists he is in the perfect place.
In a post on social media, wife Natalie filmed Jamieson being greeted by the couple's daughter, Zoe, and two sons, Oscar and Max, at Jacksonville Airport as he arrived back in the Sunshine State after hanging on to his DP World Tour card for a 14th successive season following a brilliant performance in the final regular event of the year in Qatar and the lovely scene really hammered home the sacrifices professional sportspeople make in order to try and be successful.
"Yeah, absolutely," said the 39-year-old in reply to being asked if he'd felt touched by his warm welcome, which, according to Natalie, had been "all they've talked about day and night" as a result of the kids having only seen their dad for a total of 11 days in ten weeks. "I found that kind of hard this year actually as I did a couple of longer stretches where I was away from home for longer than a month. Three weeks is normally the limit I try and stick to, but I obviously ended up trying to chase it a bit at the end there.
"When you do a few weeks in a row on the road - and people will disagree because you are professional golfers and you've got this glamorous lifestyle - but I don't care if it's a five-star hotel every week and you are eating in Michelin star restaurants every night, you just want to be at home with the people you love. I found that towards the end of this season, especially as the stress continued to build because, ultimately, I didn't want to have to go to Qatar. I was hoping to play solid at the Dunhill then the two events in Spain and then draw a line under the year and start again in South Africa, but that wasn't to be as I had to go and play in the final regular event."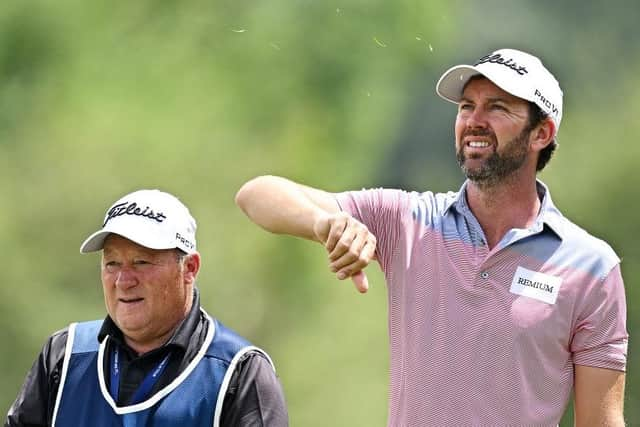 He did, indeed, because, after being above the card cut-off line all season, the man who cut his golfing teeth at Cathkin Braes found himself on the wrong side of it heading into the Commercial Bank Qatar Masters. With his back against the wall in the battle to avoid a visit to the Qualifying School, an opening 65 at Doha Golf Club was just what the doctor order and, helped by covering the final ten holes in the third round in eight-under-par, he ended up in a tie for third to leap to 82nd in the Race to Dubai Rankings and wasn't too far away from being in the field for this week's Nedbank Challenge in South Africa.
"Yeah, obviously it is a big relief," he said of retaining his seat at the top table, having graduated from the Challenge Tour at the end of the 2010 season and finishing as high 26th on the main tour money-list in 2017. "I wouldn't say there was a defining moment where it was lifted off my shoulders immediately. I think because I started the week so well, having such a good round on the Thursday, I knew I was going to be making the cut, which was obviously step one. Then, after the back nine on the Saturday, I was in a pretty strong position. Still wasn't done and dusted for sure, but I'd put myself in a much more favourable position."
Jamieson, who won the 2012 ISPS Handa Nelson Mandela Championship and has amassed earnings of nearly €7 million from close to 350 appearances, the majority of which have been made with his fellow Scot and trusty caddie, Richie Blair, at his side, is determined he won't put himself or his family and friends through the wringer again. "My summers for a few years now haven't been particularly good, which I'm not sure why that is," he said. "I seem to have a trend of starting years well and then maybe dipping off a little in the summer.
"And that's exactly what happened this year. It wasn't until probably when I finished one shot out of getting any points in the Dunhill, that's when I started thinking 'okay, this is real and I've got to get a result now'. I was still the right side of the line at that point, so I started paying attention to the guys who were around the mark and how they were playing in tournaments. You know, looking back it wasn't a very good idea, but, at the same time, it's also very hard not to do that."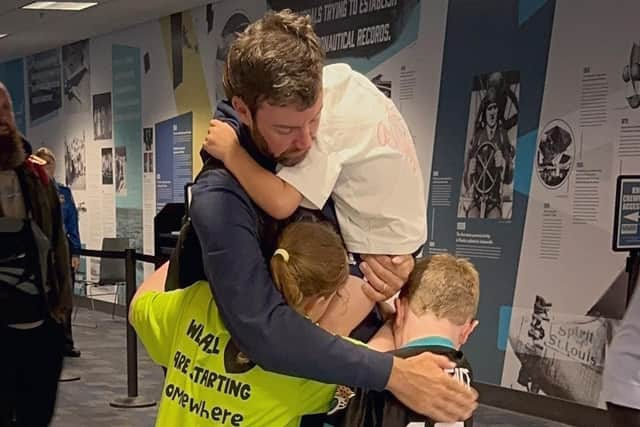 Having pondered it for a few years, the Jamiesons - Natalie is an American and being closer to her family was a big factor - moved to Florida just under six years ago, since when Scott has criss-crossed the Atlantic to play in DP World Tour events. He's handled a lot of travelling well, though, as he found out this year, it's not ideal being so far from home if you miss cuts.
"Yeah, it is," he said of that being the one downside of his current set up and, let's face it, Jamieson isn't your typical peely wally Scot, so living in a sunny part of the world works fine for him. "Fortunately, up until this year I wasn't missing a ton of cuts and the ones I was were maybe at the end of the trip anyway. If I'm playing three in a row and I miss one out of the three, it doesn't feel that much of a big deal.
"But you are spot on as I had to stay on site and practice over the weekend and you just feel like an idiot as you are not meant to be there and everyone says 'play well' (laughing) and you just go 'yeah, cheers'. It's not a problem if it's an odd one here or there, but when it started to become a few weeks in a row for me there, both in the summer and the end of the year, it's just more time on your own with your own thoughts and that's never a healthy scenario for anyone."
Tony Johnstone, a former DP World Tour player who is now a Sky Sports Golf commentator, reckons Jamieson will be a "new man" for the 2024 season, which he will start in South Africa around the time he turns 40 later this month. "Yeah, I can see his point and why he'd say that," he said of Johnstone's comment. "I've obviously had a big scare. And, when you start thinking 'okay, if this doesn't go my way, I'm going to have to go to Tour School and if that doesn't go my way, do I want to go and play the Challenge Tour?
"Will my mindset be right to go and play the Challenge Tour because, after 13 years on the main tour, we've been spoiled and pampered by the things that come from playing there, it would be a big reality check going back to playing on the Challenge Tour. It definitely gives you a big scare and renews the appreciation of how good things are. So, hopefully, it stands me in good stead and I can get off to a flying start next season."
At the same time, he knows it won't be easy up against established DP World Tour players, as well as 20 Challenge Tour graduates and the 25 players who will secure cards through the Qualifying School, which starts in Spain on Friday. "It is difficult as they are all extremely thirsty and eager to be out there," he said of a mix of newcomers and players returning to the top table. "When you've done it year in, year out, things become less exciting. You're probably not as motivated for tournaments every week. You get experience on your side but you are certainly not as motivated or excited to be there as your first couple of years.
"That gives those guys an advantage from that point of view. Not to mention the fact the guys from Challenge Tour, the majority of them will be young guys that are under 25, they're not married and have no kids. They are young and fit and they can play 32 events a year. Whereas the older guys with families tend to max out at 24, 25 or 26. Sure, they might not get the pick of the tournaments, but they are probably going to play six more events than someone like myself who really doesn't play more than 24 or 25 now.
"I obviously have a choice to play more if I want, but I also want to be a dad and be a husband and all that kind of thing. You need the balance for both to work and be successful. I'm not going to say it's becoming more of a young man's sport because the beauty of golf is - and look at Stevie Gallacher, who still has his card at 49, which is brilliant - that you can stay out here until you go and give seniors' golf a crack."
Marc Warren, Jamieson's closest friend in golf, is among seven Scots teeing up at Infinitum Golf in Tarragona in the Qualifying School Final, after agonisingly ending up on the wrong side of the card cut-off mark after missing the cut in Qatar. "Yeah, it was really tough because we ended up in different situations," said Jamieson. "I had been following his progress on the app and watched him finish and, at that time, he just needed a birdie to make the cut. That was really tough.
"But, in the second half of this season, he has played really well and I think he is in a good place as far as his golf game is concerned and I am really confident that he'll either get it done at Tour School or through the number of starts he'll get next year. He's done both in the past. Winning in Austria (in the first event to be held on the DP World Tour in the summer of 2020 following the Covid pandemic lockdown) , for instance. He certainly knows what to do and he is playing well. I'm hopeful he gets it done and, selfishly for me, it would be nice to have a good mate on the road with you all the time."
Comments
 0 comments
Want to join the conversation? Please or to comment on this article.