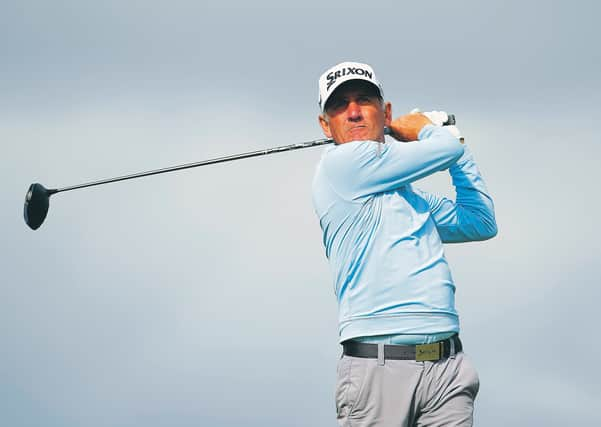 So much for best-laid plans. Just ask Euan McIntosh. After laying the foundations with an eye-catching spell in the amateur ranks over the past two seasons, he should have been enjoying a new career in the senior professional game right now. Alas, the Staysure Tour, Europe's over-50s circuit, has been scrapped for this year over health fears due to the coronavirus.
"To be honest, that came completely out of the blue," said McIntosh, who was born in Glasgow but has been based in Edinburgh for most of his life. "The tour never really gave us any idea this was coming as they were talking about starting back in Ireland in August. Then they just turned around three weeks ago saying it was finished for the year. What do you do? You've just got to dry your eyes and get on with it."
The 51-year-old is back in the paid ranks for a second time, having given up the game altogether for a lengthy spell after getting to the stage first-time around, when he was good enough to play on the Challenge Tour, but he was struggling to make ends meet week after week.
"It came down to money, really," admitted McIntosh, reflecting on that period in his career. "I made a stupid decision when I was 26. I was in the PGA and doing my training. That financed me when I was playing on the Tartan Tour and any tournaments outwith, including the Challenge Tour in Europe. I had to sit my exams and I got through three of them, but one of the exams was club repairs and I failed it three times.
"It was very like what I was like on the golf course back then. I was completely and utterly unprepared. I was told, 'this is your final try', and I still didn't care. I didn't give it the attention it needed, failed it again and was out the PGA before I knew it. Then I thought, 'OK, what now?'. I know that sounds ridiculous, but that's how it transpired.
"I played for a couple of years, went over to Germany, where I played the ProGolf Tour for two years. I did OK, finishing second or third on the order of merit to get my Challenge Tour card. But, after a year, I realised I couldn't finance it and thought, enough is enough. I wasn't going to get myself in debt, so I stopped it and didn't really play at all from the age of 33 to 46."
After picking his clubs back up again, a 49-year-old McIntosh won the Scottish Amateur Championship at Blairgowrie in 2018, becoming the oldest winner in 35 years, and also bridged a 27-year gap to represent his country again in the Home Internationals.
"There was no real plan in place for a return to the professional game when I restarted," he said. "I got a job with a pal of mine out in Dubai. He owned a finance company over there and he wanted me to play golf with clients. Prior to that, I'd joined Turnhouse and when he asked how my game was, I said, 'OK, I'm shooting one or two-over' and he said, 'that would be perfect'.
"I joined the Els Club in Dubai and, after playing it a few times, I shot 63 – nine-under – one day. I thought to myself, 'there's still something there' and I made the decision to come back to Scotland and play amateur stuff for three or four years. That's when the plan was formulated. It all started to roll from there."
McIntosh, who is coached by former Scottish Amateur champion and long-time friend Colin Brooks, had two cracks at trying to qualify for the Champions Tour, the US-based over-50s circuit, before coming through the Staysure Tour Qualifying School in Portugal in January. He'll be flying the Saltire along with Paul Lawrie, Andrew Oldcorn and Gary Orr when that opportunity finally comes around and would love to join that trio in tasting success on the circuit.
"It just doesn't compare," he replied to being asked how he feels about being a professional again as opposed to first-time around. "It's two totally different people. I still get annoyed, don't get me wrong. But I get over it quickly these days. Semi-controlled chaos is probably the best way to describe how I was when I was younger. I had a body that could hit every shot back then, but I had the mind of a 10-year-old. When that's the case, you can just forget it.
"There are lots of guys who were a lot better than I was when I was younger who are not playing the game any more. Seriously, I could reel off about five guys I know who could easily have won majors, but just disappeared. I think I discovered in my time away from the game that talent alone is a very small part in this game.
"It's purely mental. It's how your mindset is. I don't have a perfect swing at all. I have heaps of faults in it. But it goes to show that it's how you approach it from the mental side. When you've made an arse of it as many times I have in the past, you eventually start to know where you are going wrong."
McIntosh's spell back in the amateur game gave him a glimpse of the new wave of Scottish talent now shining on the European Tour. "I played with Connor Syme a couple of times and saw that he had an unbelievable attitude for a young guy. If you've got that and also a great swing, you can go as far as you want in the game," he said.
"I never played with Bob MacIntyre and only played one hole with Grant Forrest in a play-off in the Battle Trophy at Crail. He hit a 2-iron to about 10 feet, so I got a nice introduction to how he could play. You've also got guys like Sandy Scott coming through and what an unbelievable talent he is. Honestly, watching him play golf is a treat. It's not crash, bang, wallop, either. He can hit it miles on tap, but it's the way he controls it. He has so much finesse. There are a lot of good prospects."