Saturday interview: Ex-Hearts and rugby chief Phil Anderton on run-ins with Romanov and Clive Woodward and his new role in golf
Nicknames, eh? Come up with a good one and a person is labelled for life. Take Phil Anderton, for example. He's held top posts in rugby, football, tennis and, now, golf. Away from sport, he's worked for Coca-Cola and Procter & Gamble. But mention his name to most people and their reply is likely to be: "Fireworks Phil".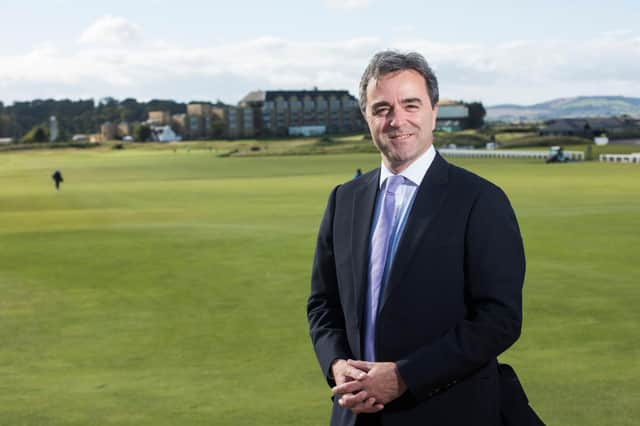 Phil Anderton took up a new role with the R&A, where he's in charge of strategic and operational responsibilities for Golf Development and Amateur Championships, in August. Picture: R&A
That was the moniker coined for Anderton during his spell as Scottish Rugby's chief executive officer after he lit up the sky above Murrayfield Stadium with pyrotechnics before games as part of a marketing strategy aimed at igniting a spark in what had been a drab environment surrounding the national team.
"I think it is quite amusing," he replied to being asked if that nickname had become tiring over time. "It's better to have a nickname with some positive association, I suppose you could argue, than have no nickname or recognition or, even worse, have a terrible nickname.
"And, you know what, I look at those days at Scottish Rugby when we came in and the national team was playing in front of 29,000 people in the Autumn Tests against teams like South Africa. I was sitting in the stand at Murrayfield with zero entertainment, with zero enjoyment, watching us getting beat by 60-odd points by South Africa, and I thought, 'we've got to be able to do better than this'.
Phil Anderton was appointed as Scottish Rugby's chief executive in 2004 and earned the nickname "Fireworks Phil" during his time at Murrayfield. Picture: Ian Rutherford
"We went out and promoted it and we ended up selling out the facility. With the right approach, you can turn what many perceive to be a hopeless case into something people can be proud of. But you have to have the right strategies in place to deliver that.
"Scottish rugby at that time shouldn't have been just the rugby clubs, important as they are. Nor should it be just the private schools who had the stranglehold in terms of support for the game. All the hundreds of thousands of people out there in Scotland would have loved nothing better than being able to go and see the national team, as long as you had a good proposition and promoted it well and made sure that when they did turn up they had the right experience."
Clive Woodward, the former England coach, wasn't a fan of "Fireworks Phil". After the 2004 Calcutta Cup match in Edinburgh, he said it had been "more like a pop concert than a rugby match". Anderton smiled as he was reminded about that. "I loved that comment because it showed we got under his skin a bit," he said, laughing. "I also remember Matt Dawson saying that we should have put the money we'd spend on the firstworks into grass-roots development. Well, thanks a lot Matt. You stick to the rugby, we'll do this thing.
"You know what, we did the research and we found that the vast majority of the fans who turned up at Murrayfield enjoyed it and spending a few thousand pounds on some fireworks, if that meant we could increase the ticket revenue in Scottish Rugby, as we did from circa two-and-a-half million to circa £6 million, I don't mind investing a little bit of money to get that big return that we could get back into the sport."
Phil Anderton pictured outside Murrayfield on the day he resigned as Scottish Rugby's chief executive. Picture: Neil Hanna
Anderton quit that post in January 2005 in support of his former chairman, David Mackay, after his resignation. But he wasn't out of the sporting spotlight for long. In March of that year, he was appointed as the chief executive of Hearts by Vladimir Romanov. Under new manager George Burley, the Tynecastle club won their first eight SPL games and were undefeated after 10 matches. Burley's sudden departure still rankles with Hearts fans, with Anderton following him out of the door soon afterwards.
"It was an interesting time there, obviously," he said, smiling again. "Hearts were playing in front of 9,000 people and I remember speaking to the people in the ticket office and saying, 'we are going to double the number of season-ticket holders'. People looked at me and said, 'he's mad'. But what did we do? We developed strong propositions for the fans we wanted, we promoted it and made sure the product experience was better on the field than off it.
"We brought in George Burley, we were sitting at the top of the league, we were splitting the Old Firm, we made the matches entertaining, we had sponsors lined up. Then, unfortunately, Mr Romanov had other ideas and the dream crashed. It was a roller-coaster time and a time I look back on, apart from the very end, when I was asked to do things that just lacked integrity, very fondly.
"I loved seeing the joy on people's faces as they went to Tynecastle and getting the victories and realising, this is not about making money, this is about making people feel proud and associated with something that brings real meaning and joy to their lives. You know, it's just such a great shame that was destroyed by the very person who came in nominally to create something out of the ashes of what had been inherited with the club in the financial position it was in."
After leaving Scottish Rugby, Phil Anderton was appointed as the chief executive of Hearts, succeeding Chris Robinson in that role. Picture: SNS Group
It was rumoured that Romanov, not just with Burley but subsequent managers during his turbulent time at the helm, influenced team selection. "I mean, look, when you are sitting watching a game of football and the guy sitting next to you gets a call and says, 'Mr Romanov is on the phone, tell Burley to take off the following players and replace them with these ones', that puts you on edge a little bit," said Anderton.
"There was lots of uncertainty, but it was super-exciting at the same time. I suppose the only issue is what could have been, but that's the way it is. I don't know what Mr Romanov is doing these days. The last I heard I think he was in Russia hiding from an embezzlement charge from the Lithuanian authorities. We live and learn. But there was definitely a sense of uncertainty every day going into the club."In contrast, Anderton's spell working in the tennis world - first as chief marketing officer of the ATP Tour then chairman of the ATP World Tour Finals - was both unhindered and also produced something tangible. "I'd probably say that has excited me most since then," he said. "I was very fortunate to work with a genius CEO, a guy called Etienne de Villiers, who understood that sport is showbusiness. It's the show for your customer but it's also hard-core business. It's matching those two things up that is important.
"He led a team that I was lucky to be involved in and I think that working with the players, the Nadals and the Federers, we were able to move that tournament up from kind of being stuck in terms of profile and prize-money and profitability into something that clearly thrived thereafter
"Probably the culmination of that would be the ATP Finals at the 02. I was the chairman at that event and promoted it with Chris Kermode, who went on to become president of the ATP. Together with others, we turned that into something that I don't think anyone would have expected in tennis.
Hearts were flying in 2005 under George Burley and Phil Anderton before the pair left the club in quick succession. Picture: SNS Group
"Who would have believed that in the middle of winter you'd have 250,000 people going to an indoor venue, paying for a ticket to watch one singles match and one doubles match and watching it in the dark with music and lights and so forth and it would be a complete sell out at an event that would effectively triple the profitability for the ATP? For me, that would be a microcosm of the people, the proposition and the product. I'd say that was the highlight for me in my career."
A new chapter has just been opened. In the summer, Anderton was appointed by the R&A. He's in charge of strategic and operational responsibilities for Golf Development and Amateur Championships. He also has responsibility for sustainability, the British Golf Museum and for the R&A's international offices in Singapore and Argentina.
"I started back in August and it was like someone going to school for the first time, a sense of excitement and a little bit of apprehension," he said. "But it was dampened down by the fact (due to staff working from home because of Covid-19) I walked from the bedroom in my house in St Andrews to the spare bedroom and it's been like that ever since. That's been a bit of a downside, but it's a great honour to be working for the R&A and a great pleasure and exciting to be working in golf with all the opportunities there are there."
Anderton cut his teeth in the Royal & Ancient game at the Braids in Edinburgh - "a good example of making golf accessible and affordable" - before joining his dad in becoming a member at the Merchants of Edinburgh Golf Club. He still squirms with embarrassment about winning a competition at the capital club with a net 52 playing off 18, which was the result of "not playing as much golf as I would have liked to due to spending too much time in Ma Bells (a well-known hostelry)" during his time studying in St Andrews.
More recently, he was a member at Craigielaw - "a fantastic club, being both modern and inclusive" - then Luffness and is now a five-day member at Gullane. He's "super-keen" about the sport that is now benefiting from his wealth of experience and business acumen.
"Martin Slumbers (the R&A chief executive and his boss) said to me that starting to work at the R&A is like drinking from a fire hydrant, which is probably the way it feels with all the things that you've got to get to know, let alone all the acronyms that are in golf and all the bodies that make the golf system," he said. "It's very exciting to be on board. I've met with all the key stakeholders within the business and we are beginning to develop thoughts and ideas about how to use our influence and leadership to help develop the great sport that golf is."
Phil Anderton with owner Vladimir Romanov on the day he was sacked as Hearts Chief Executive following a 2-0 loss to Hibs. Picture Phil Wilkinson:
In what is likely to be a blueprint for its bid to lead the way in growing the game, the St Andrews-based organisation is planning to create a family-friendly golf facility at Lethamhill in the heart of Glasgow. Also, as part of its Women in Golf Charter, a new #FOREeveryone campaign was launched this week aimed at getting more women and girls into the sport.
"Fundamentally, I look at any business, whether it is a Coca-Cola or Procter & Gamble, where I worked before, or a sport and you need to tackle the key questions around who are the people you need to go after to attract," said Anderton, who gained his degree in management and international relations during that spell at St Andrews University. "You obviously want everyone, but that's not realistic. You've got to work out the people who will give you the best opportunity to grow your sport, if that is indeed what you want to do and it is what we want to do.
"We have clearly identified women in golf as a priority given the low numbers. I mean 14 percent of traditional on-course playing is way, way too low. Within that group, you then have to identify who will have the biggest influence, now and in the future. I think mums will play a massive part in that given the power of decision-making they have for their families.
"It's then understanding what it is about our brand, golf in this case, what we need to sell for people to buy. I think often at times organisations end up talking to themselves. They are used to it. They know the benefits. But they don't do a particularly good job of really understanding the motivations of the appeal of the brand to respective audiences. I think there is a lot of work that we can do to assist golf and find those sweet spots.
"Promoting it is super important and, of course, within that promotion you have to have the right image. If you've got a terrible image, no matter what programmes you put on or what products you put out there, people are going to be reluctant to try it. We've got to make sure the image is really spot on for those groups of people. Again, that's an area I'd like to help develop.
"It's not a case of one product fitting everything. There will be a range of different products for different people. We have to make sure that we are fit for purpose in a highly-competitive world where we cannot just rely on history and tradition when we are up against all the alternatives that people have to spend their time and money on. That's how I see any business, whether it is sport or a can of Coke."
A message from the Editor:Thank you for reading this article. We're more reliant on your support than ever as the shift in consumer habits brought about by Coronavirus impacts our advertisers.
If you haven't already, please consider supporting our trusted, fact-checked journalism by taking out a digital subscription.
In his new R&A role, Phil Anderton attended the Northern Ireland Open, a Challenge Tour event supported by the R&A and won by American Tyler Koivisto. Picture: Charles McQuillan/Getty Images
Want to join the conversation? Please or to comment on this article.