Sandy Lyle to hit final shot of career with replica of 1988 Masters putter
Sandy Lyle will have to wait until Saturday morning to bring down the curtain on his glittering career using a replica of the putter that secured his place in the Masters record books 35 years ago.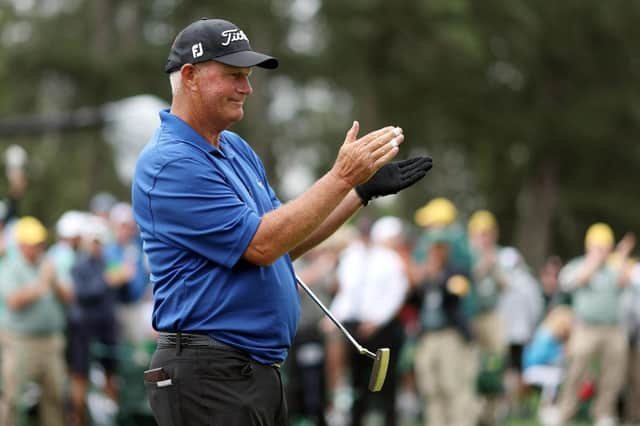 The 65-year-old, who is making his 42nd and final appearance at Augusta National, was waiting to hit a par putt on the 18th green in the second round when the klaxon sounded to suspend play due to bad weather sweeping in.
Along with playing partners Talor Gooch and Jason Kokrak, the two-time major winner looked bemused as a rules official seemed to explain to them that they couldn't putt out and that might have been down to the fact it subsequently emerged that three trees had fallen elsewhere on the course.
Lyle had received warm applause as he walked up to the green, where, in a nice touch, American duo Gooch and Kokrak stood aside to let the big Scot to grasp the moment.
With wife Jolande among the patrons around the green along with son Quintin and daughter Lonneka, Lyle looked desperate to finish, especially as he is set to finish last on his swansong.
But, obviously thinking that play was probably going to be called off for the day, as was the case an hour or so later, he decided to say his 'thanks' before the official final act of his career.
To the delight of the patrons, he waved, blew a kiss and even touched his heart in a gesture to show what this event and venue had meant to him over the years.
He received a huge hug from Jolande at the back of the green and, while Lyle himself didn't speak to reporters due to the fact his round wasn't completed, Jolande was happy to share something that will make that last putt a very special one.
It will be hit with a replica of the Ping putter he used to roll in a title-winning birdie putt on that same green in 1988, when he became the first British and Irish player to claim a Green Jacket.
It has '1988' stamped on it and has been made specially to mark the occasion, having carried two putters in his bag on this particular occasion.
Comments
 0 comments
Want to join the conversation? Please or to comment on this article.