Ryder Cup: Rory McIlroy says LIV Golf trio will 'miss us more than we miss them'
Rory McIlroy reckons Ryder Cup legends Sergio Garcia, Lee Westwood and Ian Poulter - the trio are all notable absentees for the match starting on Friday – will miss the 44th edition more than Europe will miss them in Rome.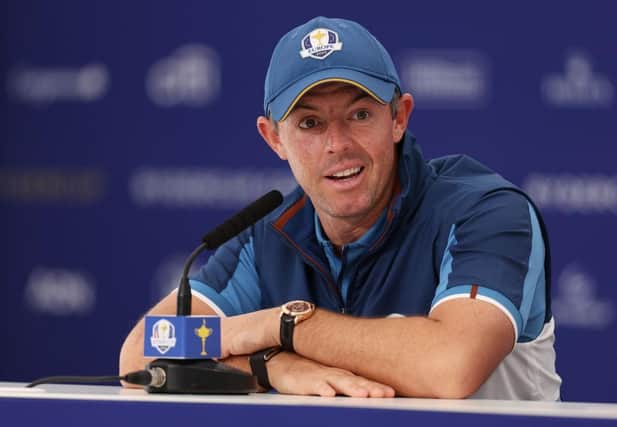 Garcia, the all-time record points-scorer in the transatlantic tussle, launched a last-ditch attempt to make himself available to European captain Luke Donald by offering to cough up outstanding fines imposed on the Spaniard for playing in LIV Golf events without an official release.
But, while Jon Rahm might have fancied the idea of linking up with his compatriot again after they struck up a brilliant partnership at Whistling Straits two years ago, that was a non-starter due to Garcia having given up his DP World Tour membership earlier this year and, therefore, making himself ineligible to face the Americans on this occasion.
Westwood, who holds the record for the most appearances by a European in the event after clocking up his 11th one in Wisconsin, is in the same boat, as is fellow Englishman Poulter, who earned the nickname of the 'Postman' for his knack of delivering points in the biennial battle.
"I mean, it's certainly a little strange not having them around," admitted McIlroy of the LIV Golf trio as he spoke in a press conference on the second official practice day at Marco Simone Golf & Country Club on the outskirts of the Italian capital.
"But I think this week of all weeks, it's going to hit home with them that, you know, they are not here, and I think they are going to miss being here more than we're missing them.
"I'm not saying that that's like… it's just more I think this week is a realisation that the decision that they made has led to not being a part of this week, and that's tough.
"The landscape in golf is ever-changing and more dynamic, and we'll see what happens and whether they will be part of it in the future. I always thought leading up to this week is when it's going to hit home that they are not going to be here."
McIlroy is here, so to speak, for the seventh match running - he's the most experienced campaigner on either team - and freely admits he got it wrong when describing the Ryder Cup as an "exhibition" ahead of his debut under Colin Montgomerie's captaincy at Celtic Manor in 2010.
"I took a bit of grief for those comments, and rightfully so," he confessed, smiling "It's not as if I didn't play team golf before or knew what it was about. I think in 2009, I was just so focused on myself and trying to get my career off the ground that I felt like I had sort of bigger and better things to achieve for my individual goals and stuff like that that I just didn't put any emphasis on making a Ryder Cup team until you make one, and then you never want to be off one again. I think that's sort of the crux of it.
"So I love being a part of this team. My most enjoyable moments in my career have been being a part of European Ryder Cup teams. I'm still very, very proud and probably proudest of the things I've done as an individual, but nothing -- nothing beats this week. It's an amazing experience and I want to be a part of it for as long as I can."
Even from when he made his first appearance in the match, it has grown arms and legs in terms of infrastructure, with a temporary town having been built on the course this week to accommodate 55,000 fans per day. Jordan Spieth spoke on Tuesday about how he feels this match will have a "football-style atmosphere" but McIlroy is confident that won't create a risk of the home spectators stepping over the line in terms of their conduct.
"No, because I think that's all part of the Ryder Cup," he insisted. "There's not a lot of other instances in the game of golf where that happens but there's certainly a line. Most fans that come out to watch golf are very respectful and they know what that line is. No, I have no issues about that.
"Yeah, we have all had our fair share of heckles over the years and whatever, and that's a part of it. Someone said to me once, if you want to be part of the circus, you have to put up with the clowns."
Two years ago, McIlroy broke down in tears after feeling he'd let Europe down by only being able to deliver one point as a team captained by Padraig Harrington suffered a record 19-9 defeat. As a consequence, the five-time major winner is a man on a mission in the Eternal City.
"Yeah, coming into 2021, I felt like I was searching a little bit," he admitted. "I didn't feel in full control of my game. If you trace everything back, I got a lot of confidence and belief in myself that Sunday singles at Whistling Straits because I certainly wasn't believing in myself at that time.
"But the rest of my team did believe in me. Sent me out No 1 to go get a blue point on the board and I was able to do that (beating Xander Schauffele), and I think that just gave me so much going forward. I realised that just being myself is enough. Not trying to be something that I'm not.
"I think the last two years have sort of proved that that's the way that I'm going to play my best golf. So I certainly feel a lot better about things coming into this Ryder Cup and feel like I'm more than capable of contributing more than one point this time around."
Comments
 0 comments
Want to join the conversation? Please or to comment on this article.