Ryder Cup: Europeans 'shedding a few tears' over motivational messages
The blue and gold fish in a tank in the European team room at Gleneagles in 2014 may have been a one-off but, like Paul McGinley on that occasion, Luke Donald is trying to motivate his players for the 44th Ryder Cup in Rome by getting them emotionally involved.
"Yeah, look, it's an emotional week," admitted Irishman Shane Lowry during his pre-event press conference at Marco Simone Golf Club, where the biennial bout gets under way on Friday, "and even some of the stuff that's happened already this week would get you quite emotional."
He was asked shortly afterwards if he could provide any specific details. "As I was saying that, I was like, probably shouldn't be saying this…" added Lowry, smiling, before it was jokingly pointed out that it was "too late" for that in an interview area packed with around 100 journalists from all over the world.
"No, look, a lot of stuff goes into this week," continued Lowry, conceding that was indeed the case, "and there's videos that are played in the team rooms in the evenings, motivational videos, and just kind of hits home a little bit. I'm not going to elaborate much further than that, but Luke and his team have done a great job already this week on Monday and Tuesday. Yeah, I'm excited for what's to come the rest of the week."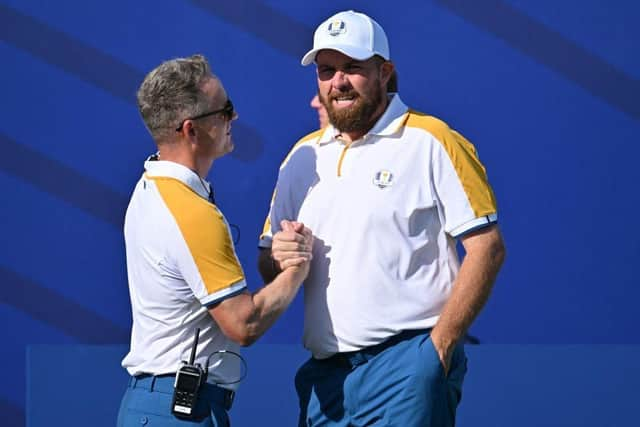 In addition to the [European] blue and gold fish at Gleneagles, the meticulous McGinley invited Sir Alex Ferguson to give his players a motivational speech in the build up to their thumping win over the Americans.
"Look, we don't have a fish tank in our team room this time, but there's no stone left unturned this week by the tour," reported Lowry. "Everyone at the DP World Tour do an amazing job this week to make this week the most special week in golf. Not only on the golf course but looking after us, our families, everything about it. I'm sure there's a few more surprises to come, and that's what makes it very special, as well."
Lowry reckoned he didn't cry when winning The Open at Royal Portrush or when his eldest daughter, Iris, was born. But he'd shed a tear when making his Ryder Cup debut at Whistling Straits two years ago admitted that he'd cried already this week.
Jon Rahm, another of the Europeans to chat with the media after they'd played the front nine on the first official practice day, was asked if he could shed some light on what Donald had come up with so far in the luxurious team hotel overlooking a sun-kissed Eternal City on Monday night after their arrival earlier that day.
"I don't know how much of that they're going to post, so that's kind of personal for us," said the Spaniard. "We have some individual videos and some collective videos. There's very few players not shedding a few tears yesterday afternoon. I can say that.
"It was a lot of family-related stuff and the reason why all of us are here. I don't want to say too much more than that. But I think even for people that are related and, if you guys were to watch it, it would make you feel a lot of the same emotions we felt."
In his press conference, Justin Thomas said the Ryder Cup was the one event in golf that made him "hate" his opponent, albeit for just 18 holes, but Viktor Hovland reckons the rivalry between the two teams is not as intense as it was when, for example, Seve Ballesteros seemed intent to wage a one-man war at times against the Americans.
"I can't speak for the guys that played in the past, but it seems that we probably hate each other less than guys used to in the past," observed the Norwegian, who came through the US college system as the likes of Collin Morikawa. "But, sure, hate is a big motivator to do well. That's just a fact.
"But I think where we are now, we're more motivated maybe to win for our country and continent. We want to win for Europe. Obviously we want to beat the Americans. We enjoy that. But it's not because we hate the other team. It's because we love Europe and we want to do well for the people that support us."
As recently as the BMW PGA Championship at Wentworth a fortnight ago, Rahm had talked about Sergio Garcia, the all-time record point-scorer, being a big miss for this event and the two Spaniards have been in touch as Europe try to win the trophy back following a record 19-9 defeat at Whistling Straits two years ago.
"I did talk to him and ask for advice. He did show me a lot of what to do at Whistling and obviously in Paris (in 2018), as well," said the world No 3. "But I did have a little bit of a chat with him as recently as yesterday, and with Poulter a little bit longer than last week, as well. Not that it's going to be easy to take on the role that those two had both on and off the golf course, but just to hear them talk about what they thought and what they felt is obviously invaluable information."
Meanwhile, Tommy Fleetwood offered an amusing reply to being asked if putting guru Phil Kenyon was facing a balancing act this week now that he is also working with American Scottie Scheffler as well as some of the Europeans. "Well, that's what the Americans think," said the Englishman smiling of his fellow Southport man's new role.
Comments
 0 comments
Want to join the conversation? Please or to comment on this article.