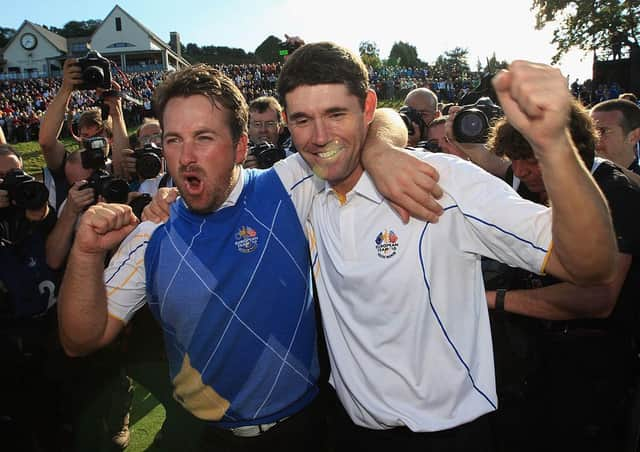 Graeme McDowell is filling that post for the second match running, having also been part of Thomas Bjorn's backroom team for the 2018 win in France, and he's been impressed how Harrington has gone about his business so far.
"I've enjoyed it," said McDowell, who is being joined on this occasion by Robert Karlsson, Luke Donald, Martin Kaymer and Henrik Stenson in supporting the Irishman.
"Padraig's a very cerebral captain. He's a very process-orientated person. You can see that in how he goes about his own game and he is approaching the Ryder Cup with the same energy and intensity.
"I honestly don't know how he gets the time as I know how hard he works on his own game and every time we jump on a phone call I can't believe how focus and engaged he is on what we are doing as regards to Ryder Cup stuff. I'm enjoying the energy and I'm hoping to selfishly use that energy myself."
That was a reference to McDowell aiming to use this week's event at Whistling Straits to try and make a playing return in the 2023 match in Italy, having been in the mix for this one after a fast start to the qualifying campaign before hitting the buffers as the Covid-19 pandemic took its grip on the world.
"Yes, I am disappointed," said the 2010 US Open champion of not making the team on this occasion. "But I don't deserve it in any way, shape or form. But it throws a little bit of gas on the fire. I will go there knowing I can still compete out here. I have to believe that or there is no point being out here.
"I've spent the last couple of months trying to help myself understand that I am good enough to be out here and play on another Ryder Cup team. When I go to Whistling Straits this week, I will be looking around thinking, 'let's be here in Rome in two years' time. Let's be out here with these guys'.
"There's no reason why not. Westy, Poults, Mickelson. There's no reason why you can't do it. I've had very few injuries in my career - I've had a little bit of a forearm issue the last couple of months - but the only thing that holds you back is the brain.
"You just get in your own way. You don't think you are good enough. You see these young kids out here bombing it and you think, 'man, I'm not good enough any more'.
"You have to start telling a different story and my one is that I am trying to make the team in two years' time and I will be at Whistling Straits trying to suck in the energy as much as I can."
Looking further ahead, McDowell has his eye on the 2027 captaincy at Adare Manor, having first felt he'd like to take on that role after his involvement three years ago at Le Golf National.
"That was the first time I had a take of the behind-the-scenes feeling of what it takes to get 12 guys together, putting the chemistry together, the pairings, getting the right environment for the guys and the messaging and communication level," he said.
"Really learning about who the guys are and I think that's one of the really interesting things I found. It's really a study of the people.
"Yes, we know how they are competitively because you see them out there and you see them on TV, but they can be very different people off the course to what you might imagine.
"Some of them look boisterous out there yet they are very shy and retiring off the course. Some of them are quite out there, but are different in the team room.
"Take Poults, for example. Who do you put him with? There are certain guys that he works well with, but there are certain guys don't want that because he's going to be beating his chest and going crazy.
"In the nicest possible way, not every player wants that. It's a fantastic thing, but it doesn't work for everyone."
For the 2014 match at Gleneagles, captain Paul McGinley tasked McDowell with trying to get the best out of Frenchman Victor Dubuisson, one of the quiet men of European golf, by spending lots of time with him in the build up to the match and that worked a treat.
"Paul was probably the first captain I understood what he was trying to do," admitted McDowell. "In 2008, I was a rookie. In 2010, I had no idea what was going on as my head was all over the place.
"In 2012, it was an amazing and weird Ryder Cup, crazy stuff. So 2014 was the first Ryder Cup where I was able to open my eyes and think 'okay, this is happening and that is happening and I understand it and I've got a role for the first time'.
"Like I said, it's a study in people and professional athletes are very strange people. It takes all sorts of people and that's what we are working on and it's really interesting and cool stuff, to be honest."
A message from the Editor:
Get a year of unlimited access to all of The Scotsman's sport coverage without the need for a full subscription. Expert analysis, exclusive interviews, live blogs, and 70 per cent fewer ads on Scotsman.com - all for less than £1 a week. Subscribe to us today https://www.scotsman.com/subscriptions