Rory McIlroy's resignation from PGA Tour Policy Board shocks Jon Rahm
Rory McIlroy's shock resignation from the PGA Tour's Policy Board surprised Ryder Cup team-mate Jon Rahm, the Spaniard admitted in Dubai on Wednesday morning.
McIlroy's decision was revealed by PGA Tour commissioner Jay Monahan in a memo to members late on Tuesday, with the world No 2 citing "professional and personal commitments" for his call.
It came after he'd played a leading role in the PGA Tour's opposition to the breakaway LIV Golf League before a "framework agreement" was reached between the US circuit, DP World Tour and Saudi Arabia's Public Investment Fund in June.
McIlroy, who has already been crowned as the Race to Dubai champion for a fifth time, is playing in this week's DP World Tour Championship at Jumeirah Golf Estates and will have Rahm for company in his opening round on Thursday.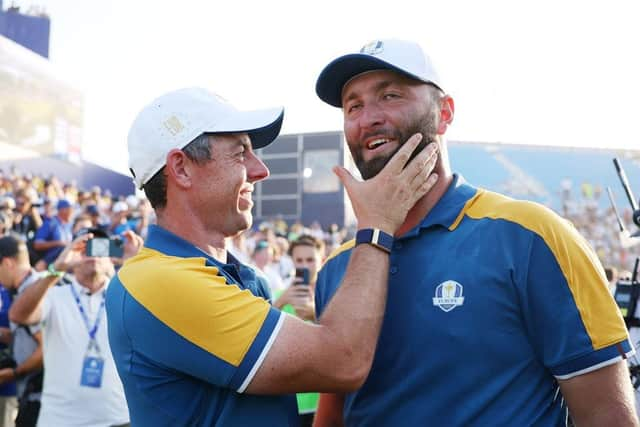 Speaking in his press conference ahead of the $10 million Rolex Series event, Rahm offered his reaction to the news about McIlroy, who declined to comment himself at the end of his final practice round.
Rahm said: "As regards to Rory, he's obviously been put in a situation where a lot has been expected of him, and I don't know the exact reason why he left the board.
"But I certainly wouldn't blame somebody like him to just want to focus a bit more on his game and his family and enjoy the bit of time he's truly earned. It's a big commitment for somebody to be part of it. Did I expect it? Not really. But I can understand why somebody would do, especially with everything that's involved."
McIlroy served as chairman of the Player Advisory Council before becoming one of four player directors on the Policy Board. Rahm was asked if there could have been some degree of competitive advantage for the likes of world No 1 Scottie Scheffler in McIlroy committing so much time over to the policy board.
"Hard to say," replied the Masters champion. "Being part of the PAC and the chairman, it does require some time. I think it is a significant commitment, so it could have an effect. It's not only the meetings. It's the phone calls and the players wanting to talk to you. So those hours you spent on the golf course are a little bit busier.
"So I think it could hinder a little bit, and there's a reason probably why I can't recall any great player being a full-time board member and winning tournaments and majors at the same time, at least in recent history. Maybe there was, maybe back in the day on the PGA Tour. But I can see how the lack of sleep definitely will limit your ability to compete."
It was pointed out to Rahm that there was now a vacancy on the Policy Board. "Oh, you won't see me there," he insisted. "Absolutely no chance. I've been asked a couple times if I have any interest, but the meetings they have are six, seven, hour plus long. I'm not here for that."
McIlroy offered no hint of his decision when he spoke to the media in Dubai on Tuesday, though he did admit he wasn't exactly enjoying his role on the board. "Not what I signed for when I went on the board," he said.
Comments
 0 comments
Want to join the conversation? Please or to comment on this article.